TATB correspondent Rodney "Buckethead" Craig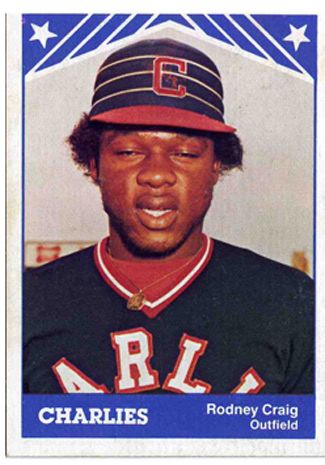 I trust you are unfamiliar with the legend of Rodney Craig. Feel no shame, friends. Judging by this here picture, I'm not even sure Rodney Craig could identify Rodney Craig.
Good thing I'm here to hit you with all of my knowledge of this TATB all-time favorite - beginning with the fact that he's the leader in the clubhouse for the The Worst Freakin' Baseball Card Of All-Time. Just look at it.
Other need-to-know info, some of which is actually true:
- Moments before the photo shoot for the pictured card, it appear he either just rolled out of bed or Jeff Spicoli's van.
- He owns a gold medallion, which he displays proudly above his Charleston Charlies jersey. Chicks dig medallions even more than they dig the long ball. Lucky for Rodney, since he hit a chick-repelling three (3) major-league home runs.
- He hit .385 in 52 at-bats with the God-forsaken 1979 Seattle Mariners, prompting Peter Gammons to mention Rodney in the same sentence as Harold Baines in his legendary Sunday Notes column in the Globe.
- While Gammons praised his talent, he broke Rodney's medallion-covered heart by failing to bestow on him Gammo's Highest Honor - the "very special person" tribute.
- He batted .238 in 240 at-bats with the God-forsaken 1980 Seattle Mariners. He finished his major-league career with 94 hits, 2,770 fewer hits than Harold Baines. Neither won the 1980 AL Rookie of the Year award. This guy did . . .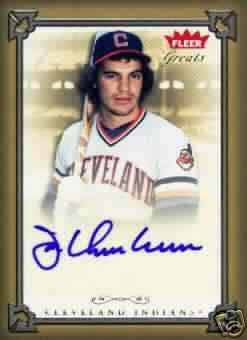 - Rodney batted .231 in 65 at-bats with the God-forsaken 1982 Cleveland Indians, where he battled has-beens, never-weres and who-the-hell-is-hes? such as Bake McBride, Kevin Rhomberg, Miguel Dilone and, yes, Not-So-Super Joe Charboneau for playing time.
- He did not earn playing time, and Charleston soon beckoned. But according to Terry Pluto's wry book "The Curse of Rocky Colavito," he did earn something else: a particularly cruel nickname:
The Indians brought up a player from the minors named Rodney Craig. He wore a batting helmet that was something like a size 9.

The players called him Buckethead.

He was also supposed to be a great pinch-hitter - he went 2 for 19.
- The above excerpt appears on Page 231. It is Buckethead's only mention in the book.
- As the starting right fielder for the dear, departed Maine Guides in 1984, he hit the first home run in the history of the Ballpark in Old Orchard Beach, Me. Still one of my favorite baseball memories, and probably his too.
- In tribute, 14-year-old Chad Finn of Bath, Me., named his cat after him. (Rodney, not Buckethead.) Curiously, the cat also had a huge head and wore a medallion. Freakiest damned cat you ever saw.
- Rodney was once spotted trolling the neon streets of Old Orchard Beach with - wait for it - Otis Nixon, the duo dressed like refugees from the Jackson 5's Victory Tour.
- Rodney will be joining the staff of Touching All The Bases as our Ombudsman. His duties will include informing you of Finn's whereabouts when he hasn't posted for a while.
- He wants you to know that his boss will have a more coherent column posted sometime tomorrow. Now if you don't mind, Rodney, his size-9 melon, and his medallion are going back to bed.
(Editor's note: The stuff you think might be true probably is. And so is the Otis Nixon sighting.)