A very Brady sequel? We'll see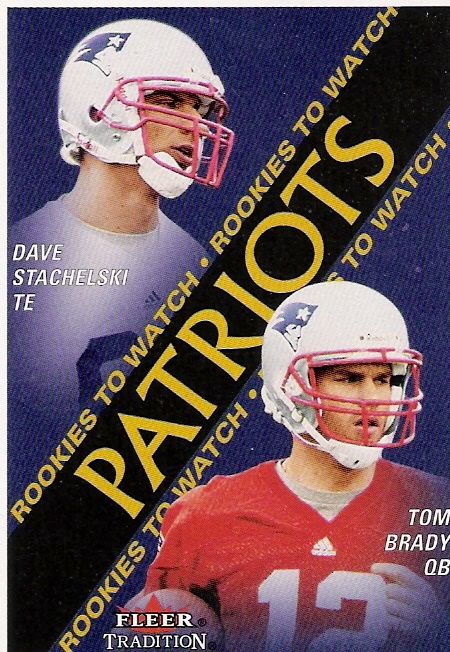 The New England Patriots' 44-13 thrashing of the Indianapolis Colts last Sunday was their most stirring, unexpected, downright fun victory since . . . well, since they thrashed the Colts 24-16 exactly a year ago tomorrow.
And this time, Drew Bledsoe had nothing to do with it.
Thus, the natural conclusion of the uneducated football mind: Get rid of the bum! That's the condensed version of what the venomous, Bledsoe-bashing sports-radio banshees have been screaming in all their delusional glory this week.
It's not that simple, of course. If it were, we could just bury Bledsoe on the bench, anoint second-year quarterback Tom Brady the savior and begin plotting to meet the mighty Patriots in New Orleans for a Super Bowl/Mardi Gras double whammy.
Unfortunately, this was not a Tom Brady victory. This was a Patriots victory, and there is an enormous difference.
Against the Colts, the Patriots finally looked like a real, live NFL team - emphasis on "team." The defense made plays instead of excuses. The offensive line clear-cut the Colts' defense, with nasty rookie left tackle Matt Light playing like a worthy heir to the day's guest of honor, Bruce Armstrong. Running back Antowain Smith swiped a move or two from Lamar and Emmitt, those more accomplished pigskin-toting Smiths.
The quarterback? Yeah, he wasn't bad either. Brady didn't make any mistakes. He was poised and confident - he looked like he belonged. Then again, it's easy to impress when your teammates are kicking Colt butt and staking you to a lead John Wasdin couldn't give away.
Brady didn't have to do any heavy lifting. Looking at his stats, maybe that's a good thing. He didn't throw a TD pass, and his QB rating of 69.3 was down at Rob Johnson depths. To put it another way: If Bledsoe had posted Brady's numbers - 13 of 23, 168 yards - you know the banshees would be yowling that the Patriots won the game in spite of him.
It's easy to forget that it was the Patriots' sixth straight home victory over the Colts, just as it's convenient to forget who the quarterback was for the first five wins. I can't help but wonder what Bledsoe would give to consistently have the level of support Brady had against the Colts. Hell, he's already given his health. What more is there?
Not that it's difficult to understand why the banshees are enamored with Brady. The new kid in town is always cool at first, and Brady comes across as the All-American boy. (And his two extremely telegenic sisters are definitely All-American girls - Marcia and Jan, I presume?)
Brady does look like he might be a capable NFL quarterback someday. He gets high-marks for intangibles, and those who've shared a huddle with him say he's a natural leader with a contagious confidence. He already does some things better than the gifted but incomplete Bledsoe - he throws a lovely screen pass, and he's alert in the pocket, to name two. Brady seems similar to Brad Johnson, another former late-round pick who's fashioned a fine career of accuracy, preparation and intelligence.
Which brings us to the $103 million question:
Should there be a quarterback controversy in New England?
Answer: Of course not.
Well, uh . . . not yet, anyway.
If Brady plays well today, and next Sunday, and next Sunday . . . well, then there might be a decision to make. And I'd bet the pros and cons of both quarterbacks are already weighing on Bill Belichick's mind.
I've long held the suspicion that the Patriots' coach is not all that enamored with Bledsoe, in part because he found it so easy to disarm him when he was the Jets' defensive coordinator. (Imagine how he must mock Peyton Manning behind closed doors.) Remember, Belichick has never been afraid to contradict conventional wisdom; we're talking about the guy who was coldhearted enough to cut local favorite Bernie Kosar in Cleveland.
I'm convinced that if Belichick thinks Brady is better than Bledsoe, Brady will play instead of Bledsoe, salary and status be damned.
First, though, let's find out if Brady can play. Before we decide he's the Patriots' future, let's see if he can survive the present.
The Colts? Please. That defense should be made into glue. Brady's first real test begins at 1 this afternoon against the Miami Dolphins. Their talented defense, humiliated by the high-octane St. Louis Rams last Sunday, is as angry and bloodthirsty as an East Coast shark. They have an elite pass rusher in Jason Taylor, who will force Brady into quick decisions. And they have two elite cornerbacks in Patrick Surtain and Sam Madison, who can turn quick decisions into regrettable ones.
Any coach worth his playbook will tell you the Dolphins are going to stack the line of scrimmage and dare Brady to beat them.
Good luck, kid. It's not going to be easy. It could be humbling, and painful.
Then again, it could also be a revelation, the start of something special. Maybe Brady is the Steve Grogan to Bledsoe's Jim Plunkett - the eager, fresh young talent stepping in for the aching veteran, then refusing to yield the field.
But I want to see more before I board the Brady bandwagon.
Today, he makes his second start, and this one's infinitely more challenging than the first.
Will it be a very Brady sequel?
You tell me if his teammates will reprise their starring roles. Then I'll tell you how today's episode ends.
(Originally published in the Concord Monitor, 2001)