GameDay: Toronto 4, Boston 3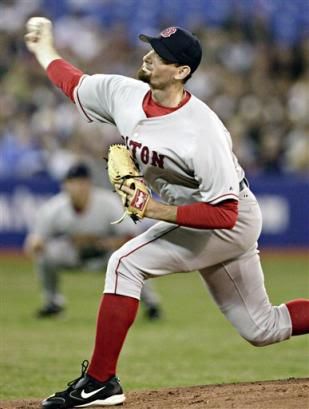 Today's game? Missed the brunt of it. Instead, I spent this first legitimate spring day cleaning a winter's worth of Shipyard bottles out of the garage. It beat the hell out of watching Matt Clement go 3-2 on every Blue Jay from Reed Johnson to Damaso Garcia.
Clement (6 innings, 3 earned runs, 6 hits, 6 Ks, 5 freakin' walks) pitched all right according to the stat sheet (then again, that's the story of his sub-.500 career), while another newcomer, Edgar Renteria, delivered a two-out, two-run single in the ninth to tie the score at 3. Mike Timlin gave it up in the bottom of the ninth, Orlando (My G.M.'s Pimp Hand Is Strong) Hudson doubling in the winning run.
So it goes. The Sox are 2-4 and in last place in the AL East. Somehow, I think we'll be willing to look past that tomorrow, when they return for the home opener and the ring ceremony/banner unveiling that has been 87 years in the making. Six games into the new season, and the old season still dominates our consciousness. I suppose we can let it have one more day.
With that, a few scattered notes regarding yesterday, today and tomorrow:
- The AP story on Saturday night's Angels game noted that Orlando Cabrera "finally drove in his first run of the season after signing a 4-year, $32 million contract over the winter." If Angels fans are already clamoring for grittyguttyscrappylousy David Eckstein, they're as numb in the skull as the Sox fans who dumped on Renteria two games into the season . . .
- . . . and that condescending scolding right there comes to you from the same fool who wrote about yesterday's loss in
game four of the season
as if it were a spirit-crushing defeat in Game 4 of the ALCS or something. A word of advice: whenever I mix equal parts panic and hypocrisy in my writing, always assume that I picked a bad day to quit sniffing glue.
- From reader J-Lo (I'm assuming it's not
that
J-Lo. And if it is, you're out of luck, baby. I'm a Beyonce guy. Uh, and I'm married. Especially if you're a guy):
You mentioned yesterday that Frank Catalanotto is one of those average-type of players who gives the Sox a hard time. You were right on, but you should have mentioned that the Blue Jays seem to collect those types of guys. Take Reed Johnson. He sucks, but he always looks like an all star against the Sox. Same for Greg Myers (sucks) and Eric Hinske (sucks). And there was that Zaun guy (sucks) yesterday and Chris Gomez (sucks) hit a grand slam off Schill to win a game last year. And the weird thing is, it's kinda the same story when they play the Orioles. Guys like Jerry Hairston, Larry Bigbee and Luis Matos always seem to do great things against the Sox, and then remember that they actually suck against the Yankees. I can't think of the reason why this happens, but don't you agree it does?
First of all, congrats on shattering the Internet record for using the word "sucks" one paragraph. (I believe the previous record was held in an Amazon review of the Michael "No-Talent Assclown" Bolton Greatest Hits CD.) I do agree that this happens with the Orioles, too. B.J. Surhoff would be in the Hall of Fame if he played the Sox 162 games a year, and sometimes it seems like he does. Which I think backs us into the explanation for this - the Sox play their AL East foes so often, you become really familiar with their obscure or mediocre players, and if one wins a game once or twice in a season, it sticks with you. I've been waiting for Surhoff to retire for five years now. Or to start sucking, at least.
- Nice touch by the Sox public relations wizards, inviting back stars of the past to be a part of tomorrow's ceremonies. Johnny Pesky will be there - it just wouldn't be right without him - as well as Yaz, Lonborg, Rice, Rico, Eck, maybe Mo, Johnny Val, Chico Walker . . .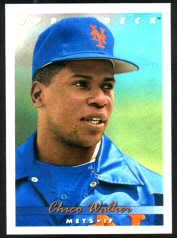 . . . okay, maybe not Chico, but still, it's wonderfully appropriate that these Red Sox legends are prominently involved in the festivities. They may not have been members of the 2004 team per se, but they were teammates in spirit. That becomes very apparent in the Faith Rewarded video, when Dewey Evans encounters Johnny Damon on the field before Game 1 of the World Series. Dewey says simply and sternly: "Win it. Win it. Win it." It's a touching, telling moment, and Dewey and the other great Sox who retired unfulfilled deserve to revel in the accomplishment, for they know better than anyone how difficult it is to achieve.
- Departed members of last year's team will be back, too, including one of my all-time favorites, Ellis Burks. D-Lowe will also be there, as will Curtis Leskanic, which reminds me: Any chance Leskanic can stick around, maybe pitch the eighth?
- Hell, yes, I'm glad the Yankees will be in the house to watch the Sox raise their banner. I can't wait to see the genuine look of disgust on the Captain's face, as well as the "Jetes isn't as good as me but he looks disgusted so I'd better pretend to look disgusted too" look on A-Rod's mug. I wouldn't be surprised if he tried to slap the ring off Bronson Arroyo's hand at some point. But I also know this is the sort of thing that could fuel the Yankees the rest of the season. If Torre is any kind of manager at all, he will be telling his players before the game to pay attention during the ceremony, because the Red Sox have what they should have had, and are rejoicing at their expense. Again.
- Finn's Vegas Odds on who gets the loudest ovation: Curt Schilling, 5-2. David Ortiz, 2-1; Tito Francona, 2-1; Alex Rodriguez, 252,000,000-1.
- I won't be able to watch the ceremonies - it falls during the meat of my 2-hour commute to the Globe - but TiVo will be setting it aside for me, and I'll be listening to Troop and Joe on the radio in the meantime.
And while I'm driving, listening and grinning (and swerving), I'll again be thinking of all the Sox fans in my little world who finally, finally,
finally
experienced that pure, unadulterated joy last October - and wasn't that the best part, that everyone you care about was just so damn happy for days? I'll think of my college buddy Yeast Boy in Florida, who flew up on a whim to catch the parade, just as I knew he would. And my editor friend Nuts at the Monitor, who, in the moments after Aaron Boone's home run looked like he'd seen a dugout full of ghosts, yet managed to kick me in my bitchy, shellshocked ass in order to get my "Sox win!" column rewritten into a "Grady must be tarred and feathered!" column before deadline, then cursed and grieved and drank with me for days afterward. And of course, my 64-year-old dad, who was so inspired by the championship that he finally got a Sox cap that fits his mammoth head. (Actually, it's a pup tent with a "B" on it, but hey, it fits and the old man is happy.)
My point of my sentimental stroll is this: Many of us waited a lifetime for today. Some, god rest their souls, waited longer. Please, savor this. It's once in a lifetime treat, for even when - yeah, I said
when
- the Sox win it again, it will never be so sweet as it is now.
Right. As if you need to be told.