Closed for the summer
Appropriate ending when you think about it, what with circumstances conspiring to ruin something potentially memorable one last time. I could be talking about the small picture of Game 162 (
Mother Nature washing out Devern Hansack's improbable no-hit bid
) or the big picture of all 162 games (an ER's worth of ill-timed injuries derailing a bid for a fourth consecutive playoff berth). And of course, both the season and its finale ended sooner than we expected.
So now we must speak of this 86-win, third-place bummer of a season in the past tense. And while we'll save our deeper analysis and crackpot theories about What Went Wrong for another rainy day, let's spend a few words on the remaining players who made this season what it was, for better or worse:
CATCHERS
Jason Varitek
.238, 12 HRs, 55 RBIs
: Catchers notoriously decline offensively at age 32, and Varitek followed the well-worn pattern this season; he can't hit a good pitching anymore, and ideally, he'd bat eighth or ninth in the lineup at this point. But Lord, how he was missed when he was knocked out for a month by a knee problem. He's still a stalwart defensively, calls a good game and commands respect, and is worth every penny of his contract even when he's flailing at an eye-high fastball.
Doug Mirabelli
.193-6-25
: He was washed up
last
year . . . and yet I bet I Doug Mirabelli still thinks the Sox trade of Cla Meredith and Josh Bard for Doug Mirabelli and Doug Mirabelli's massive ego was a fantastic trade for the Red Sox. Yes, Doug Mirabelli brings new meaning to the phrase "tool of ignorance."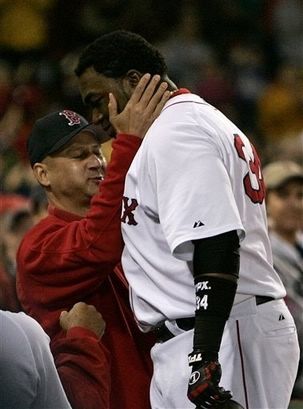 DESIGNATED HITTER
David Ortiz
.287-54-137
: What else can be said? When the games mattered, he made sure DH stood for Designated Hero. And when the season was lost, his successful bid to set the single-season franchise homer mark gave us reason to cheer again. When Papi's around, it's always a blast. Please don't take him for granted, because he's a once-in-a-fan's-lifetime gift.
INFIELDERS
Kevin Youkilis
.279-13-72
: He was so steady that it was easy to forget that this was really his first full season - and on top of establishing himself as an everyday player, he made the transition from third base to first with remarkable grace. The Eck noted tonight he thought Youks played Gold Glove defense. Given his immensely valuable ability to work the count and wear down pitchers, The Greek . . . er, Jewish God of Walks should be the leadoff hitter next season. Now if he'd just stop bitching after every called strike . . .
Mark Loretta
.285-5-59
: He's about as exciting as vanilla ice cream, he has the range of your grandmother's walker, and the stragglers from the Jeff Frye Admiration Society tend to exaggerate his contributions . . . yet he had his share of late-inning highlights, he catches everything hit his way and turns two with grace and precision, and he's still a tough out even though he's primarily a singles hitter these days. My verdict: Sign him for one more year, if he's willing, and let Pedroia shorten that swing down in Pawtucket.
Alex Gonzalez
.255-9-50
: I'm sorry, but he won't win the Gold Glove. Didn't you get the memo from McCarver? This is the year to fete Captain Jetes for all his excellent years in anonymity, and he's going to collect this award (among others) despite the fact that Gonzalez is the best defensive shortstop in the AL since Omar Vizquel had all his hair. It was a treat to watch him and Lowell turn the left side of the infield into Web Gem Central, and despite his particle board bat, I hope he's back in Boston next season if the price is right.
Mike Lowell
.284-20-80
: The best defensive third baseman the Sox have had since Butch Hobson (oh, c'mon, he was my boyhood hero; cut me some slack, people). Seriously, he was Gold Glove-worthy (as are Beltre, Crede, and Chavez), and while he was streaky, his final numbers at the plate are perfectly acceptable. I have a slight concern that he'll have a hard time repeating this output next season, but if the Sox keep Manny and get a legit No. 5 hitter, he won't be asked to do so much.
Alex Cora
.238-1-18
: He's bright, versatile, and despite a punchless offensive season, he's exactly what you want in a utility infielder. Keep him, I say.
Dustin Pedroia
.191-2-7
: Some see him as David Eckstein. Others as a young Jody Reed. So far, all I've seen is Brett Abernathy.
Carlos Pena
.273-1-3
: The Sox should have brought him in instead of J.T. Snow in the first place.
OUTFIELDERS
Manny Ramirez:
.321-35-102
: I plan on getting into the Manny Situation more in a future episode, so for now I'll leave it at this: If, during one of his patented midsummer tears next season for the Mets or Angels or whichever team the Sox award him to over the winter, some smug dinkus of a Boston sportscaster has the nerve to say, "Why can't we get players like that?" after spending the better part of six seasons trying to drive Manny away, well, I might just have to drive into Boston just to pull said sportscaster's hair plugs out with my bare hands.
Coco Crisp
.264-8-36
: So at least we know the truth: He was never healthy. I remember how wowed I was by him in spring training and during his pre-injury debut against the Rangers - he was
electric
- and despite the belief that he's no leadoff hitter, I hope he gets a second season to show his stuff in Boston. He deserves that much.
Trot Nixon
.268-8-52
: All right . . . I'll miss him. A little. If only for sentimentality's sake. His tenure with the Sox dates back to my college years, he did bust his ass and try to do the right thing, and as Roger Clemens and Rich Harden can attest, he had his moments in the clutch through the years. And of course, he was One of The 25, delivering the game-breaking hit in the World Series clincher. But the truth is that he's crumbled into an injury prone, underproductive, overpaid over-30 albatross, just the kind of player the Sox should be trying to distance themselves from. Trot was the Mike Greenwell of his era, albeit with an extra branch or two on the family tree, and like Greenie before him, his popularity outweighed his productivity near the end. It's time to tip the dirty hat and say goodbye.
Wily Mo Pena
.301-11-42
: It pains me to say this, because I was in agreement with the Arroyo deal and enjoyed watching Pena's occasional moonshots, but . . . I hope they trade him in the offseason. I have major doubts that he's ever going to develop the plate discipline and pitch-recognition skills to be a consistent hitter; he often looks as if he's made up his mind to swing before the pitch is delivered. And defensively, he reminds me of Kevin Mitchell circa '96, which means I cover my eyes, hope for the best, and usually witness the worst when the ball is hit his way.
Gabe Kapler
.254-2-12
: I hope he's still reporting to work at Fenway next season - as Eck's backup analyst on the pre- and post-game shows.
David Murphy
.227-1-2
: Eh. I can live with him as a fourth outfielder, but I'm skeptical that he'll develop enough power to justify a regular role for a playoff contender.
Eric Hinske
.288-1-5
: This year's version of Butch Huskey, an alleged slugger picked up late in the season who makes a habit of whiffing in crucial situations. But as a patient switch-hitter who historically mashes righties, he should be a useful stick off the bench next season.
STARTING PITCHERS
Curt Schilling
15-7, 3,97 ERA
: He wasn't, as the song goes, as good as he once was, going six weeks without a win and developing a maddening habit of letting small leads slip away in the middle innings. But in the context of his lost 2005 season, 15 wins is a hell of a comeback.
Josh Beckett
16-11, 5.01
: Greg Maddux once said the more trouble he is in, the slower he pitches, meaning he uses the hitters' aggressiveness against them. Something tells me Boston's version of Nuke LaLoosh would grunt and call Maddux a *&*%* for believing in that that philosophy. He needs to grow up and learn to pitch rather than throw, or the names Anibal Sanchez and Hanley Ramirez could haunt the Red Sox front office honchos the way Derek Lowe and Varitek did Woody Woodward.
Tim Wakefield
7-11, 4.63
: The Sox dearly missed his bullpen-saving ability to eat multiple innings at a 4-something ERA clip, but now that he's 40 and coming off his first injury in years, it's time to start thinking about him as a fifth starter rather than as a third or fourth.
Julian Tavarez
5-4, 4.47
: If the Sox were beginning the playoffs this week, he'd likely be your No. 3 starter. Chew on that for a moment.
Matt Clement
5-5, 6.61
: I can't help but remember Gammons floating a notion at around this point last season that the Sox and Dodgers should consider a Clement for D-Lowe swap. How I wish they had.
Jon Lester
7-2, 4.76
: We're all rooting for a victory more important than any he'll ever achieve on the ballfield. Get well, kid.
Jonathan Papelbon
4-2, 0.92, 35 saves
: The Sox's collapse and his season-ending shoulder scare have cost Papelbon some of the plaudits he deserves for his historically dominant rookie season, and that's too bad, because he may have been the team's MVP in the first half. While he was virtually unhittable as a closer, at least until he grew weary late in the season, I'm glad the Sox are moving him to the rotation, if only because I'm a believer that it's wiser to use your best pitcher for 200 innings rather than 60. It will likely keep his arm in better condition, too. Prediction: Papelbon wins 17 games next season and is a better starter than any of the Zitos and Schmidts available as a free agent over the winter.
RELIEF PITCHERS
Keith Foulke
3-1, 4.35
: Every season, there are always a few seemingly washed-up relievers who, for a variety of reasons, enjoy a major career rejuvenation. (Think: Wickman, Bob, and Jones, Todd.) I'm betting on Foulke to be one of those guys next season. I want him back.
Mike Timlin
6-6, 4..36
: When you're 40 and you've pissed away the second half of the season getting lit up by the likes of Kevin Millar, it's time to start plannin' some possum huntin' expeditions for the summer months, if you get my drift.
Manny Delcarmen
2-0, 5.06
: Everyone roots for the local boy to make good, but his command is too inconsistent and his fastball is too straight for Hyde Park's own to be considered anything more than a middle reliever at this point.
Craig Hansen
2-2, 6.63
: Questions, I've got some questions: Where's the filthy slider that he supposedly used to torment the Big East? Have the Sox mishandled him to the point he's lost his stuff and his confidence? Is he familiar with the work of Calvin Schiraldi? He should start next season in Pawtucket with no pressure and no expectations, and work from there.
Javier Lopez:
1-0, 2.70
: He doesn't throw enough strikes, and a lefty specialist who comes in and walks his lone batter is a useless as a Giambi without a chemistry set.
Kyle Snyder
4-5, 6.56
: If only he hadn't sacrificed 7 miles per hour on his fastball to the blade of Dr. Andrews' knife. You can see why he was such a highly regarded prospect with Kansas City - his curveball is a legitimate out pitch, and his tailing changeup gives him decent secondary stuff - but unless he gets better command or regains a few m.p.h on the heater, he's nothing but an Arroyo wannabe.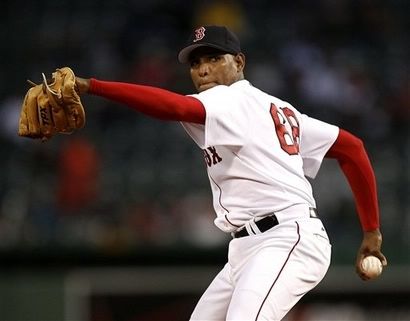 Devern Hansack
1-1, 2.70
: Well, that No-Hitter-With-An-Asterisk was certainly a hell of an audition for some role next season. Not only am I pulling for him, but having watched him pitch the Sea Dogs to the Eastern League title, I can say with a certain degree of confidence that he's got better stuff, command, and composure than quite a few established big league pitchers.
Kason Gabbard
1-3, 3.51
: Another slopballing lefty who prays to the altar of Jamie Moyer. And yet . . . Jerry Remy is on record as being impressed with Gabbard, and he
did
pitch very well more often than not. I'm naturally skeptical of a guy who struggled for almost two full seasons in Double A, but he showed enough to earn a second job interview next spring.
OTHER SUSPECTS RUMORED TO BE PITCHERS
Mike Burns
: Man, did the Pats show us something today or what? The whole Shutting Down An Offensive Juggernaut With a Shorthanded Defense was straight out of Belichick's 2003 championship blueprint, Maroney is an absolute beast, and Brady did his part to silence the shrill sky-is-falling nonsense from the Felgers of the world. Suddenly, I'm feeling very good about this team . . . and if you think I'm writing this because I wouldn't know Mike Burns if he ran off with my wife, you'd be correct.
Bryan Corey
: He pitched well once earlier this season against the Sox while with Texas. So at least I can say I saw him pitch well once.
Kevin Jarvis
: He didn't belong in the major leagues five years ago.
Lenny DiNardo
: I'm beginning to think he has a lifetime contract as the 12th man on the staff. He's shown me nothing, and he has a World Series ring and some great tales as Bronson Arroyo's wingman to show for it.
Craig Breslow
: He's better than Lopez. Then again, I think Tony Fossas would be an upgrade on both of them.
Labels: Alex Gonzalez, Coco Crisp, Curt Schilling, David Ortiz, Jason Varitek, Jonathan Papelbon, Kevin Youkilis, Manny Ramirez, Mark Loretta, Mike Lowell, Tim Wakefield, Trot Nixon