A major award
We here at TATB meant to hand out these awards during the NBA Draft festivites. Honest we did. But it seems our not-so-faithful correspondent Buckethead took the phrase "green room" a little too literally, and by the time he came out of his haze, the only people remaining at Madison Square Garden were the mummy known as Russ Granik, six of Rashad McCants's girlfriends, and a semi-conscious Stuart Scott, whose pathetic sucking up to North Carolina's four lottery picks
finally
caused Jay Bilas (Duke, '86) to snap. Bilas, bless his devilish heart, was last seen holding Scott in headlock and punching him in the eye while screaming "Boo-yeah and fist-pump this, @#$%#!" In his rage, I think Bilas may have even wrinkled his Polo shirt.
As for our belated awards: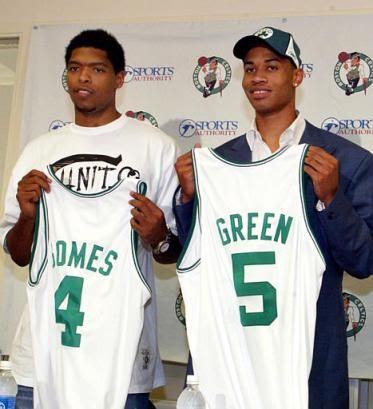 The Show Me The G-Money award:
To Celtics first-round pick Gerald (G-Money) Green, a gangly cross between Reggie Lewis and Cuba Gooding Jr. Fortunately, his game much more resembles that of the former, and Those Who Know swear Danny Ainge got the steal of the draft. (Again.) Projected to go as high as No. 3 and no later than No. 9, Green is said to be an electrifying athlete whose game has drawn comparisons to a teenaged Tracy McGrady. Not sure, but I think the Celtics can find room for a kid like that. While No. 17 pick Danny Granger (or even Hakim Warrick, who went 19th to Memphis) would have been of more immediate help to the Celtics, Green holds enough promise that Boston fans are already daydreaming of the day he and Al Jefferson hoist banner No. 17. Hey, that's really what the draft is all about, anyway - wildly optimistic long-term projections.
The Better Late Than Never award:
To Providence's Ryan Gomes, who was on the Celtics' short list at No. 18 until Green fell from the sky, then ended up with Boston anyway at No. 50 overall. Is it possible that Ainge got two bargains in this draft? Bet on it. Gomes draws comparisons to capable journeyman Corliss Williamson, and while Gomes is slightly quicker and a better shooter and Williamson (or "Scoreless," as Charles Barkley called him after Williamson's humiliating performance in the 1995 Final Four) is more powerful in the paint, the comparison is apt enough. And it seems to me a Corliss Williamson type would be of much benefit to the current Celtics. Gomes won't be a superstar, but anyone who saw him at Providence knows he has so much going for him: he's smart and selfless, deft around the hoop, blessed with terrific court sense, and, even at 6-foot-7, has an uncanny knack for rebounding in traffic. He will still be in the league and helping his team win long after half of the instant millionaires in the first round have found another line of work, and after Charlie Villanueva has returned to his home planet.
The Last Man In The Green Room, Please Turn Out The Lights award:
To Warrick, who should feel no shame for being picked 19th, even if Memphis GM Jerry West hardly inspired confidence by referring to the Syracuse stringbean as being from Princeton. (Did West - known around TATB headquarters as "The Logo" - think he was drafting Bill Bradley?) Anyway, Warrick's wait was nothing compared to the agony the twitchy Jameer Nelson seemed to be enduring as he waited for his name to be called last year, or when a high school kid named Rashard Lewis burst into tears after falling into the second round in 2000. (His humiliation was the SuperSonics' gain.) For what it's worth, before the draft I was expecting Charlie Villanueva to run away with this award. Silly me, I completely underestimated the idiocy of the Toronto Raptors, who took the spacy UConn underachiever seventh overall. Apparently, GM/chief nitwit Rob Babcock temporarily forgot Toronto has Chris Bosh - it's best player - at Villanueva's position. Maybe he's planning on trading Bosh for Scot Pollard or something equally clever.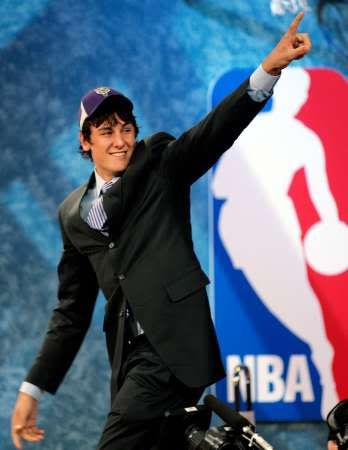 The Don't Call Me Mokeski, Mate award:
To No. 1 overall pick Andrew Bogut of the Bucks, the Aussie center who already is being labeled a Big White Stiff by ill-informed "experts" who: A) remember Milwaukee has a long tradition of goofy, pasty centers, from Kent Benson to Randy Breuer to Jack Sikma to Frank Brickowski to Larry Krystkowiak to Brad Lohaus to Joel Pryzbilla to the patron saint of them all, Paul (The Cowardly Lion) Mokeski, and B) don't realize that Bogut is the best-passing big man to come into the league since Vlade Divac. (Then again, that was said about Dwayne Schintzius and Luc Longley at one time or another, so maybe I
should
hedge this bet.) Seriously, having seen Bogut play five or six times, my prediction is this: He may not turn out to be the best player from this draft, but he'll be an NBA center of Divac-like quality, make a few All-Star teams, and five years from now, the Bucks will have no regrets.
The Blessing In Disguise/Tayshaun Prince award:
This honor, which TATB gives annually to a four-year college standout who slides during the draft but ultimately benefits from ending up with a good team, goes to Danny Granger. The New Mexico forward, so versatile that he has drawn comparisons to Scottie Pippen, fell from a near-certain top-10 selection all the way to 17, where he landed with the Indiana Pacers. There's a reason Larry Bird was jacked and pumped about getting this kid. With Reggie Miller retiring to spend more time with Cheryl and Stephen Jackson perfectly capable of making Ron Artest look stable, Granger will find playing time right away, and he'll make the most of it. Three years down the road, maybe sooner, everyone will be wondering how such a fine player lasted so long. (Honorable mention goes to Kansas's Wayne Simien, an undersized but determined power forward who should thrive playing next to Shaq in Miami. It's the absolute perfect place for him to build a career.)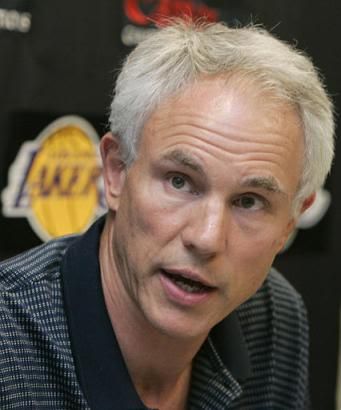 The Being Mitch Kupchak award:
Hey, how come no one told me John Malkovich was the GM of the Lakers? Did Kobe hire him?
The And You Thought Sprewell Was A Pain In The Booty award:
To Kevin McHale and the Minnesota Timberwolves, who used the 14th overall selection on North Carolina guard Rashad McCants. He's very possibly the most talented player in the draft - and undoubtedly the moodiest. Without rehashing his transgressions, we'll put it this way: When you win a national championship and your teammates barely acknowledge you during the postgame celebration, you'd think that might be a sign to lighten the hell up. Yup, McCants should get along real well with Sam Cassell and Wally Szczerbiak, neither of whom has the reputation of playing well with others.
The Loren Woods II award:
To Knicks president Isiah Thomas, who used the eighth pick to choose Arizona center Channing Frye, a chronic underachiever who never played with any fire until the Sweet 16 of the NCAA tournament in his senior season. Sound familiar? He'd be a clone of Woods, his predecessor at Arizona and an NBA vagabond, but for one difference: Frye's reportedly a very likable kid. We'll see if Knicks fans like him much once they witness his mellow approach to the game.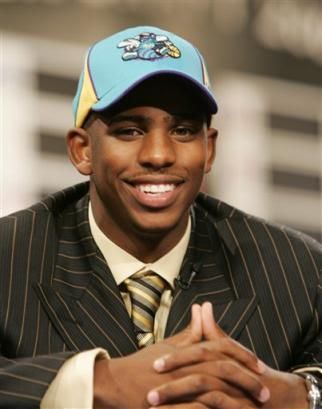 The See You At All-Star Weekend award:
To Chris Paul, New Orleans. The Wake Forest point guard reminds some of Isiah Thomas (hyperbole alert!) and others of Mike Bibby, in terms of both talent and competitiveness. (Little-known fact: The punch-to-the-opponent's-groin move, which Paul unveiled as part of his repertoire during the ACC tournament, was trademarked by Little Lord Fauntleroy, as Johnny Most called Isiah.) Paul is the closest thing to a sure thing, a more refined, NBA-ready offensive talent than my favorite player in this draft, Illinois's ferocious Deron Williams, who went a pick ahead of Paul to the Jazz at No. 3. The Hawks' Marvin Williams was in the running for this award as well, but considering he couldn't/didn't start over undrafted Jawad Williams for North Carolina last season, we'll hold off on joining his chorus of hype for now.
The Bad Advice, Worse Coach award:
To Matt Walsh and Anthony Roberson, both of whom left the University of Florida as underclassmen, forfeited their eligibility by signing with agents, then, much to their shock and embarrassment, went undrafted. (Walsh reportedly was so delusional . . . er, confident that he'd be selected that he hosted a draft party. I bet
that
was a raging fiesta of joy by the time Pick 60 rolled around.)
Okay, rant time: I've watched a ton of Florida basketball the last six years - former Gator Matt Bonner the favorite son of Concord, N.H., where I worked for 9 years, and I came to know and like him and his family - and I have arrived at this indisputable conclusion:
Billy Donovan is a fantastic recruiter. He is absolutely terrible at everything else required of a college basketball coach.
Consider the evidence: He recruits an endless supply of McDonald's All-Americans, luring them in with the Gators' run-and-gun style . . . then does nothing to better them as basketball players.
Nothing.
Walsh, a creative passer with an accurate but very blockable shot, peaked as a freshman. (I recall Dick Vitale comparing him to Larry Bird, a statement so ridiculous in its blasphemy that he should have been banned from mentioning Larry Legend's name on the air.) Roberson, like the reckless Brett Nelson before him, regressed as a point guard, instead gunning for long threes and style points when the mood struck him. Both have talent. Neither had a coach capable of molding and disciplining their talent. I'm sure Donovan, in all his slippery shrewdness, will take credit for David Lee being a first-round pick (No. 30, New York). But the truth is Lee, a versatile, athletic power forward without much of a jump shot, was woefully underutilized at perimeter-oriented Florida. He would have been so much better off spending four years in a program that actually involved the big men in the offense on occasion - in fact, had he gone to, say, Kentucky, he'd have been a lottery pick. I admit I found it deliciously ironic that Lee and Orien Greene - a pass-first point guard who transferred to Louisiana-Lafayette after getting buried on the bench at Florida - were selected (Greene at No. 53, to Boston) while the gunners Donovan pampered to their detriment were not. Somewhere, Dr. Naismith is smiling. I know I am.
As for today's Completely Random Basketball Card: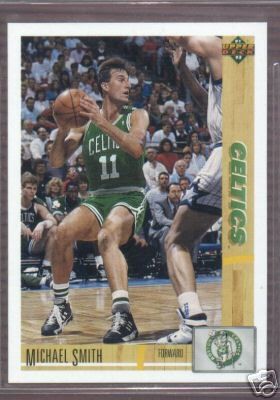 Yes, I believe we must call this one the Hey, Red, Why The Hell Didn't You Take Tim Hardaway Back In '89? award.