GameDay: Boston 6, Toronto 5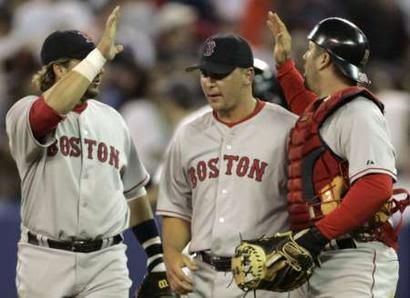 Sox manager Terry Francona was released from the hospital today, his ailment diagnosed not as a heart problem but as an easily treatable "viral illness."
Which is a blessing of many sorts, including this small one: Had the ticker been Tito's problem, Keith Foulke's performance tonight might have sent his skipper right back into intensive care.
Tonight's ballgame began well enough. Bronson Arroyo looked like the best eventual No. 6 starter in baseball, Jason Varitek and Trot Nixon homered (Varitek's 400-foot blast landing somewhere between the moon and Quebec City) and the Sox cruised into the ninth with a 6-3 lead.
Tonight's ballgame ended well enough, too. But not before Foulke nearly pulled a "Mariano," giving up two runs and loading the bases with two outs before getting
Orlando (Boss, I Meant 'Pimp' As A Compliment, Honest) Hudson
to ground out to end it. A cheaper save you will be hard-pressed to find.
So then, a quick inventory of the day: The Sox are 2-2 and in a five-way tie for first in the AL East. Meathead Jaret Wright got shellacked in his first start for the Yankees, and by the pinstripe-fearing Orioles, no less. Francona is healthy, thank heavens, and interim boss Brad Mills remained undefeated.
Not a bad day, Sox fans. Not a bad day at all. Seems to me the only way it could have been better is if Jimmy Fallon had spontaneously combusted.
Maybe tomorrow. Hey, spring
is
the time for hope.