The case against Lawyer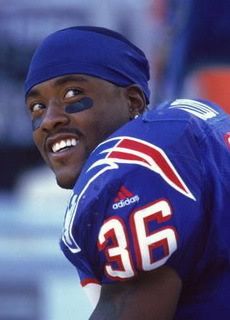 Go ahead, say your sad goodbyes to ol' No. 36. Pop in that Super Bowl DVD and shed a tear. Curse Bill Belichick for his frigidness and frugality. Heck, switch your allegiances if you must. But don't ever forget this: Lawyer Milloy, the spirit and the soul of the most unlikely Super Bowl champion of all time, was more loyal to his checking account than he was to the New England Patriots. Once again, it was about the money.
The Patriots' decision to release the team captain and four-time Pro Bowl safety Tuesday was shocking - both the news and the timing. Perhaps it shouldn't have been. Milloy's departure from the only NFL team he has known was self-inflicted, by his refusal to rework his bloated contract, and to a lesser extent, by his shrinking presence on the football field.
Milloy, the highest-paid safety in the game, was coming off a season where he produced well below his previous standards. He would have cost the Patriots at least $5.25 million against the salary cap this year, and management had long been trying to renegotiate the seven-year, $35-million deal he signed in February of 2000.
Renegotiating is a common practice in the NFL, where few things, especially long-term contracts, are guaranteed. Several Patriots, including Ted Johnson and Willie McGinest, have reworked their deals in the past, some more than once.
It seemed to be the obvious course of action in this case. Even Milloy's agent, Carl Poston, a notoriously hard-line negotiator, tried to persuade him to consider the Patriots' numerous offers. Milloy refused, right up until his pay-me-or-cut-me proclamation late Monday night.
Faced with the ultimatum, Belichick made the only choice he could make in the long-term interests of his football team:Thanks for everything, Lawyer. You were always one of my favorites. Now turn in your playbook. And so the best safety in the history of the franchise was a Patriot no more.
I understand why the Patriots let Milloy go. Under the circumstances, I agree with it. But please don't confuse that with liking it. I hate that it had to come to this. Hate it. Whether you are a Brady guy or a Bledsoe guy, whether you prefer Pat Patriot or Flying Elvis, you knew you shared one bond with your fellow New England fans. You admired Milloy.
He never missed a start in seven seasons in New England. He led the team in tackles four times. He was charismatic, fierce, forthright, and damned fun to watch. Through good times and bad, you always could count always on Milloy to leave his blood on the turf. Probably a drop or two from an opposing receiver, too.
It's times like these when it stinks to be a fan. At the very least it tempers your enthusiasm for the new season. No one wanted to see Milloy play for another team - especially the rival Bills, with whom he joined forces yesterday - and that includes the coach who sent him packing.
Belichick may exude the warmth of Mr. Spock, but it's apparent that he struggled mightily with this. He said, with what seemed the utmost sincerity, that releasing Milloy is the hardest thing he has ever had to do in his 28 years in the NFL. Remember, this is the guy who was run out of Cleveland for dumping Ohio icon Bernie Kosar. Belichick is not one to put sentiment ahead of success.
Ultimately, cutting Kosar was the right move. If we can follow Belichick's lead and listen to our minds instead of our hearts, we might come to realize that cutting Milloy probably will prove equally as prescient.
The signs of his decline are right there in the black and white on last season's stat sheet. Sacks? Zero. Forced fumbles? Zilch. Interceptions? Nada. Geez, you'd think Bledsoe would have thrown him at least one.
Those numbers are shameful, especially in comparison to some of the other reputedly elite safeties in the league. Philadelphia's Brian Dawkins forced seven fumbles. Green Bay's Darren Sharper picked off seven passes. Tebucky Jones trampled seven teammates.
Milloy's reputation is that of a helmet-cracking, bone-rattling hitter, especially against the run. But reputation and reality are two different things. The Patriots had the worst run-defense in the NFL last season, and Milloy's 91 tackles was his lowest total since he became a full-time starter. There simply must be some correlation there.
Now that he has joined the Bills, perhaps Milloy will return to his pre-2002 form. It's unlikely at the advanced football age of 29, but vindication is a theme that will surely motivate him. He may haunt the Patriots this Sunday. but in the long term, he will be but one more ghost from the Patriots' past. It's time to move on.
The irony in all of this is impossible to ignore: The attributes we most admired in Milloy - pride, ferocity, supreme confidence in his own ability - ultimately led to his departure.
He had made up his mind, and he was not going to be disrespected. He was going to get his money, right now, be it in Foxboro or elsewhere.
The Patriots decided it would be elsewhere. His last big hit for the franchise was not going to be on the salary cap.
And so, in the end, Lawyer Milloy finally forced a turnover.
(Originally published in the
Concord Monitor
.)
Labels: Lawyer Milloy, Monitor files