Why Patriots will beat the Rams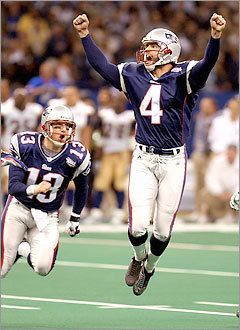 The New England Patriots will win the Super Bowl today. Of this there is no doubt. They will win because it is meant to be. It is their destiny, their fate, their just reward for 41 years of frustration. It is their time, their turn.
Ignore the conventional wisdom that says the Patriots need everything to go right to beat the mighty St. Louis Rams today. Anyone who does not believe that this team can win hasn't been paying attention. How can anyone doubt the Patriots now, after everything - everything - has gone so right for so long? From the emergence of boy-wonder quarterback Tom Brady to David Patten's game-saving play while unconscious against Buffalo, from the endless contributions of a huddle's worth of lovable scrap-heap free agents to the exorcism of so many old demons: this has been a season for the scrapbook.
How can anyone doubt them now, after their fairy-tale victories of the last two weeks? In the aftermath of the Tuck Rule/Winter Wonderland victory over Oakland Raiders, didn't it cross your mind that this sure-fire NFL Films staple might be the highlight in your life as a Patriots fan? And wasn't that highlight bumped down to the No. 2 slot a week later, replaced at the top by Bledsoe's tearful vindication in Pittsburgh?
It's plainly obvious that the planets are aligned for this team to end the region's 15-year dry spell without a major sports championship. There is an angel on this team's shoulder. And I can't wait to discover his game plan for today.
This isn't to say there aren't logical reasons why they can win, football-based explanations to appease the Pigskinheads who can't comprehend that the workmanlike 11-5 Patriots might beat the flashy 14-2 Rams. We know they'll need another big day from their special teams - field position is of the utmost importance against St. Louis. They'll need Antowain Smith to run the ball effectively and control the clock. They'll need to put pressure on Rams quarterback Kurt Warner, hoping he'll cough up the ball, and they cannot afford to cough up the ball themselves. And when the Rams do move the ball, the Patriots must hold them to field goals instead of touchdowns.
In other words, they'll need to play even better than they did in the teams' previous meeting this season, a 24-17 Rams victory Nov. 18.
Can all this be done? Sure. Has been, actually. The blueprint comes from a past Super Bowl. This comparison has been made more than once in the media frenzy of the past week, but it's so valid that it's worth repeating.
Let's go back to 1991 and Super Bowl XXV. The Buffalo Bills, with their "K-Gun" offense, the most explosive of its day, were double-digit favorites over Bill Parcells's New York Giants. The Bills had demolished the Oakland Raiders 51-3 in the AFC championship game, while the Giants needed a late Roger Craig fumble and five Matt Bahr field goals to get past the San Francisco 49ers 15-13 in the NFC title game.
So what happened? The Giants controlled the ball for almost 41 minutes behind bruising running back Ottis Anderson (the Antowain Smith of his time), and the New York defense pummeled the soft Buffalo skill players all day. Final score: Giants, 20-19.
Oh, and the defensive coordinator of that Giants team? Some fella named Belichick. Something tells me that guy might have a say in today's outcome as well.
If anyone is capable of coming up with a plan devious enough to stop the Rams, it is the Patriots' scheming head coach. We've said it before, and we'll continue to say it right up until his Hall of Fame speech: Bill Belichick's genius lies in his uncanny ability to force the opposing offense to do what it doesn't want to, or better, what it can't. (Hey, isn't that Kordell Stewart over there, nodding in agreement while wiping away tears? It is!)
The Rams pose Belichick's toughest challenge since dismantling the "K-Gun" 11 years ago. At first glance, they don't have a weakness. These guys score more often than Wilt Chamberlain. They score running and passing. They score in bundles - they are they first team in league history to score more than 500 points three seasons in a row - and they score in a hurry
Really, there is but one flaw in the Rams' offense. Call it their dirty little secret: They'd much rather be playing touch football than tackle.
Yeah, these guys are wimps.
Now, there is no disputing that Rams receivers Torry Holt and Isaac Bruce are as talented and electric and fast as any duo in the league. Their skills are startling.
But when it comes to taking one for the team, they aren't exactly Lynn Swann and Ed McCaffrey. They are yet to fight off a tackler for a few extra yards when given the option of diving to the safety and comfort of the turf. Even running back Marshall Faulk, slippery as he is, is reputed to have a glass jaw. He can be stopped, hammered into submission. The Patriots did it to him regularly when he played for the Colts.
Remember Terrell Buckley's interception in the team's first meeting this season? Wasn't Warner's fault - the pass was right where it was supposed to be. Turns out that the receiver wasn't. Watching the replay, you see Bruce ducks like the sky is falling when he sees someone in his path - a teammate, as it turned out. The pass eluded him and went right to Buckley, who returned it for a touchdown.
You can be sure Tebucky Jones and Lawyer Milloy have been made aware of the Rams' aversion to contact, just as you can be sure the Rams remember that five of their players were knocked into the infirmary during the teams' last meeting. It is no coincidence that the teams that have beaten the Rams, or at least given them a good fight, all feature physical, hard-hitting defenses. Think Tampa Bay, New Orleans or Philadelphia a week ago. They are all tough and mean - similar to the Patriots.
Some say the Patriots' season turned when linebacker Bryan Cox put a bone-rattling hit on Colts wide receiver Jerome Pathon in Week 3. Indy played scared the rest of the day. A similar message must be delivered to the Rams, preferably sometime around the coin flip.
Anyway, those are the logical ways the Patriots can win today. But who says logic will play a part in this? Instead, consider the most sentimental, improbable storyline your mind can conjure up, and then you may be closer to finding the truth.
Maybe Troy Brown will be the hero. That wouldn't be such a shock - isn't he always in the middle of the fun? - but it certainly would be ironic. Remember, this is the same Troy Brown who broke into tears when he found out that a double-hernia would keep him out of Super Bowl XXXI, the same Troy Brown who became sick on the sideline as Packers kick returner Desmond Howard bolted past his replacement for the game-clinching touchdown.
There are rumors that Brown will be returning kicks today for the first time this season. Imagine him taking one back to finish off the Rams. If any player deserves such justice . . .
Or maybe Bledsoe, the displaced gunslinger whose dignity amid adversity has made him as appreciated in these parts as Steve Grogan, will come off the bench and match Warner bullet for bullet, leading the Patriots to a come-from-behind victory. Wouldn't that be something if he actually one-upped last week's drama? Again: If any player deserves such justice . . .
Or maybe today's lead role will be played by Adam Vinatieri, Jermaine Wiggins or Ty Law. Who knows who the hero will be.
And who knows how the Patriots will top the last two weeks.
All we know is that they will.
Because in a season marked by miracles, these Patriots are not about to fall one short.
(Originally published in the Concord Monitor under the byline "Nostradamus Finn".)