The Pitino Dynasty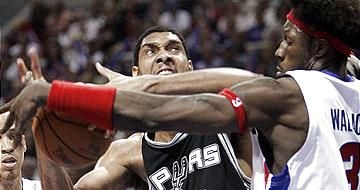 I swear on Buckethead's grave, I'll have something new posted Thursday night. 'Til then, something a few years old . . . and yet relevant to the upcoming Game 7 festivities in Texas . . .

I pecked out this column for the Monitor on the eve of the 2003 NBA Finals. It was a lousy, demoralizing time to be a Celtics fan. We were still lamenting missing out on Tim Duncan six years earlier, still steaming from the entire Rick Pitino debacle, still wondering what might have been had the franchise done something - anything - right other than lucking into Paul Pierce during that reign of error.

The column was written in a fury, but it read as a satire, an exaggerated look at what the Celtics might be like had Pitino lived up to the hype - in other words, had he done everything right instead of everything wrong.

Two years after publication, I think it holds up as an indictment of Pitino's incompetence, though in retrospect, it's apparent that not all of the personnel possibilities suggested in the column were entirely achievable. Duncan has revealed in recent years that he dreaded the thought of playing in Boston and almost certainly would have bolted for a warmer climate at the end of his rookie contract. (Likely Orlando, to play for some dude named Doc Rivers.)

Tracy McGrady, whom the Celtics could have had at No. 3 even after missing out on Duncan in '97, did exactly that after beginning his career in Toronto, so he may not have been a long-termer in Boston, either.

And Tony Parker never would have had his date with destiny - I believe her name is Eva - had the Celtics had the wisdom to choose him over lost cause Joe Forte. Yes, fate has certainly been Parker's friend.

I should also note that I underestimated Chauncey Billups here to the point of omission, or at least exclusion at the expense of McGrady. While Billups needed six NBA stops (Boston, Toronto, Denver, Minnesota, Orlando, Detroit) to find his game and his niche, the 2004 NBA Finals MVP has evolved into a superb clutch player. A Celtics fan cannot watch Billups without a touch of envy, imagining how perfect he'd fit with the current Boston team.

Of course, Pitino set the standard for underestimating Billups, swapping him 51 games into his rookie year for an aging and indifferent Kenny Anderson. As we are reminded by the piece - and tonight's game, which features five coulda/woulda/shoula-been Celtics - it was far from his lone blunder.
* * *
June 4, 2003
- The NBA Finals begin tonight, but David Stern might as well hand the important hardware to Tim Duncan now. Championship trophy, Finals MVP trophy, whatever else the two-time NBA MVP desires.
There is no reason to play these games. The league's best player is the centerpiece of the best team. Another championship for Duncan and his high-flying buddies is a foregone conclusion.
It's almost unfair . . . unless you are a Boston Celtics fan. Then you believe a cry for fairness is a losers' lament, one more sorry case of Green Envy.
Because your team is blessed.
Your team has Tim Duncan. And so much more.
Ever since that wonderful May day in 1997 when the ping-pong balls bounced their way, the Celtics have enjoyed an Auerbachian run of dominance. They won the right to draft Duncan, and they haven't stopped winning since.
With the Celtics favored to overwhelm the Los Angeles Lakers in the NBA Finals for the fourth straight season, with banner No. 20 a mere formality, the time seems appropriate to reflect on the rise of the latest Celtics' dynasty.
It began, of course, with Duncan. He is the fulcrum of it all, the foundation, the slam-dunking, shot-swatting embodiment of Celtic Pride.
"Without Tim, who knows how all of this would have turned out," said coach/chief architect Rick Pitino, who waited until after the lottery to accept the Celtics' job, just in case they didn't land the top pick. "It seems foolish to say, but without Tim, maybe I would have been a failure here."
Pitino, the only man ever to win Coach of the Year and Executive of the Year four seasons in a row, pauses to consider the the sheer silliness of such a notion. "Yeah, I'd have gone scurrying back to college with my tail between my legs. Ha. Imagine that."
Duncan was the surest thing to come into the league since Shaq, so Pitino figured he could gamble with the sixth overall pick, which had been pilfered from Dallas.
Pitino considered taking Kentucky's Ron Mercer, but the remarkably self-aware coach soon realized he was overrating a player simply because he coached him in college.
"The last thing I want to do is flood the roster with my old Kentucky guys," Pitino said. "Ron is a fine player and a nice young man, but he looked like Stojko Vrankovic compared to the kid."
So Pitino chose the kid, a skinny high-schooler from Florida. Someday, Tracy McGrady's number will hang alongside Duncan's in the FleetCenter rafters.
Duncan at one, McGrady at six. "Not a bad draft in retrospect," chuckles Pitino. But the dynasty was not built in a single day. Pitino's first Celtic team featured Duncan and precocious second-year forward Antoine Walker, along with Rick Fox and David Wesley, a pair of veterans whom Pitino had the wisdom to re-sign soon after accepting the job. The talent was there. But success took its sweet time.
While Duncan was a unanimous rookie of the year selection, the teenaged McGrady was too raw to contribute, and the 1997-98 Celtics labored until the waning days of the season. That's when Pitino made a crucial decision. He abandoned his beloved full-court press.
"It was something of an epiphany," Pitino said. "I realized that you have to coach to your players' abilities rather than forcing them to play a certain system that may not best suit their skills. I learned that you can't fit square pegs into round holes."
Coincidentally, Pitino's next best-selling motivational book was titled
Don't Try To Fit Square Pegs Into Round Holes.
Oprah loved it.
Call it the luck of the Irish, but those early struggles? They were blessings in disguise. The Celtics' 36-46 record gave them the 10th choice the following year, where Pitino again turned a lottery pick into a jackpot.
Cue the commish: "With the 10th pick in the 1998 draft, the Boston Celtics select, from the University of Kansas . . . Paul Pierce."
Decent pick, Rick? "When Paul started to slide on draft night," said Pitino, "we were stunned. We just had to get him. I mean, even the worst talent evaluator in basketball history - I'm talking about a real nitwit here, like someone who, oh, I don't know, might give a bumbling stiff like Travis Knight $22 million - couldn't screw that pick up."
Pierce was a draft-day steal, but he wasn't Pitino's last. Three years later, on the suggestion of omnipotent personnel guru Chris Wallace, the Celtics spent a late first-round pick on an unheralded 19-year-old French point guard. Tony Parker was deftly quarterbacking the Celtics' offense within a year. "Tony's the best thing to come out of France since a personal hero of mine," said Pitino. "Napoleon."
Pitino's personnel genius is not limited to drafting players. He's a savant at discovering them, too. In 1997, Bruce Bowen had played a total of one NBA minute. Pitino must have recognized something special in that 60 seconds, because he signed Bowen and molded him into one of the game's premier defensive stoppers.
Then there was the day a ripped but raw power forward from Div. II Virginia Union showed up at the 1999 training camp. The coach watched the man-child snatch every rebound in sight, and realized he'd be a fool not to offer this havoc-wreaking beast a contract. "This kid is the next Paul Silas," said Pitino, showing his usual respect for Celtics history. That's how Ben Wallace came to wear the green and white.
And that's how a dynasty came to be built. The starting five that will take the court tonight is a Dream Team unto itself: Duncan, Wallace, Pierce, McGrady and Parker. Walker, the selfless captain, proudly carries on the Celtics' storied sixth-man tradition, while Fox, Bowen and Wesley provide depth that is the envy of the league.
How superior are these Celtics? It has come to this: They have become sympathetic to their former rival, the always-a-bridesmaid Lakers.
"You have to feel bad for Shaq and Kobe, not having a single championship between them," said Pitino, his words sincere as always. "Even with two great players, it's tough to win anything if you don't have a capable supporting cast. I can't imagine us winning with, say, just Antoine and Paul, no matter how hard they'd try."
In the era of the salary cap, Rick Pitino has proven that building a champion takes luck, serendipity - and most of all, a savvy general manager.
"And having Tim doesn't hurt," said Pitino, deflecting praise as usual. "I don't even want to imagine what might have happened if he had never walked through that door."
* * *
As for today's Completely Random
Basketball
Card:
Pitino, a genius only when it comes to subtly passing the buck, likes to tell us that he gave up on Billups only when Bob Cousy told him the kid would never make it as a point guard. Figures. The one time Pitino listened to anyone . . .