GameDay: Toronto 12, Boston 5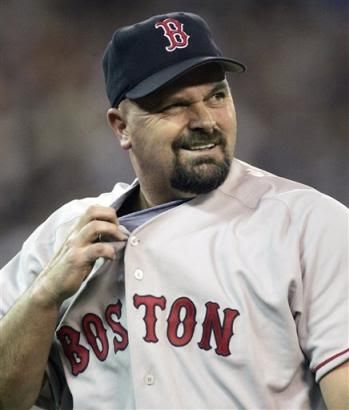 Might as well get the good news out of the way first. David Ortiz, who's swinging the bat like it's October and the season is on the line, cranked a three-run homer to dead center off Jays ace Roy Halladay, trimming the Blue Jays' lead to 5-4 in the sixth inning.
And there you have it. The highlight. As for rest of this one, it was about as ugly as a Randy Johnson close-up.
Begin with starting pitcher/2005 Imbedded Yankee candidate David Wells, who needed just 78 pitches to throw 6 1/3 innings - meaning, basically, that he was efficiently sh*tty.
Wells, pitching like he was feeling the effects of one too many Molson and Count Chocula breakfasts, gave up back-to-back-to-back homers in the third to his distant cousin Vernon Wells, as well as Corey Koskie and Shea Hillenbrand.
Wells's parting line: 6 runs, 9 hits, an 0-2 record, and an 8.44 ERA. Get well, Wade Miller. There may be an opening soon.
Wells was lousy - and yet, pathetically enough, he was the best Sox pitcher of the day. The bullpen pulled a "Mass Mariano," giving up seven hits and six runs in 1 2/3 innings.
Matt Mantei looked like a poor man's Curtis Leskanic, throwing straight smoke and having no clue where it might end up. The Jays' Frank Catalanotto - one of those marginal players who inexplicably and repeatedly torments the Sox - greeted Mantei with the go-ahead single.
John Halama relieved him 2/3ds of an inning and three hits later, only to shock interim manager Brad Mills by pitching like . . . John Halama. He failed to retire a batter, setting the stage for the worst offender, Blaine Neal.
Neal gave up a grand slam to Gregg Zaun - he of the 39 career homers and baseball-reference historical comparison to Damon Berryhill - a development that should result in permanent banishment to Pawtucket, R.I.
You might remember I sang Neal praises on the site several posts ago. Well, you forget that ever happened, punks. By the time you read this, I'll have deleted that nonsense and I'll forever deny its existence. I know the truth now. Neal has a good arm, but he couldn't make a friggin' Wiffle Ball curve.
In a related story, this young fella . . .
. . . makes start No. 2 for the Mets today. If he pitches as well as he did in start No. 1, and Sox starters continue to bumble along, the WEEI banshees will be screeching so loud, you'll be able to hear them with your radio turned off.
Matt Clement, whose gameday personality seems as jittery as his hoppin' fastball, goes today.
No pressure, kid.