Beautiful day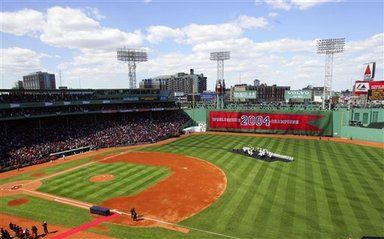 I've been a Sox fanatic for 27 years, or since I was 8 years old and saw Butch Hobson dive headfirst into the bat rack during some random game early in 1978.
I later realized ol' Clell Lavern was likely hopped up on coke and greenies, but still, it was cool, Superman-style stuff, and I was hooked for life.
So by my rough estimation, I've been a fan for approximitely 4,000 games. I've probably seen at least an inning, a highlight,
something
from 3,999 of them. And of all those games through all of those years, today's
raising of the banner/ring ceremony/thrashing of the Yankees
ranks as my most magical, enjoyable, wonderful, you-pick-the-adjective day as a fan.
(Loophole: Game 4, 2004 World Series, and Game 7, 2004 ALCS, were at night. Hah.)
And yet, I haven't really experienced the day yet, not in full emotional force. I was en route from Maine to Boston during the pregame festivities, looking forward to being a part of the Globe sports department on such a transcendant day but lamenting that I had only Jerry Trupiano (yammering over the emcees on the field) to paint me the picture of an event we've waited a lifetime to enjoy.
Troop and his klutzy wordplay weren't enough, and I only caught an occasional glimpse of the festivities on the sports department's television. Fortunately, my TiVo was doing its thing, and I'll watch everything in its entirety when I get home tonight. Then I'll watch again. And maybe again. Then tomorrow, schedule-permitting, I'll come here and spew roughly 10,000 words about the wonderful things I saw.
Until then, 10,000 words' worth of pictures . . .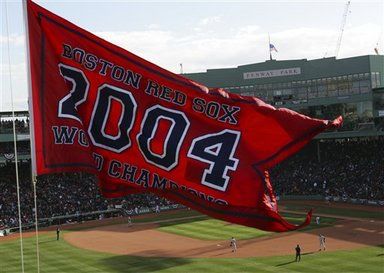 Great to see D-Lowe and D-Rob . . .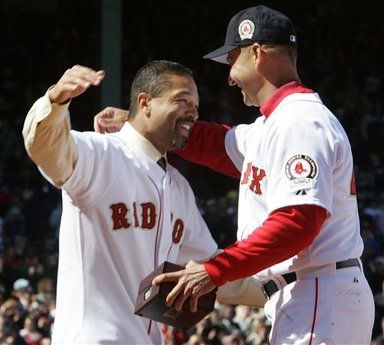 . . . even better to see Tito . . .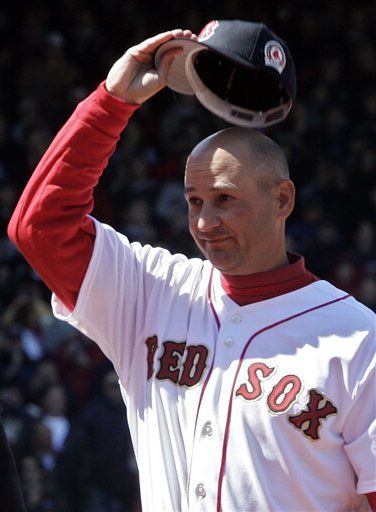 . . . and Tedy. Especially Tedy.
<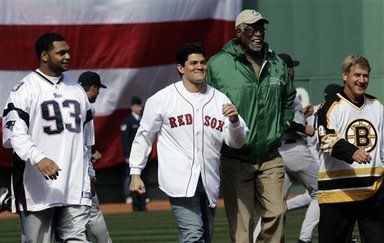 The all-time Mr. Red Sox . . .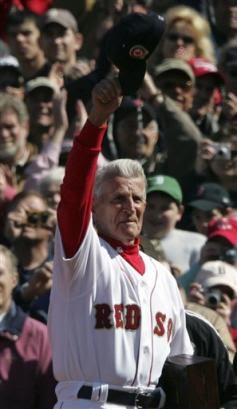 . . . and the present-day Mr. Red Sox . . .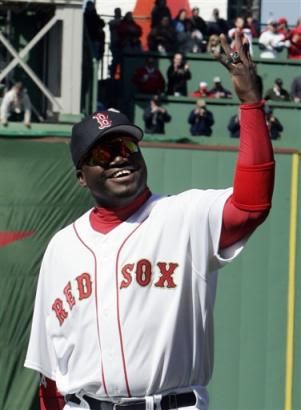 A worthy foe . . .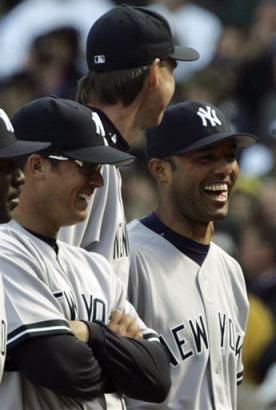 . . . a worthy target . . .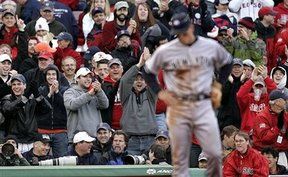 . . . and, 86 years in the waiting, the crown jewel.
Now all I need is a picture of ol' Butch . . .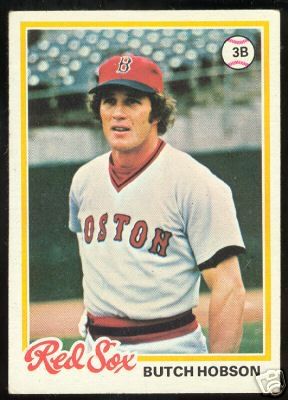 . . . bat racks be damned, even he was part of the show today, along with past beloved Sox both obscure and legendary.
It really
doesn't
get any better, does it?