GameDay: Boston 8, New York 5
Just another chapter in the predictably unpredictable serial drama titled "The Champs and the Chokahs" . . .
Tonight's highlights (term used loosely):
~ Home plate umpire Greg Gibson was so stunningly inept, I expect him to take off his mask and reveal himself to be Lt. Frank Drebin from the "Naked Gun" movies. His squeeze job on Bronson Arroyo in the fourth inning - both Captain Jetes and Gary Sheffield drew walks on pitches that any reasonable man with two eyeballs would have called a strike - allowed the Yankees to dig out of a 4-1 hole and take a temporary 5-4 lead. It's almost as if he didn't expect Arroyo's curveball to, you know, curve.
In the bottom half of the inning, Gibson pulled off the rare feat of ticking off both the Yankees and the Red Sox in a matter of pitches. After an apparent strike to Jay Payton was called a ball, Johnson threw his next pitch to the
exact
same spot. Gibson, whose coin apparently came up heads this time, decided this one was a strike, causing the Yankees starter to wave his giant stork arm in frustration and mutter something under his breath. ("Don't talk back to me," perhaps?)
Then, Gibson called a strike on a down-and-in slider to the next batter, Bill Mueller, a pitch that was at least six inches low and six inches off the plate. Francona, who really doesn't need the stress of enduring a nitwit umpire right now, did the smart thing and got himself ejected, joining the previously tossed Ron Jackson in the clubhouse, where they could witness Gibson's world-class incompetence while at least knocking back a refreshing Pabst Blue Ribbon or two.
~ Mr. Unit gave up three home runs, including Jason Varitek's 100th as a Red Sox and Jay Payton's 1st. No truth to the rumor Georgie Porgie is making him go on "Extreme Makeover: Team Evil Edition" as penance.
~ Sitting in the front row along the first-base line, the ubiquitous Doug Flutie snared a foul ball. More than likely, he also snared the 2005 ESPY for Pro Athlete Nerdy Enough To Bring His Glove To A Game.
~ Edgar Renteria, whose anemic (.219) performance had him perilously close to hearing a "Ca-brer-a's bet-ter" chant, busted out in a big way, cranking a two-run homer off the Unit in the third and a go-ahead RBI double off Imbedded Red Sock Tom Gordon in the eighth. Both times he cranked what each pitcher would probably tell you with a straight face was a good pitch. He also made a Gold Glove-caliber diving-stop/throw-from-the-knees to get Tony Womack leading off the game. (In fairness, Womack should have been called safe.) Yes, it was reassuring to get our first look at how valuable Renteria can be. It's safe to say no derisive chants will be aimed his way in the immediate future.
~ And finally, what would a Sox-Yanks game be without a bizarre confrontation or two? Tonight's episode delivered, giving us some fan-on-player crime: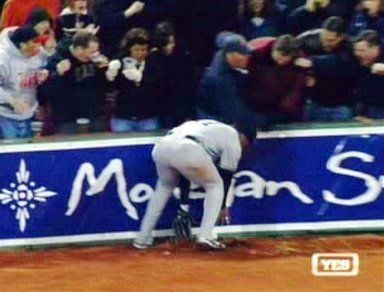 The details: In the eighth inning, Sheffield was lumbering after Jason Varitek's triple as it bounded along the base of the right-field fence when a fan took a swipe at the Yankees' rightfielder just as he picked up the ball. Sheffield shoved the fan, threw the ball back to the infield as two runs scored, then turned toward the idiot as if he were going to come back and finish the job.
Instead, Sheffield actually did an admirable job of fending off his cream-and-clear fueled urges and not pulling a Jeff Nelson on the fool. Security intervened quickly, and it could have been a lot uglier than it was, though I'm sure the WEEI banshees will give it their usual apoplectic treatment today.
Tom Caron summed up the strange night appropriately during the postgame show: "When these two teams meet, why does it always feel like Game 7 of
something
?
TC's right. It's way too early for this drama. The Yankees don't cross the Sox' path again until Memorial Day. Good riddance. And take the glass-eyed ump with you.
Yep, after this, I'm ready for some of that nice, easy Devil Rays action, pronto.
* * *
And just for the Hades of it, a short walk down memory lane . . .
"Hey Randy! Nice mullet!"
"DON'T TALK BACK TO MY MULLET!"