Where have you gone, Tom Newell?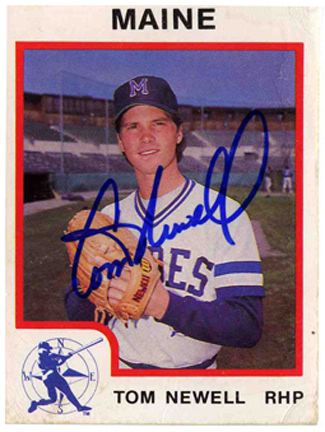 (Article originally published in Down East magazine, April, 2002.)
They're a forgotten footnote in Maine's sporting history now, but a decade before the Portland Sea Dogs captured the hearts, imaginations and wallets of local baseball fans, there was minor-league baseball in our state. The team was called the Maine Guides, and I considered them mine.
The Guides were a Triple-A-level ballclub, a ladder-step higher than the Sea Dogs and just a lucky break from the major leagues. Their home, called The Ballpark, was as clean and simple as its name. Just a five-minute walk from my family's summer home in Old Orchard Beach, it was where I happily lounged away those breezy summer days before pictures of girls replaced ballplayers on my walls.
The Guides arrived in 1984 to much anticipation. They drew 6,144 for their inaugural home game, in 38-degree temperatures. The team won, and won some more. A writer from
Sports Illustrated
came to town and wrote a fawning four-page spread. One player said he enjoyed Old Orchard so much, getting summoned to the majors felt like a demotion. Even the helicopter-sized mosquitoes, the logical result of the illogical decision to build the park in a forest near the ocean, were part of the charm.
The Guides' owner, Jordan Kobritz, didn't believe in promotions and mascots and loud, endless distractions. He believed the game was the draw. For a time, it was. But the Guides preceded the baseball nostalgia boom, and eventually, without any marketing, the magic died. The team bolted town in 1988 for Scranton/Wilkes-Barre, Pa., leaving a trail of debt in its wake. In the franchise's final innings, the ballplayers outnumbered fans, and the mosquitoes went hungry.
But in between the glorious beginning and ignominious end, I spent some of my fondest days attending their games. For the first three years of their existence, players were provided by the Cleveland Indians, an organization whose haplessness inspired the comedic movie
Major League.
(Players were later provided by the more capable Philadelphia Phillies.) Although I obeyed my obligation to root, root, root for the home team, I was aware that most of the guys who would make a comfortable living in the sport were in the opposing dugout.
I learned this at my first game. The Guides lost to the Toledo Mud Hens by something like a 17-1 score. Of all the Mud Hens who circled the bases that day, it was a rotund, shiny-scalped outfielder with an easy smile who caught my eye. I asked my dad, holding the game program, for the player's name.
"Kirby Puckett," he said, adding indifferently, "A guy built like that will never make it."
A week later, Puckett was gone, up to the big leagues and the Minnesota Twins. I doubt he's been back to Toledo or Old Orchard since, but he did make it to Cooperstown this summer. Kirby Puckett is a Hall of Famer. My dad still is not a scout.
Usually, my partners in attendance and crime were my cousins Kris and Tom, who visited each summer from Illinois. Armed with our Sharpie pens and a stack of baseball cards, our pregame ritual consisted of leaning over the railing and hollering, "HEY, CAN WE HAVE YOUR AUTOGRAPH, MISTER?" at anyone who happened to be in uniform. I remember my excitement the time I secured the signature of Barney Nugent. I also remember my disappointment when I discovered the only Barney Nugent listed on the Guides roster was the trainer. I suppose the belly lapping over his belt should have been a clue he wasn't some gifted young slugger.
One time, we met a big bellied guy who did turn out to be a pretty good ballplayer. We had seen this mammoth man play before, so we knew his name . . . or at least thought we did. "SEE-cil! SEE-cil," we yelled and pleaded in unison, waving our cards and pens. SEE-cil turned and glowered our way. The thought of fleeing seemed reasonable. "My name is Cecil (SESS-il)," he said, his glare quickly turning into a Bet-I-scared-ya-didn't-I? smile. He signed our cards. A few years later, a larger-than-life Cecil Fielder hit 51 home runs for the Tigers. I imagine kids who nagged him for autographs that summer pronounced his name right.
The players we saw pass through in visiting uniforms could stock an All-Star roster for this generation. Dwight Gooden, on his first comeback from drug abuse. David Justice and David Wells. Tom Glavine and John Smoltz. Fred McGriff and Jay Buhner. But for every Puckett or Fielder, there were dozens of Greg Leggs and Junior Noboas, Pichy DeLeons and Alan LeBoeufs - oddly unforgettable names with utterly forgettable careers.
And then there was Tom Newell.
Tom Newell is without exception my favorite baseball player of all time. My cousins and I got his autograph so many times that he knew us by sight if not by name. "It's you guys again?" he'd say, then shake his head, smile and sign whatever we were waving at him that day. Tom Newell looked like a ballplayer, tall, trim and tan. He acted like every fan's friend.
I rooted desperately for Tom Newell to make the major leagues, and he did, with the Phillies at the tail end of the '87 season. I'll forever recall seeing him at The Ballpark the day in September he learned he'd be going to the majors.
"So you got the call," I said. He looked up from signing his name. "Yep. Flying to Philly after the game. It's my dream come true," he said, his grin the truest confirmation.
His dream came true only for a moment. The next spring, he blew out his rotator cuff, the kiss of death for a pitcher. He bounced around the minors for a number of years, never quite regaining his health or his fastball. Tom Newell never again wore a big-league uniform.
I last heard of him too many years ago, when I read in the back pages of
Baseball Weekly
that he had been released by the Double-A Albany-Colonie Yankees. Listed were his career major-league statistics: Two games. One inning. Four runs allowed. Earned-run average: 36.00. It was his baseball obituary.
While old ballplayers are laid to rest in the agate type, old ballparks die a more protracted death. During a recent visit to my family's home, I stopped by to check up on an old friend. It was a melancholy experience. The Ballpark is abandoned now, surrounded by a chain-link fence to discourage would-be intruders. Peeking in, I could see the crumbling press box, the sunken clubhouse roof, the outfield fence full of holes. The field desperately needed a mowing. So did the parking lot. I saw some ghosts -
hey, down by the bullpen – that's where I caught my only foul ball
- but mostly I saw neglect.
While there were few signs that the Guides ever existed, their indirect descendants in Portland are going strong. I know this firsthand; I attend a scorebook's worth of Sea Dogs games a summer. But of course it's not the same. I'm older now, and I understand that the game is not enough; it needs the marriage with marketing to thrive, to survive. So in that case, the Sea Dogs will be around awhile, I am certain.
Sometimes, though, while watching the frenzied fans feed French fries containers to the "Trash Monster" or cringe as they wail along with Slugger the Sea Dog on another tinny version of "YMCA," I catch myself wondering where they all were when my Guides needed them.
And sometimes, I wonder if any of those fans ever heard of Tom Newell.
Or for that matter, Barney Nugent.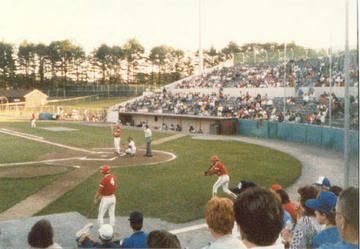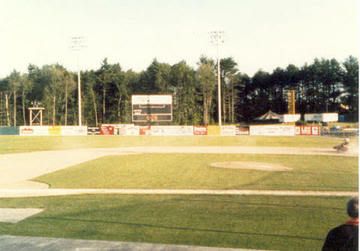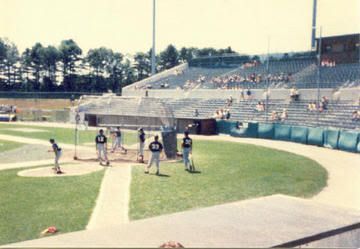 (Special thanks to Brian Merzbach at ballparkreviews.com for use of the photos.)
Labels: Barney Nugent, Cecil Fielder, Greg Legg, Jordan Kobritz, Junior Noboa, Kirby Puckett, Maine Guides, Tom Newell