Ainge for 3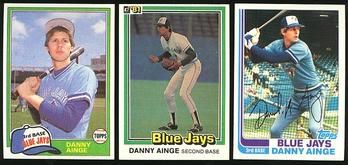 Check out the card on the left. There's the wispy, you're-not-the-boss-of-me-Brigham Young mustache. The fearful, I'm-actually-supposed-to-
swing
-this-freakin'-bat? look. The 6-5, 170-pound wimpy-for-a-stickfigure frame.
The question is obvious: Has any professional baseball player ever looked less like a professional baseball player than Danny Ainge? (Fat tubs of goo and Sid Bream excluded.)
His former Blue Jays teammates sure didn't think he looked the part, and man, did they ever torment him for it. Get this: Alvis Woods, Juan Berenguer and Otto Velez used to call him Potsie, initiated him daily by pummeling him with a sack full of rosin bags - the sickos called it "Stormin' the Mormon" - and left him stuffed upside down in his locker every day during spring training.
And according to clubhouse legend, evil underlings Barry Bonnell and Rick Bosetti once tried to give Ainge what they called a "full-body hotfoot" involving a gallon of gasoline, a Bic, and two very sinister smiles. Only the heroic efforts of part-time volunteer fireman Lloyd Moseby kept Ainge from a flamebroiled fate.
Poor, frightened Danny. It's no wonder he hit just .220 in parts of three major-league seasons. It's tough to concentrate on the curveball when your skin is smoldering and your eyes are weary from crying yourself to sleep.
To this day, he thanks his lucky stars that Red Auerbach rescued him from torturous Blue Jay hell and adopted him as a Celtic, where getting bitten by Tree Rollins was nothing compared to what he'd been through. Fortunately, Ainge thrived in the NBA, and a happy ending was had by all - even the Blue Jays' bullies, all three of whom, interestingly enough, became nurses after their playing days ended.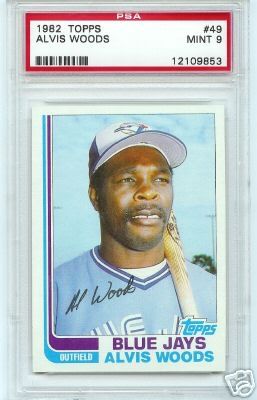 "Please, you can call me Nurse Alvis . . ."
(Oh, all right. You're onto me. It's all fiction, even the Bonnell/Bosetti Flamebroiling Incident. I just wanted an excuse to post those Ainge cards, and figured I'd better come up with a story since the fact that the Red Sox take on Ainge's childhood employer tonight at the Motel6Dome probably isn't reason enough. And no, I have not taken my medication for days.)