And another thing . . .
Touching all the bases (scraps 'n' leftovers edition) while waiting for Boomer to outduel the Big Unit Sunday night . . .
In 1998, reigning AL Rookie of the Year Ben Grieve batted .265 with 28 homers and 86 RBI for the Oakland A's. On the opposite coast, Red Sox rookie right fielder Christopher Trotman Nixon batted .270 with 15 homers and 52 RBI.
Grieve, a sweet-swinging former No. 1 overall pick with an ideal baseball pedigree, had greatness on the horizon; Nixon was touted, a former first-round pick himself, but injuries had made stardom uncertain.
Yet that summer, ESPN's Peter Gammons wrote that Nixon would far exceed Grieve as an all-around player and, further, anyone who thought otherwise did not know what he/she/RuPaul was talking about. (That's a rough paraphrasing; I wish I could find the exact quote, but Google was of no help.)
Now, upon reading this, I know I'm not the only one who thought the effects of hanging out with Bill Lee in the '70s were finally taking their toll on poor Peter. Or maybe it was the effects of working with that contradictory twit Harold Reynolds every night. Pick your poison.
Fast forward to Monday's Sox-Pirates spring game. Nixon is an established cornerstone for the reigning World Champs, a beloved scrapper who gets a warm ovation each time he steps to the plate. Grieve, his unfulfilled promise a cruel joke at this point, spends the same game batting ninth for the lowly Pirates. I had no idea he was with Pittsburgh, and the next day he wasn't, becoming just another late-spring roster casualty, another small name in the small type.
I mention this for one reason: Since I tend to give Gammons and His Very Special People a lot of grief in this space - I like to think of it as expecting a high standard from one of my sportswriting heroes, but usually I'm just being a dinkus - I figured I should give credit where credit is due. He was dead-on right about Nixon. Good call, Gammo.
Which leaves us with one question: What in the world happened to Ben Grieve?
- Baseball Prospectus's 2005 stat projections for a notable quartet of shortstops (additional predictions courtesy of me):
Captain Jetes And His Technicolor Intangibles: .294 avg. 16 homers, 16 steals, 1,620 smug smirks, 81 frustrated eye-rolls at A-Fraud.

Edgar Renteria: .302 avg., 12 homers, 19 steals, countless leather-lunged variations on this salute from the Fenway crowd: "HEY EDGAH! THANKS FER MAKIN' THE LAST OUT OF THA SERIES!!!! YAHHHHHHHHHHH! WORLD CHAMMMPPPS!!!

Orlando Cabrera: .268 avg., 10 homers, 12 steals, 25 new handshakes for 25 new teammates, immeasurable joy in plying his trade.

Nomah: .295 avg., 18 homers, 6 steals, an infinite number of tics, quirks and bizarre superstitions, and if he's healthy, redemption.
- After watching the Yankees-Tigers game today and seeing the Incredible Shrinking Pudge Rodriguez for the first time, I had one reaction: Jose Canseco may have screwed up the facts, but it sure looks like he got his culprits straight.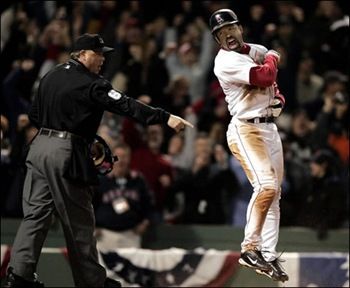 - I was bummed when the Sox traded the future mayor of Boston, Dave Roberts, but I understood it. He wanted to play every day. The Sox couldn't appease him, then found a very beneficial trade for both player and team alike. (Jay Payton and Ramon Vazquez for Roberts is a steal . . . no pun intended, honest.) The only reason not to make the deal: sentiment. And sentiment is not conducive to winning championships; just ask the shrewd dude in the sweatshirt that runs the show in Foxboro. I'm surprised that after three Super Bowls and a World Series title that this point eludes so many New England sports fans. Example: A certain popular internet columnist lamented the deal again today, suggesting the Sox should have kept Roberts with the promise of getting him 300 at-bats. 300 at-bats? At what cost? Unless Johnny Damon, David Ortiz, Trot Nixon or Manny Ramirez suffers a serious injury (knock on wood) or is taken hostage by a crazed, pathetic Yankees fan (redundant, I know), there is no friggin' way 33-year-old Dave Roberts, with his .254 career average and single-season high of 25 extra-base hits, could have justified getting 300 at-bats with this team. Thank goodness Theo is cold-hearted enough to realize as much, and kind-hearted enough to send him to a place where they don't.
That said . . .
Roberts is expected to begin the season on the disabled list for the Padres. Any chance he makes it to Fenway for the home opener/ring ceremony? The ovation for the man would register on the Richter Scale.
- And just because, our Completely Random Baseball Card for today:
Ah, Mike Paxton -
now
we're getting obscure. The slopballing righty went 10-5 for the Red Sox in '77, then was shipped to the Indians along with
el busto
Ted Cox, catcher Bo Diaz, pitcher Rick Wise, and a steel plate from Don Zimmer's noggin in exchange for a 23-year-old showboat by the name of Dennis Eckersley. Decent trade there. Paxton won 20 more big-league games; the Eck won that many his first season in Boston. Perhaps it was the indignity of having the worst airbrushed baseball card of all-time that sent Paxton's career into a tailspin. Did Topps really have to make the dude's nose appear disfigured? So cruel, you artsy types.