A partridge in a pear tree? What kind of lame gift is that?
Ten free minutes for me, 10 free lords a-leaping for you . . .
1. I don't get why so many words have been wasted on Tom Brady's Pro Bowl "snub."
Peyton Manning is having a far better year, Carson Palmer has slightly better numbers, and Philip Rivers has slightly inferior numbers but quarterbacks the league's best team.
They are all deserving choices. Granted, Brady has had to deal with more adversity than all of them put together, but I think anyone who his assessing his performance honestly would say this hasn't been one of his best individual seasons. Oh, he's been good, and god forbid we ever find out what life is like without him . . . but for whatever reason, he hasn't been
great
. Had he been chosen for the Pro Bowl, it would have been based on reputation rather than anything he's accomplished on the field in 2006. Anyway, I can't imagine he gives a damn or pays more than lip-service to the contrived "they're disrespecting us again" angle. Brady's priority has always been a certain other Bowl, the one that matters. (By the way, am I seeing things, or is that a Colts hat he's wearing in that photo?)
2. We should have a better clue as to the legitimacy of the Patriots' postseason aspirations after today's business trip to Jacksonville, where the Jack Del Rio's bipolar Jaguars tend to perform as if they're the '78 Steelers. While today's game is expected to be a street brawl - the Jags like to bring the pain - at least the Patriots aren't going into this one undermanned: My man Mike Reiss's trained eyes tell us that Laurence Maroney and Rodney Harrison appear ready to defy the injury report and play despite their questionable status, and while Vince Wilfork and Ben Watson will be observers rather than participants for the second straight week, there are encouraging signs that this injury-ravaged team is regaining some semblance of health just in time for the playoffs. If only they can just get through this one with a win . . . and no more personnel losses.
3. Two leftover thoughts on the Iverson trade. 1) I give A.I. and George Karl a month, tops, before they are on the verge of re-enacting Sprewell-Carlesimo. They're two of the most stubborn mules in the NBA, and Iverson's reckless/fearless crossover-and-chuck game will quickly offend Karl's Tar Heel sensibilities. 2. It's apparent the Celtics could have put a better package together - Joe Smith, Andre Miller, and two No. 1s is really the best Billy King could do? - but with the flashes Al Jefferson is showing, I'm glad Danny Ainge resisted the temptation. Call me a fool, but I believe in these kids. 3. 'Melo and Iverson together? Now
this
should be a reality show.
4. A couple of the more prominent stats wizards are predicting a major breakout for Manny Delcarmen next season, based on his improved K/BB rate in '06, and it did seem like he was making significant progress before injuring his hand and losing command of this curveball. It's fair to say he's the most likely of the Sox' unproven cadre young pitchers to contribute immediately next season, and for that reason I hope the rumors are false and he's not the pitcher who would head to the Nationals in a Wily Mo Pena-Chad Cordero swap.
5. If there is one small blessing regarding Paul Pierce's two-week injury hiatus, it's that Doc Rivers will have no choice but to play the electric (if clueless) Gerald Green until The Truth's wobbly wheel is healthy again. Judging by the Sixers debacle, things could get ugly during Pierce's absence, but at least Green will keep it interesting with a SportsCenter highlight or two.
6. File this under Stupidest Damn Thing I've Read All Year, NFL Division. It comes from
a recent article
by The Associated Press's Dave Goldberg on the Colts' pathetic defense. In attempting to put the six-time On Paper Super Bowl champion's flaws into context, the nation NFL writer for the nation's largest wire service offers this nugget of idiocy:
In the end, it's just another reason why there are no dominant teams in the NFL and haven't been for a decade.
I was so stunned when I first read it that I immediately had to read it again, just to make sure I didn't miss an addendum or a qualifier or some friggin' explanation. Something such as, ". . . excluding, of course, the three-time Super Bowl champion New England Patriots, who won 21 consecutive games, 10 straight playoff games, went 34-4 over two seasons, and must be regarded as the first true dynasty since the early '90s Dallas Cowboys." Alas, such a sentence never appeared in Goldberg's article. Weird, huh? He must have hit the delete key by accident or something, because so national football writer would be so brazen or oblivious as to completely disregard the Patriots' accomplishments . . . right?
7. The three best running backs I've ever seen, in order. 1) Earl Campbell (He ran like a pissed-off bull at Pamplona, which is probably why his prime was abbreviated - he took more kill shots than Kevin Faulk.) 2. Walter Payton (My memories of
Sweetness
remain so vivid, I can't really comprehend that he's been gone
seven
years now.) 3. LaDainian Tomlinson (If he makes a champion out of an accomplished gagger like Marty Schottenheimer, he immediately ascends to the top of the list.) Honorable mention goes to Bo Jackson, who was the greatest Bosworth-abusing combination of power, speed, charisma, and video-game invincibility we've ever seen, but was gone before you can say "Bo knows hip replacement."
8. It seems you've come to expect an obligatory "The Office" reference, so here's a
YouTube clip of a recent Craig Ferguson appearance by the Official Muse of TATB, Wife Excluded.
I'm searching for a "now
that's
a Golden Globes nominee" joke here, but frankly, I'm just not finding it.
9. I've come around on the benefits of this transaction, but it simply cannot be a good omen that J.D. Drew is ready to go on the disabled list before he even signs his contract.
10. As for today's Completely Random Football Card: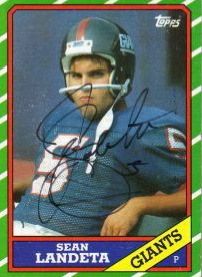 I suppose it was a better idea football-wise to bring in that roided-up idiot punter Sauerbrun, but I was hoping the Pats would sign Landeta after working him out this week. The dude is
ancient
. He's been around so long, he actually played in the USFL, though he really first made his name for dating Donna Rice after the Gary Hart scandal. Told you he was ancient.
* * *
I'm hoping to write during or after today's Pats game, but I have a feeling I may be the designated Christmas Eve Errand Boy in the TATB household. So if we don't cross cyberpaths again until the New Year, I just want to offer my sincerest thanks for making this fly-by-late-night operation something I'm proud of and genuinely enjoy working on. All you readers, emailers, commenters,
sportos, motorheads, sluts, bloods, geeks, wasteoids, dweebies, and $*%&heads make it worthwhile. You're all righteous dudes
. So happy holidays you and yours, and be careful out there. You never know where Dontrelle Willis might be peeing on a car.
Labels: Allen Iverson, Earl Campbell, Gerald Green, J.D. Drew, Jenna Fischer, LaDainian Tomlinson, Manny Delcarmen, Mike Reiss, Paul Pierce, The Office, Tom Brady, Walter Payton