18 questions
(Because I'm too freakin' tired to attempt 20 . . .)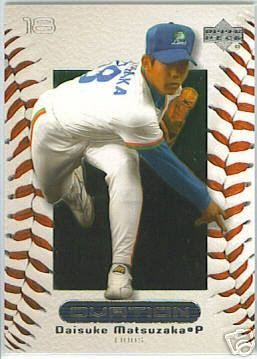 1. So now that we've had a couple of days to wrap our heads around this Daisuke Matsuzaka story, let's start with this: What's the best part about the whole delightfully mind-boggling development?
You mean other than imagining the look on Brian Cashman's hangdog face when he realized the Sox had won the bidding? How about this: That despite the shock and incredulity from certain corners regarding the $51.1 million posting price, no one is even hinting it's a bad investment, because
no one
is even remotely skeptical about his ability to be an ace in the major leagues. It's not by accident that the Red Sox, Yankees, Mets and Rangers all greatly exceeded the predicted posting price of $20 million - this kid gets nothing but rave reviews,
everyone
is smitten with his ability, and they were all desperate to obtain him. Also, it's pretty cool that his wife is nicknamed "Rockets." If I'm not mistaken, Johnny Damon's wife's nickname was "Zeppelins."
2. So, doofus, do you want to take a moment to apologize to Buster Olney, who proved correct with his scoop that the Sox won the Matsuzaka sweepstakes, despite your assertion that he bats "somewhere around the Mendoza Line" when he tries to break a story?
Yup. My bad . . . and you bet I'm glad he was right. Hey, I like and respect Olney . . . and I like and respect him even more now that I know he's
the Dexter Manley of sports writing
. (Whaddaya mean the Onion is satirical?)
3. Why did the Patriots sign the mummified remains of Vinny Testaverde?
Because Tom Brady is physically hurting. Oh, I suppose there's some truth to the theory that Testaverde, who broke into the league when Brady was 10, will act as a sounding board and another set of eyes. After all, Brady, whose chief confidants are a 30-year-old offensive coordinator and backup who was a backup in college, probably relies on his own knowledge more than any QB in the league. But I'm convinced - and I know I'll take some crap for this - that Brady is playing through an injury, one that just might be affecting his play. C'mon, it's okay to admit it: With the exception of the first Buffalo game and the Minnesota victory, he hasn't been himself all season, particularly in terms of his accuracy. He's been . . .
decent
. Nothing more, and certainly not the steady stalwart we've come to expect. There's something going on here . . . and remember, Brady had hernia surgery shortly after last season ended, so it's not like playing through an undisclosed injury is unprecedented. I think Belichick is concerned about his condition, watched him take that violent beating against the Jets, and realized it was foolish to proceed with just one backup to his aching and possibly ailing franchise quarterback. So the bat signal went out for ol' reliable Vinny. You bet I hope I'm wrong about this, and Brady drops 400 yards and four TDs on the Lambeau loyalists this Sunday. But I've seen enough this season to know better than to expect it.
4. Why are the Sox willing to pay Julio Lugo $8 million per season?
Because they didn't learn a goddamn thing from the Edgar Renteria disaster - namely, that if you have a perfectly capable, defensively stellar shortstop, there's no need to replace him with someone more expensive who
might
be marginally better. Cripes, I wish they'd just kept Orlando Cabrera and saved us from this annual charade.
5. Will Manny Ramirez be batting cleanup for the Sox come Opening Day?
God, I hope so. Hell, you guys know how I feel about Manny by now. I consider myself fortunate to be able to watch one of the greatest righthanded hitters of all-time swing the bat for the Sox, and while I felt increasing frustration with his barely excused absence down the stretch last season, I still find the brunt of his quirks more charming than maddening. I love watching the guy play, and at this point in his historically consistent career, the two years and 30-something million dollars remaining on his contract are nothing less than a bargain, particularly in a market where a severely flawed fantasy league hero like Alfonso Soriano is going to get $120 million. Further, I can't imagine they'd get equal value in a trade; if Theo Epstein ended up accepting the likes of slopballer Aaron Heilman and the vastly overrated Lastings Milledge for him, as Olney suggests, the next time you'll hear from me is when the SWAT team has me surrounded somewhere in the vicinity of Fenway.
6. Which big-ticket free-agent will be the biggest bust?
I hate to say this because I enjoy watching him pitch . . . but someone is going to have serious buyer's remorse a year or two after giving Barry Zito a nine-figure deal. Think about it: He walks a ton of batters, his K-rate is shriveling, he's spent his whole career in a pitcher's park, he struggles against Boston and New York, his velocity has decreased to the mid-80s . . . at this point, he's a No. 2 starter at best, and simply no longer resembles the Cy Young Award winner of four seasons ago. I think he'd make a fine Met. (And if you think I'm being harsh, check out
Keith Law's top 40 free agents
on ESPN.com. He has him rated behind Ted Lilly and Gil Meche.)
7. What's one warped stat you can come up with regarding the Patriots' receivers?
How about this: Reche Caldwell had more catches Sunday (9) than David Givens had during his entire aborted first season in Tennessee (8). It goes without saying that I'd trade Paper Reche for a one-legged Givens right now.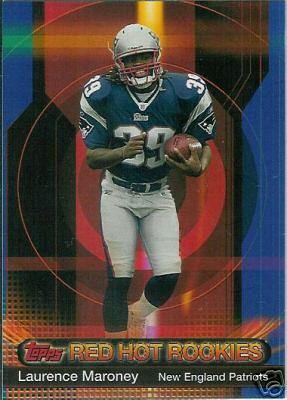 8. Why don't the Patriots give Laurence Maroney more carries and responsibility?
Josh McDaniels, the floor is yours. Honestly, I have no idea why the Patriots have been so reluctant to put the ball in Maroney's hands more often. I still haven't heard an adequate explanation for why he had just four touches in the second half against the Colts, and he was again woefully underutilized against the Jets' porous run defense Sunday. And if there's anything we learned from the Cincinnati victory - other than that the Bengals are a fraud - it's that Maroney, with his violent, relentless running style, is more effective as the game goes on. And yet in the fourth quarter lately he's been a decoy, an observer, and too often, a role player jogging off the field after ceding his position to the untrustworthy Kevin Faulk. It makes
zero
sense. Maroney is a
weapon
, as talented a running back as I've ever seen in a Patriots uniform, and why they hesitate to use him to their full advantage is befuddling. You have to wonder if maybe they don't know how.
9. Why does Bill Belichick hold such a grudge against Eric Mangini?
He caught him trying to pilfer his favorite hoodie? Seriously, I don't know, but Belichick seems hell-bent on continuing this whole You're-Dead-To-Me routine, so it must have been something egregious. One theory: Mangini was trying to lure Patriots staffers to join him with the Jets while he was still on the New England payroll - and while Belichick was still under the impression that he was remaining with the Patriots. I guess that makes as much sense as anything I've heard, but this much we do know: That old Border War? It's back on, baby.
10. Why did the Patriots wait until midseason to install FieldTurf?
Because it took Belichick's kid this long to smoke all the real grass.
11. Is there one image that sums up the way Mangini and the Jets treated Belichick and the Patriots last Sunday?
Yup: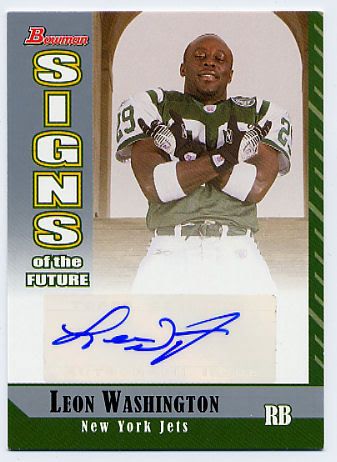 That's right, Leon. You're No. 1. Stay classy.
12. Thoughts on the Celtics?
Doc Rivers is such an inept coach is so many different ways, I'd get carpal tunnel if I tried to elaborate in detail . . . I'd say fire him, but if he can mismanage his way into getting Greg Oden to Boston, well, keep up the good work, M.L. . . . er, Doc . . . Rajon Rondo must get Bassy's minutes, pronto . . . I know he can't guard his scrawny shadow, but Gerald Green needs to play. He could score 10 a night on athleticism alone . . . Wally Szczerbiak is nothing but a one-legged jump shooter at this point. Quick, trade him to a contender before he needs surgery. (Sure was fun watching him light up a defenseless Adam Morrison, though.) . . . The Celtics will never fully commit to the running game as long as Paul Pierce is around. He's too set in his ways, which usually includes grabbing a rebound and immediately putting it on the floor rather than getting it to the point guard . . . For all of the ugliness of this early season, I still think Green, Rondo, Al Jefferson, and Kendrick Perkins are a fine young core who deserve a chance to grow together, and the Celtics are better off now than they were the day Danny Ainge took over. Small consolation, right?
13. We know they'll gag in the playoffs, but is anyone going to beat the Colts during the regular season?
If T.O. can hold onto two-thirds of the passes that hit his hands, I like Dallas's chances Sunday. And count me as a Tony Romo believer - his arm is strong enough, he's poised, and brings an unmistakable jolt of energy to an offense that was lacking in urgency during the Bledsoe era. Where have we heard that before? (By the way, we don't condone
clicking this link
. But it's pretty funny if you imagine Drew's monotone voice while reading it.)
14. What is the most annoying commercial on television at the moment, Non-John Cougar Mellancamp Sellout Division?
Three words: ALARM CLOCK CATASTROPHE!!! Seriously, whoever came up with this ad campaign, which features people you want to slap singing non-sensical, catchy-to-the-point-you-want-to-poke-your-eardrums-out jingles, should be subjected to listen to their own horrific aural creations on repeat from now until their last tortured days. Come to think of it, it might have been those commercials that subconsciously convinced me to stop giving Dunkin' Transfats my daily allowance.)
15. Thoughts on "The Office" merger?
I'd say it was good but not great, which more or less sums up my take on this entire uneven season. The "Lazy Scranton" bit was inspired, at least to the 12 people who are still watching SNL and got the reference. Michael and Dwight forcing the David Wells-sized guy to climb up on the table was over the top and awkward even for them, and really not all that funny. The Staples product placement was ridiculously blatant to the point of annoyance - do we really need commercials in the midst of a show that seems too short as it is? And I imagine I'm in the minority in believing Dwight is better in small doses. And . . . hmm, feel like I'm forgetting something . . . let's see, what was it . . . key plot point . . . a Phyllis nude scene? . . . nope . . . oh, right . . . the long-awaited Jim and Pam reunion. What can I say? It was both sweet and agonizing, still the most realistic and best-written unrequited relationship since the early flirtations of Sam and Diane, and it's clear Fancy New Beesley is going to have to put her heart out there just as Jim did last season. Their relationship remains the best part of the show, and the more Pam and Jim (and Karen, it seems) are involved, the more likely the end of this season will approach the heartbreaking brilliance of last year's finale.
16. I hope this isn't a violation of your restraining order, but has Jenna Fischer, per chance, ever appeared on the Tony Danza Show?
Why, yes.
Yes, she has
. And you'd better believe the only time I'd watch that Yankee-fan, meatpuppet Danza's blockheadathon of a show is when the Official Muse of TATB is a guest. (And if you're a straight American male - not so fast, Doogie - and don't think she looks off-the-charts hot in that clip, I'm guessing you took Bob Barker's advice and got yourself both spayed
and
neutered. Yeah, I'm still fighting this battle, punks.)
17. Of all of Derek Jeter's undeserved trophies, what one is the most galling? The Hank Aaron Award? The first Gold Glove? Gonzo's Gold Glove?
Easy.
Jessica Biel
. And all of a sudden, I'm thinking the "Jeter Drinks Wine Coolers" t-shirt I'm wearing at the moment probably isn't that effective.
18. As for today's Completely Random Football Card? (Yes, Alex, it's in the form of a question.)
Three things you may or may not have known about Joe Namath: 1) He completed just 50 percent of his passes in his career, and threw more interceptions (220) than TD (173) passes. 2. He didn't throw a touchdown pass in Super Bowl III but was named the game's MVP. 3.
He wantsth to kissth you. YAHHHH!
Labels: Barry Zito, Brian Cashman, Buster Olney, Daisuke Matsuzaka, Derek Jeter, Doc Rivers, Jenna Fischer, Julio Lugo, Laurence Maroney, Manny Ramirez, Reche Caldwell, The Office, Tom Brady