Afterthoughts
Remnants from Sunday night . . .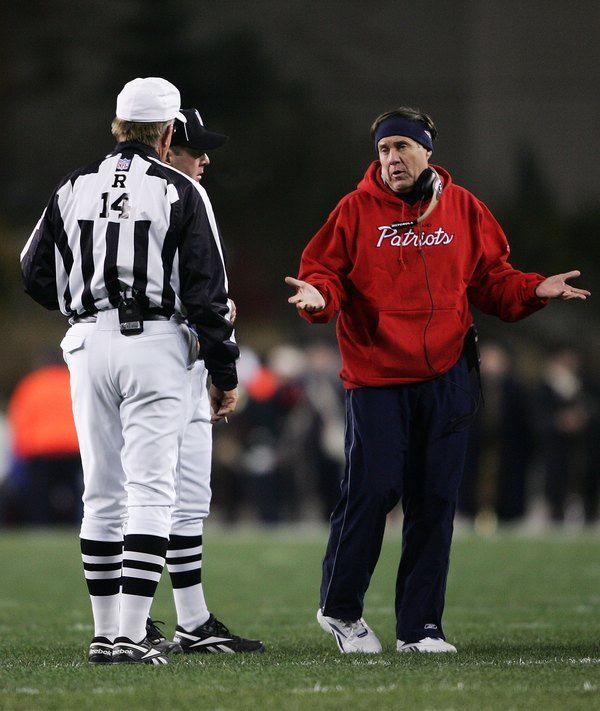 The Patriots can claim all they want that the Colts, with their strategy of perching head-cracking safety Bob Sanders near the line of scrimmage, were inviting them to pass. But there is simply no excuse for Laurence Maroney having just
four
second half carries, including but one (for 17 yards) in the fourth quarter. The Patriots ditched the obvious strategy of running the ball down the Colts throats
much
too soon, particularly considering Tom Brady obviously didn't have his best stuff. And I still don't understand why Josh McDaniels insisted on running those cutesy receiver screens when they played into the one strength of the Indy D: outside speed. Frankly, the play calling was often inexplicable. I never thought there'd come a day where the main culprits in a loss to the Colts would be the coaching staff and the quarterback, but fingers have to be pointed in their direction after this one.
I hate saying this for obvious reasons, but the thought's been rattling around in my head for a few Sundays now: Tedy Bruschi just does not look like his old self on the field. It's one thing to have trouble covering the Colts' plethora of quality receivers and tight ends, but it just seemed like he was a step behind on everything after the coin flip Sunday night. I hope I'm wrong about this, that someone who has been breaking down film of the last few games has spotted subtle contributions from No. 54 that have eluded me . . . but right now it sure looks to me like he's getting outplayed by Junior Seau, and you know those are words I never thought I'd write.
Though the Patriots have been their typically forthcoming selves about Rodney Harrison's injury and future playing status - Andrea "Scoop" Kremer is now reporting he's "kinda sore" and "might have an owie" - it sure sounds like he has a torn rotator cuff. While I guess that means he won't be pitching out of the Red Sox bullpen anytime soon, does it necessarily mean he'll be out of the Patriots' lineup for an extended period . . . or even at all? I suppose it would be pretty painful to tackle with a shoulder injury, but we all know about Harrison's ridiculously high pain threshold; this is the same guy who stayed in the game for a play
after breaking his arm
in Super Bowl XXXVIII. I guess what I'm saying is, please let this be something he can play with. The Patriots simply cannot afford to lose the brains
and
brawn of their defense for long.
Marvin Harrison's catch was one of the best I've ever seen, and I trust I don't need to describe it in detail for you to know exactly the one I'm talking about. It was right out of a Lynn Swann/J.J. Jefferson highlight reel. I must admit I tend to demean Harrison because of his reluctance to take a hit, but there's no denying he's had a hell of a career, one that someday will be celebrated in Canton; if he were completely insane, maybe then he'd get the some of the credit that too often goes to inferior contemporaries such as Terrell Owens and Chad Johnson. Hard to believe the Colts took him a handful of picks after the Patriots took Terry Glenn in the '96 draft - the whole She Era seems
so
long ago - but with that kind of staying power and productivity, maybe there's something to be said for running out of bounds.
Here's a scary thought: I think Peyton Manning is actually
improving
. His performance in shredding Denver's touted defense two weeks ago might have been the best pure passing display I've seen since that Isotoner guy was throwing lasers to Duper and Clayton. And while his numbers weren't quite as impressive last night, his performance was, particularly in terms of feeling the rush and making pinpoint downfield throws under heavy pressure. Maybe his old negative mannerisms will resurface should the Colts rumble with the Patriots again - man, I really missed seeing his patented yank-off-the-chinstrap-after-a-boneheaded-pick move last night - but for the moment Manning finally appears to have developed the poise to accompany his ability.
I don't doubt that Stephen Gostkowski has the leg to be a quality NFL kicker, but if he, A) doesn't start cranking out the touchbacks on his kickoffs again and, B) immediately stop pulling a Vanderjagt on every few midrange field goals, I have to wonder if Belichick will have open auditions for his job in the not-so-distant future. Then again, he made two and missed one Sunday night . . . one fewer miss than the future Hall of Famer he's trying to replace, so maybe we're overreacting. He's hardly in Missin' Sisson territory, but he needs to be better as the second half progresses. Would you trust him in the playoffs at this point?
Labels: Josh McDaniels, Laurence Maroney, Marvin Harrison, Peyton Manning, Rodney Harrison, Stephen Gostkowski, Tedy Bruschi