Nine innings: 09.19.05
Playing nine innings while wondering if the Red Sox will make the postseason only if the White Sox don't . . .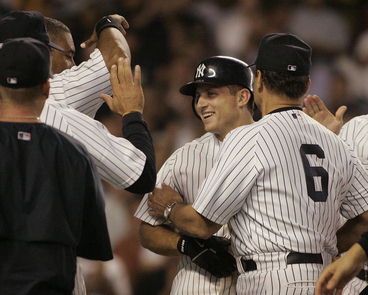 1)
Bubba Bleepin' Crosby hits a walkoff homer in the Bronx, Manny Ramirez whiffs for the final out in a one-run loss in Tampa, and the Sox's lead in the AL East shrivels to a half-game with fewer than two weeks of the regular season remaining. So much for that old baseball cliche:
It's a marathon, not a sprint.
The sizzling Yankees, winners of seven of eight and playing so well that they even look like they like each other on occasion, seem intent on sprinting the rest of the way, which certainly doesn't bode well for the weary, heavy-legged Sox as they approach the finish line. There are two games remaining in their grueling 30-games-in-30-days journey (they've gone 16-12 in the stretch), and we can only hope they salvage this upcoming pair in Tampa, then spend their well-deserved off-day Thursday resting, relaxing, and psyching themselves up to fight for their playoff lives. The 'EEI banshees and certain other proponents of the Sky Is Falling commentary will tell you the Yankees have all the momentum now, that all the pressure is on the Sox. Maybe that is true, but I draw the line at the suggestion that should the Sox fail to make the playoffs - should they cede the division to their enemy in the final weeks of the season - last season's ALCS comeback will be looked at as an aberration more than a seismic shift in the rivalry. Despite some staggering problems - the shoulder injury that has rendered Johnny Damon ineffective, the inadequacies of the pitching staff, Edgar Renteria's upcoming 50th birthday party - I'm still willing to parrot the T-shirt slogan of the moment. We Still Believe, Keep The Faith, Why Not Us?, whatever. For no matter what is troubling the Sox at the moment, I can't help but believe they are poised to dominate the Yankees in Georgie Porgie's delusional golden years - I
love
that the able Gene Michael is now on the distant outskirts of the inner circle - and I believe last year
did
signal an epic and long overdue role reversal. That's not to say I'm not chomping my nails and worrying that the Yankees will charge into Fenway, what, 10 days from now with a three-game lead in the division; hell, read on, and you'll discover that the rest of this column isn't as optimistic in tone as this item. It's just that after last year, I'm pleased to find myself thinking of other delicious ways the Sox can destroy
their
plans. Who knows, maybe letting the Empire creep back into this thing is the Sox's way of setting them up for one huge letdown (and, hopefully, one colossal Georgie Porgie meltdown.) Is it likely? As likely as anything else. If there's anything we learned last fall, it's this: Anything is possible. Let the sprint begin.
2)
Which reminds me: the comparisons of what seems to be happening now to what did happen in 1978 are valid only to the miserable souls among us who have been at a loss the magic of 2004.
It. Is. Not. The. Same. Dammit.
The Sox had a 14.5 game lead over New York in '78; the Yankees have been within striking distance all season, and even when the Sox held a 4-game lead not so long ago, didn't we all know, deep in our hearts, that 2005 regular season was coming down to those final three Sox/Yanks games at Fenway?
3
. . . actually, I suppose there is one valid comparison to '78. Now, like then, the inept defense of one of their infielders is killing them. In '78, it was the counterproductively macho third baseman Butch Hobson, who foolishly tried to play through floating bone chips in his throwing elbow and ended up making 44 errors, most of them of the heave-it-into-the-box-seats-variety. (Quick anecdote: Legend has it a certain young baseball fan began wearing a batting helmet - yes, a batting helmet - 24/7 after getting conked by an errant Hobson grenade while visiting Fenway as an 8-year-old boy. And that, my friends, is how one John Olerud came to be known as the Splendid Helmet! He took one in the coconut from Hobson as a kid! No, really. It's true. That's my story and I'm sticking . . . oh, all right, I made it up. But it
should
be true.) As it was, Hobson didn't come out of the lineup until he went to Don Zimmer and tearfully begged him to take him out of the lineup because he was killing the team. "Toughest sumb---- I've ever managed," said Zimmer, who, for TATB's money, is the dumbest sumb----- who ever managed. Which brings us to this year's version of Hobson, in terms of spirit-crushing mistakes if certainly not toughness. Edgar Renteria made his MLB-leading 29th error tonight, whiffing on a routine groundball in the eighth inning and allowing the crucial eighth run to score. It was his third or fourth careless error in the past week, and I'm not looking it up only because I really don't want to get into any more detail than that. Frankly, I'm disgusted watching him play right now. It's tempting to compare him to
el busto
Jose Offerman
, but that would be giving him too much credit. Offerman had an excellent first season in Boston before turning to stone. If Renteria's hurt - and there are whispers that he might have a back problem - he needs to go to Terry Francona (assuming he hasn't already) and let him know it might be a better idea to let slick-leathered Alex Cora play for a few days. If he's not hurt, then I don't even want to think about having to watch this guy botch routine grounders and nonchalant throws from the outfield for three more years. Where have you gone, Orlando Cabrera? A Nation turns its lonely eyes to you . . . or hell, even to Ricky Gutierrez at this point.
4)
Enough with the fits and starts, the nagging frustrations, the small strides, bursts of brilliance, and windy postgame press conferences explaining it all. The Sox need Curt Schilling to be
Curt Schilling
tonight, and if he isn't anything resembling the pitcher who won a pivotal role in "Faith Rewarded," well, maybe this year's movie will have an abrupt and unfulfilling ending. (See, I told you I could get all melodramatically negative on you. Can I get my own show on 'EEI now?)
5)
Every time I find myself getting ticked off at Tito Francona for bringing the likes of Chad Harville - a classic good-stuff, no-command journeyman - into a close game, my mind reminds me of the sad truth:
Don't blame him. He has no one better to bring in to that situation.
Hopefully, Craig Hansen, whose debut last night certainly justified the hype, can be that dependable guy Tito has spent the better part of five months searching for. In fact, he'd better be.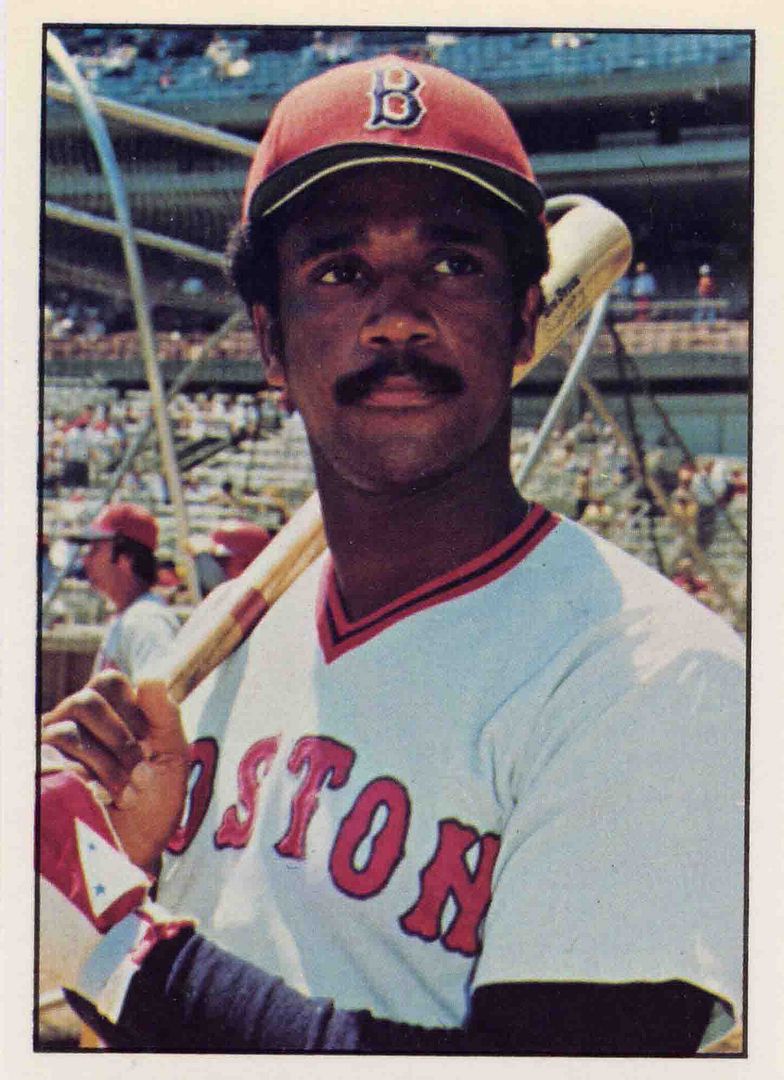 6)
He was one of the heroes of my childhood, and my heart and mind agree that he deserves a plaque in the Hall of Fame. But on the nights when the Sox experience an agonizing defeat (or an exhilarating victory, for that matter), I require postgame analysis with more insight and passion than Jim Rice is willing or able to provide.
7)
Random Pop Culture Observation: I'll never get tired of that NFL Films-style commercial where the creepy Burger King mascot picks off a Drew Bledsoe pass, takes it all the way, and celebrates by busting out the Deion Sanders Happy Dance in the end zone. Bledsoe's looked adequate tonight against the Redskins, but judging by the BK commercial, if the Cowboys have to play any fast food franchises this season, he's in deep trouble.
8)
All right, I'll contradict my previous volumes of praise and just admit it: Manny cannot turn on a good fastball anymore. Oh, he's still a hell of a hitter, and I still believe Gammons went so overboard in bashing him earlier this season that I'm convinced it was personal. But there's no denying the reality: Manny used to kill the Jesus Colomes of the world - guys with nothing but heat - and he more than held his own against pitchers of much greater accomplishment. I remember a time during his electric first few months with the the Sox, he beat the Yankees by hitting a rocket though Mariano Rivera's 5-hole, and I recall being amazed during that entire at-bat that Manny was right on Rivera's best stuff. Now? Now I'd rather see Kevin Millar come to the plate against a pure power pitcher such as Rivera, and no, I'm not kidding. I don't know what it is or why it is or when it happened or if there is a way for Papa Jack to correct it, but Manny, as the song goes, is not as good as he once was.
9)
As for today's Completely Random Baseball Card:
Man, that Hobson recollection and all this '78 talk is giving me severe flashbacks to when I was eight and The Gerbil - with an assist from Bucky Dent, yeah yeah - ruined my first summer as a Sox fan. And you wonder why I'm so cynical. By the way, is it wrong to say I wish Pedro had finished the job when he had the chance?