Nine innings: 09.12.05
Playing nine innings while wondering what baserunning catastrophes Dale Sveum and Adam Stern have planned for the next few weeks . . .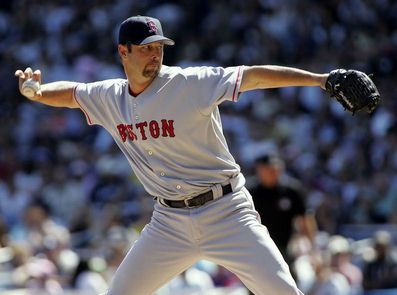 1)
Talk about your hard-luck losses. You might favor his near no-hitters in Seattle and Tampa a few years ago -
today's 12-strikeout, three-hit gem was the best game I've seen Tim Wakefield pitch
in his 10-plus seasons with the Red Sox. He was as dominant as a knuckleballer can be - he struck out four more batters than did Randy Johnson, who was at his vintage best, clomping around the mound like an angry stork and throwing unhittable heat. While it's a bummer Wakefield couldn't get his 16th win (leaving him two short of his career high), it's encouraging that he continued his recent trend of baffling the Yankees. I hate bringing it up, but what happened that black fall night in the Bronx two years ago would have broken a lesser athlete. Seems to me it's only made Wakefield stronger, and his resilience - and ongoing brilliance - against the rival that once devastated him is one more reason the Red Sox are so fortunate he's on their side.
2)
A three-game lead with, what, 20 to go? I'll take it. Sure, it would have been nice if the Sox had rolled into New York and taken two of three, pounded a couple more nails in the Yankees' coffin, and departed with a 5-game lead in the AL East. (A sweep? Greedy, and probably too much to ask, though I have heard the Sox beat the Yankees four in a row this one time . . .) If it's possible to come out of the series encouraged after losing two of three, I suppose I am. The reason, of course, is
Curt Schilling's vintage performance Saturday
. He was as dominant and commanding and confident as he we have seen him in - well, hell, almost a full year now - and we surely do not need to explain that it couldn't have come at a better time, against the Yankees the day after a gruesome loss, in a series the Empire desperately hoped to sweep. In his previous lousy-to-mediocre starts leading up to Saturday, we we're wondering if we'd ever see anymore transcendent performances from Schilling ever again, wondering if he'd sacrificed his twilight for the greater glory last fall, wondering if the old, swaggering ace was gone for good. Well, Saturday he was
back
, firing like the No. 1 starter the Sox so desperately need -
at last, finally, and it's about-damn-time-thank-god
- and if his performance at all foreshadows what is to come, suddenly it's not so hard to wonder if that back-to-back thing might be doable after all. The Yankees can have their two-of-three and their glimmer of hope. You and I know the Sox came away with something much more important.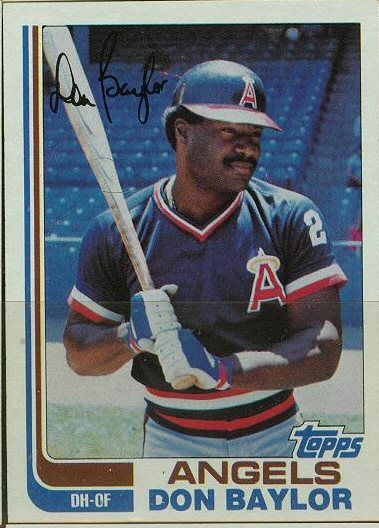 3)
I keep hearing how David Ortiz won't win the AL MVP because he's strictly a DH, and thus is less valuable because he doesn't play the field every day. I suppose there is some merit to the argument, particularly in a tight race where a voter is examining every factor closely before casting his ballot, but I also see two fatal flaws in the argument. 1) While voters often note that no full-time DH has won the award since Don Baylor in '79, a lot of absolutely atrocious defensive players have won the award. Don't tell me indifferent Juan Gonzalez (MVP, '96, '98), immobile Mo Vaughn (MVP, '95) or the statue known as Jason Giambi (MVP, '00) are doing more for their teams than Papi is by playing defense. Seems to me that, by being a liability in the field, they're actually doing less. 2) You know it, I know it, and George Steinbrenner sure as hell knows it: There is no player in baseball that you want at the plate with your team down a run in the ninth inning than David Ortiz. To me, that is the very definition of valuable, and his clutchness (clutchitude? clutchability?) aside, his stats make a pretty compelling case standing on their own. If you want to vote for A-Rod, Johnny Damon or Vlad Guerrero based on their impeccable accomplishments, I can respect that. But if you are voting for them instead of Papi solely because
they play defense,
, well, there's something wrong with your thought process.
4)
Got a picture for you . . .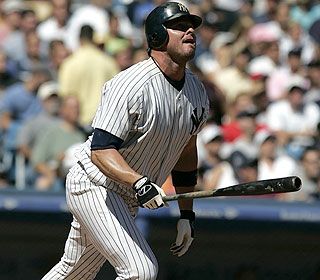 . . . and a question: Was this action shot of Jason Giambi taken yesterday . . . or in, say, 2003? I trust you don't need the answer to understand the suggestion. You bet it bugs the hell out of me that he decided today's game.
5)
Telling moment during today's Sox telecast. When Don Orsillo mentioned that "Fever Pitch" comes out on DVD Tuesday, Jerry Remy said, "To be honest, I haven't seen it," before remembering (perhaps, we like to imagine, with the aid of a Werner-administered jolt of electricity though his headset) that it's always good business to promote All Things Red Sox. He offered a few sentiments about hoping to see the movie soon, but it was too little, too late to convince us. Personally, we're with RemDawg. We haven't seen it, and we don't plan to until the flick is digitally remastered so that that giggling fool Jimmy Fallon is replaced by someone whom you believe might have attended a baseball game by choice before. What a terrible bit of casting by the Farrelly Brothers, who, being legit Sox fans, should have known better. A trained baboon in a Sox cap would have been an upgrade. Hell, I'd have even settled for Affleck.
6)
Now that they're done with each other until the season's final weekend, the Sox and Yankees each move on to face their
other
nemesis, and the next three games could go a long way toward determining how close this race is the rest of the way. While the Yankees head to Tampa for a set against the team that has inexplicably owned them this season (D-Rays 11, Empire 5), the Sox take on Toronto, which has played the role this season that the Orioles did last year: bleepin' pain in the bleep. The Jays have beaten the Sox eight times in 12 tries this season, and today's they'll pitch Ted Lilly, who is 8-10 with a 5.65 ERA this season, but who has a long history of channeling Koufax against the Sox. He's allowed three runs in 18 innings against them this season. It'd certainly be nice if they could start hitting him like they should, and if Reed Johnson, Shea Hillenbrand and the rest of the annoying Jays would cooperate and start making a few outs once in a while.
7)
I've gotten the sense through the years that Yankee pitchers, if asked to rank their preferred batterymate options among Empire employees, would submit a list something like this: 1) Joe Girardi. 2) John Flaherty. 3) Joe Torre. 4) Suzyn Waldman. 5) Brian Cashman's mysterious and seldom-seen assistant, "The Gimp." 6) Everyone in greater New York area except for . . . 7) Jorge Posada. It's easy for Sox fans to dislike the guy - he's long been the cockiest Yankee, Derek Jeter-McCarver included - but I'm curious what he does that grates so much on the Yankees' veteran pitchers. David Cone didn't like pitching to him, and neither did Roger Clemens at the beginning of his stint on the Death Star. And now it's common knowledge that he and Randy Johnson (
Beavis, you said Randy Johnson - heh-heh
) don't exactly see eye-to-eye. Posada used to be a butcher behind the plate, but he's come a long way, and he's always thrown well, so it can't really be his defense. And he seems like a dependable teammate, unlikely to pull a Pudge Rodriguez and send his backup to the pitchers' meetings. I'll have to dig through Buster Olney's terrific book "The Last Night Of The Yankee Dynasty" and see if he makes any mention of this. In the meantime, we'll settle for this conclusion: It's one more reason Posada does not deserve, now or ever, to be mentioned in the same breath as Jason Varitek.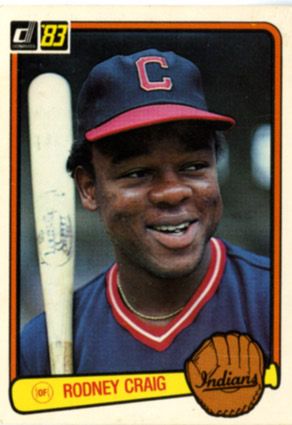 8)
We here at TATB believe there are different levels of fear. There's the good kind, like when you're about to ask out a girl and you're nervous even though you're fairly sure she'll say yes. Then there's the fraidy-cat kind, like when you go for a late night jog after watching "Scream" and your mind starts exaggerating every rustle in the bushes and you half expect to see Drew Barrymore dangling from a tree. And then there's the holy-crap-I'm-a-dead-man kind of fear. Like, oh, say, when you notice that your website has had a steady reader from an obscure place such as Torrance, California, and then you happen to pick up that Rodney "Buckethead" Craig baseball card on your desk - the one you've mocked relentlessly for 10 months - and flip to the back, and notice this: Resides: Torrance, California.
Gulp.
9)
As for today's Completely Random Baseball Card: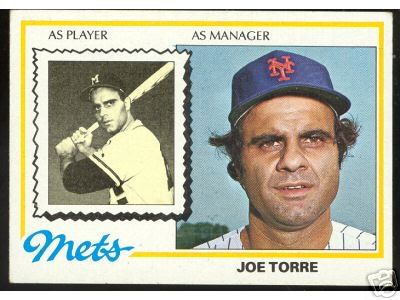 Before he had the good fortune of managing Rivera, Jeter and A-Rod, he had the misfortune of managing the likes of Lenny Randle, Skip Lockwood, and Bobby Valentine. (You just know Bobby V. was an annoying second-guesser even then.) The
lousy '78 Mets considered
, I suppose Joe Torre, a Hall of Fame lock primarily for being in the right place at the right time, did pay his dues in full.