Fantasy island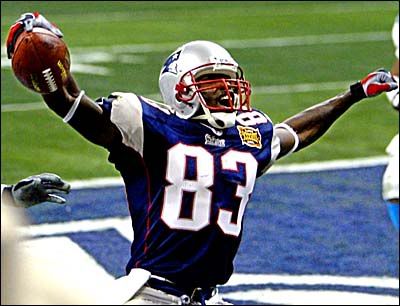 Not that we're saying it's impossible to screw up a high first-round pick in fantasy football, but rumor has it that even Bobby Grier chose LaDainian Tomlinson first overall in his league's draft. (Going against his strong urge to select Cowboys rookie defensive lineman Chris Canty, we suspect.)
Okay, I guess we
are
saying it's hard to screw up a high first-round pick in fantasy football. Tomlinson, Alexander, Holmes, Manning . . . pretty obvious, even to the oblivious. But once you get past the first 20 or so picks, that's when it gets fun. For those who have done their homework and know their stuff, there's nothing better than coming up with a "sleeper" - a player, unknown, unsung or undervalued, that you think is due for a breakout season - and having him pan out to great results. It's how fantasy football champions are built.
Sure, the countless hours of Sunday afternoon couch-bound "research" that is necessary to discover such sleepers may inspire your wife to run off to Tijuana with her tennis instructor, but the knowledge you gain likely will vault you to the top of the standings in your league. And remember your priorities, people - there's a reason they call it football season, and not wife season. Somewhere, Bill Belichick nods in agreement.)
But I suppose if you are intent on keeping your wife around for some reason, and since we sort of have a knack for this fantasy football stuff, I guess we can help you out. (Wuss.) Since you're certain to be spending the next 16 Sundays shopping for lavender-scented loofa brushes at Bed, Bath and Beyond or other similar emasculating abominations, here's our position by position list of draft day "sleepers" for you to crib from. Yeah, you're welcome, Sally . . . oh, and please, uh, don't tell Mrs. TATB about any of this. It's between us guys . . . you know how it is . . . God, I really don't want to sleep in the car again . . .
(sniffle)
. . . so cold and lonely and scary . . .
(sob)
. . . uh, you know what, why don't we just pretend the last two paragraphs never happened and get right to our list . . .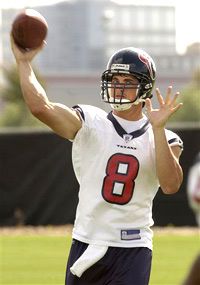 QUARTERBACKDavid Carr, Texans:
The No. 1 overall pick in the 2002 draft finally began living up to expectations last season, finishing with 3,531 passing yards and throwing more touchdown passes (16) than interceptions (14) for the first time in his three seasons. We expect similar progress this season. He has a developing rapport with receiver Andre Johnson, and Dominick Davis should do enough in the running game to keep the defense honest. Maybe our case for him isn't exactly lifted from "The Best Of Johnnie Cochran's Rhymin' Closing Arguments", and maybe it is based on a hunch more than anything else. But we are confident in saying this much: This season, Carr will become a star.
Others We Like:
Carson Palmer, Bengals (the consensus is that he'll have a monster season, but he's a little too enigmatic for our tastes); Jake Delhomme, Panthers (29 touchdown passes last season, has able support even without Muhsin Muhammed); Drew Bledsoe, Cowboys (yeah, we're serious about him as a mid-round pick - the fastball is still hopping, he has the tight end and running back he requires, and his coach won't put up with his stubborn
pat-pat-pat-pat-sack
nonsense. Might as well get ready for the groan-inducing "Re-Drew-venated!" headline now.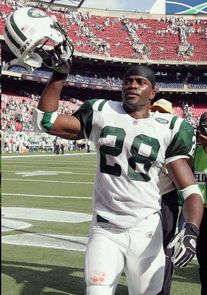 RUNNING BACKSCurtis Martin, Jets:
So he's not exactly a sleeper; the
historically reliable
ex-Patriot was the NFL rushing champ last season with 1,697 yards. Then again, how many owners in your league realize that? Martin has slipped into the middle rounds in the two drafts I've been involved with, being selected after Cadillac Williams and Kevan Barlow in one. That's idiotic. He keeps himself in phenomenal shape, runs behind a quality line, and with touchdown-stealing backup Lamont Jordan off to Oakland, could conceivably build on his 12 TDs of a season ago. Don't overlook him. Let everyone else make that mistake.
J.J. Arrington, Cardinals:
Every year, an unheralded rookie running back, often one selected beyond the first round, emerges as a legitimate fantasy stud. Think Julius Jones last year. (You know, let's pretend I didn't just say "fantasy stud," a few words ago, shall we?) Anyway, all of the pieces are in place for Arrington to be this year's breakthrough rookie back. The former 2,000 yard rusher at Cal is playing for a coach in Denny Green who knows how to get the most out of a running back (see: Smith, Robert), he's stepping into a ready-made starting position (goodbye, good luck and good riddance, Emmitt), and with rising stars Anquan Boldin and our Ultimate Sleeper, Larry Fitzgerald, lining up at receiver, he won't immediately be in the crosshairs of the defense. Sounds to us like a recipe for immediate success.
Others We Like:
Travis Henry, Titans (suffering from the dreaded turf toe right now, but more dependable than Chris Brown when healthy); Jordan, Raiders (Norv Turner has a way of getting the most out of his running backs, and there's a lot to get out of the bruising ex-Jet); Ronnie Brown, Dolphins (it must be so cool to be teammates with Bob Marley.)
WIDE RECEIVERSRoy Williams, Lions:
How good is Williams? Put it this way. He has a chance to be what Terrell Owens would be if he weren't completely insane. Oh, he's not at T.O.'s level yet . . . but check back at the end of the season. The numbers - something like 90-1,400-12 - will be there if erratic quarterback Joey Harrington can somehow manage to at least be average. With Roy and Mike Williams, plus Charles Rogers and Kevin Jones joining him in the Lions huddle, we're betting he can. Pluck Williams a round or two sooner than you were planning, and reap the rewards.
Deion Branch, Patriots:
You know how talented he is. I know how talented he is. But does your buddy that lives outside of New England have a clue? Probably not, even after Branch's Super Bowl MVP performance; the perception is that it was a career day for a pretty good player, rather than the coming-out party for a budding star. The perception is wrong. The diminutive Branch has had his share of injuries, and that certainly is a red flag, but if you've seen him playing on a consistent basis, you know that it's no insult to David Givens to say that Branch should - and will - be Tom Brady's No. 1 target. A free trip to Hawaii is in his future.
Others We Like:
T.J. Houshmandzadeh, Bengals (The One-Man Spelling Bee shredded the Patriots last season, works his pony tail off, and is only getting better); Steve Smith, Panthers (wants to kick Tyrone Poole's a-- and probably could, on and off the field); Laveranues Coles, Jets (reunited and it feels so good).
TIGHT ENDDoug Jolley, Jets:
By default. There's just not much at this position behind the Gates-Gonzalez-Shockey-Heap quartet, and even they have their question marks. The Pats' Ben Watson seems to be the consensus fast-riser at the position, and while he is a superfreak physically, incumbent Daniel Graham could limit Watson's touches enough that he's not a major fantasy factor. Jason Witten was at one time considered a sleeper, but it's now apparent to even novice fans that he'll be featured in Dallas's offense. Which leaves us with Jolley, whom we settled on for two reasons. 1) He showed flashes of excellence with the Raiders before injuries stunted his development. 2) Chad Pennington can't throw the ball more than 10 yards without a catapult, so chances are he'll focus on his tight end. No, not exactly a ringing endorsement for Jolley, but an endorsement nonetheless.
Others We Like:
Kellen Winslow (Senior, that is, not the Evel Knievel wannabe.)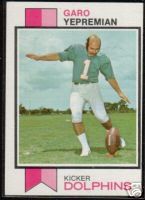 KICKERSGaro Yepremian, Dolphins:
All right, this whole damn thing is just a ruse to run a picture of perhaps the nerdiest little man in NFL history, at least among those not named Gramatica. You got us. Seriously, who cares about an idiot kicker? Pick one late or, and don't sweat it. They're kickers; they're unpredictable by nature. Case in point: Dude in my college buddies' league used a relatively high choice on the Chiefs' Lawrence Tynes. The very next day, or maybe the day after, Tynes was arrested for giving a bartender a lesson in Soccer Hooliganism 101. He could wind up wearing the orange jumpsuit from the Dwight Gooden fall collection before the season is over. Kickers: freaks. You can't trust 'em as far as you can kick 'em . . . so don't waste a pick on 'em if there are decent running backs or receivers remaining. (The lone exception to this rule, of course, is Adam Vinatieri. His worthiness of a place on your roster requires no explanation.)
Others We Like:
Fred Steinfort
, Falcons;
Nick Mike-Mayer, Eagles
;
Donald Igwebuike
, Buccaneers.
DEFENSE
Hmmmm . . . well, Dallas looks improved, particularly if rookie Demarcus Ware is as disruptive as my Aikman-lovin' moles claim, and Fred Smoot will make Minnesota better, which is faint praise if any at all. But a true sleeper? Well, to be honest, I'm going to have to shrug my shoulders and offer use those words that the so-called fantasy football experts would never consider using.
Your guess is as good as mine.
I always try to get the Pats" D myself.
(Okay, so that's a cop-out. Believe all that other stuff, though, and all of you'll be the Belichick of your league. Well, almost all of you. Uh, not so fast there, Mr. Grier . . .)