Know your enemy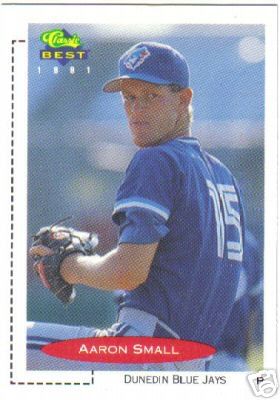 It's a heartwarming story, I suppose, at least if you are a Spawn of
Suzyn Waldman
. Aaron Small, a 33-year-old roster filler who'd pitched for 16 minor-league teams in 16 pro seasons, has emerged as the savior of the New York Yankees' pitching staff, if not their entire season. Heading into last night, Small, who'd received only a couple of Dunkachinos in the big leagues before this season, was 6-0 with a 2.24 ERA for New York since being recalled from the Triple A Columbus Clippers in July.
Of course, Yankees fans being Yankees fans, they're bleating about this guy like he's makes Gibson, Koufax and Pedro look like . . . well, like the rest of their current starting rotation. So while Small's ascent is a heartwarming story -
I suppose
- I'm hoping the Sox expose him tonight as what the Yankees had him pegged as originally: A middle-of-the-rotation starter in Triple A who has no business pitching a crucial game in Yankee Stadium in September.
That said, I'm not
expecting
that the Sox will light him up tonight. Hell, if history is any indication, he will probably shut them down. For some reason - poor advance scouting, perhaps - unfamiliar pitchers are Kryptonite to the usually superpowered Sox offense. Anaheim's Ervin Santana, Baltimore's John Maine and Chicago's Brendan McCarthy all dominated the Sox upon first viewing recently, though the Sox roughed up Santana the second time around. The difference between those three and Small is that they are elite prospects with the promise of glory days ahead. The last time such praise was directed at Small, Don Mattingly was the Yankees' first baseman, not their hitting coach.
I suppose I should get to the point here, huh? This whole dissertation on the Life And Times Of Aaron Freakin' Small is my roundabout way of saying I have some additions to the
Red Sox Enemies List
, which we described previously as "subpar, non-descript and just plain lousy ballplayers who have tormented the Sox in recent years."
While I suspect Small will have earned his spot on the list after tonight's ballgame; the following slugs and annoyances already have:
Aaron Rowand, outfielder, White Sox:
Underrated all-around ballplayer - from what I've seen, he deserves a Gold Glove - and a joy to watch, except for when he's killing the Sox with his daily home run. TATB Fun Fact: Looks like he could be Trot Nixon's hillbilly brother. (That's redundant, isn't it?)
Paul Konerko, first baseman, White Sox:
Actually, since he once had the hubris to use Jay-Z's
Big Pimpin'
as his at-bat music - who does he think he is, Dmitri Young? - we'll forgive him for treating Fenway Park like its his own personal batting cage.
Jeff DaVanon/Casey Kotchman, clones, Angels:
I'm pretty sure they're the same guy, and sly ol' Mike Scioscia is getting away with having the dude bat twice in the lineup because the only team he hits is the Sox. That, or maybe I'm just paranoid.
Jay Payton, outfielder, A's
Give him credit: He had more faith in his ability than the Red Sox did, and once he griped and whined his way to Oakland, he proved his self-confidence was justified. It just too bad Nomar's college roommate had to behave like a first-class jackass in order to get there.
Matt Stairs, outfielder, Royals:
He hasn't done much to harm the Sox; I just happen to think he's completely insane, since this real, live big-league ballplayer
chooses
to live in the Arctic Circle of Hell, a.k.a. Bangor, Me., in the offseason. As loyal reader and (fellow Maine Black Bear) Jim D. said:
"I knew he made his offseason home in Bangor while I was up at school, and never understood why. My only thought was he works at the Home Depot to make a little extra cash. I could have sworn I purchased a Beer Pong Table from him my sophomore year."
I hate when my readers are funnier than me.
Jacque Jones, outfielder, Twins:
I'm always surprised by his mediocre statistics. He's got a gorgeous, Griffey-esque swing - all right, I exaggerate, but it's at least better than Terrance Long's - and it just seems like he should be better than he actually is. He does kill both the Sox and the Yankees. The latter is almost enough to forgive the former, I suppose.
Jason Giambi, swollen tick, Yankees:
If his redemption is legit, then it's a great story. But the two homers he hit off Pedro in Game 7 in 2003 were not legit. And for that I won't forgive him.
Mark Bellhorn, second baseman, Yankees:
Nice Empire-regulation haircut, traitor.
Fernando Rodney, reliever, Tigers:
For having the nerve to get Papi out with the game on the line. Doesn't he know he's supposed to follow the script?
David DeJesus, outfielder, Royals:
Have you been reading Jay Mohr's column on CNN/SI? No? Good. Don't. You're not missing a thing, unless you have a sick fetish for unfunny comedians. (Which I suppose might explain the career of Lenny Clarke.) Mohr is a Yankees fan - big shock - and his first column for the site was on players on other major league teams who could be "True Yankees" someday. No, I am not kidding. Without explanation, he put DeJesus on the list, along with the likes of Ryan Drese and John Lackey. Why he chose these guys, I have no idea. Maybe it was one more unfunny joke. Either way, I'm pretty sure he never watched a baseball game in its entirety before. Anyway, DeJesus hits the Sox well, and Jay Mohr likes him, so there's two reasons to hope he's sentenced to life as a Royal right there.
Jeremy Affeldt, reliever, Royals:
Mows down the Sox like he's Billy Wagner, then, a few days later, literally throws a game away against the Yankees, heaving what would have been a game-ending double play into the outfield as the Royals punt away a five-run lead in the ninth. Does that make
him
a True Yankee, too, Jay?
Jorge Cantu, second baseman, Devil Rays:
Swing like Piazza. Face like pizza.
Julio Lugo, shortstop, Devil Rays:
Oh, all right, I'm sorry. That Cantu comment was just plain
mean
, wasn't it? Come to think of it, all D-Rays are excused from this list for now, based on what they've done to the Yankees this season. When/if Steinbrenner axes Torre after the season, betcha Piniella will get the gig without even needing a job interview. The 11-5 record against the Yankees will be proof enough for Georgie Porgie and his minions.
* * *
Update, 11:14 p.m.:
Yankees 8, Red Sox 4. Aaron Small improves to 7-0. If there's any consolation, it's that the Sox will torch his smoke-and-mirrors slop the next time around. The Eck was not impressed, and when the Eck isn't impressed, well, dammit, neither is TATB. As for tomorrow: Schilling will step up. It's time. And frankly, he has to, because Shawn Chacon isn't exactly familiar to the Sox, and we know how that story goes. - CF