Wake me up when September ends
A six-pack of scattered thoughts while flipping between the Pats and Sox on a lost Sunday . . .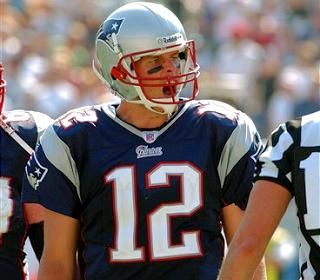 1)
So much for that undefeated season, huh? The '72 Dolphins can rest easy - at least those who haven't been
lost at sea
recently. What was the difference between the Patriots and Panthers today? Carolina played like a victory would avenge their Super Bowl loss and cure their heartache. The Patriots played like it was the second game of the season against a team outside their conference. In other words, the team that wanted it more won. I suppose there's some shame in that, but I'm not going to spend any time searching for it. We should know by now that the Patriots absolutely will recover. Tom Brady will stop doing that Kyle Boller imitation, Corey Dillon will find his sea legs, and Bill Belichick will have all 53 of 'em frothing at the mouth in Pittsburgh next week. A few more of these stinkers, and maybe then I'll put some stock in all the gun-jumping "Maybe they miss Charlie Weis and Romeo Crennel" blather that will fill the airwaves today. But not until then. Three Lombardis in four years get you the benefit of the doubt in my world.
2)
Watching the wretched Matt Clement (two wins since the All-Star break, three straight losses) recently, I suddenly understand why Dusty Baker yanked him from the Cubs' rotation down the stretch and replaced him with the immortal Glendon Rusch last fall. Yep, that's right, Clement was replaced by
that
Glendon Rusch, of whom Dennis Eckersley, filling in for the RewDawg on a telecast a few years ago, said, "This guy has nothing. He s----s." The same could be said of Clement lately - for someone with top-notch stuff, he leaves way too many meatballs hanging in the middle of the plate. If I had to rank the Sox starters in order of whom I'd want starting a win-or-hit-the-golf-course game, he'd be a distant fifth. Pretty sad indictment of someone with his ability.
3)
So I'm couch-bound for the 7th straight hour today, watching a Chris Myers interview with Drew Bledsoe, when Mrs. TATB walks into the room, glances at the TV, and says, "Hey, he still plays?" All right, I guess you had to be there to appreciate the humor, but the interview was pretty compelling stuff. Bledsoe was typically accountable and engaging - traits that actually began to bug me in his final days in New England. Let me explain: while he took the blame when he or the team played poorly, he never did much in terms of extra preparation to improve the situation. I thought it was disingenuous - taking accepting fault actually often absolved him of responsibility in the public's eyes, and I began to think he was shrewdly conscious of it. After watching him in the hour-long interview with Myers, though, I think it was simpler than my paranoid mind made it out to be. In retrospect, I think he took the blame sincerely, but was misguided in believing his God-given talent would be enough to overcome any on-field shortcomings, and thus never put in the proper effort to improve. Which is why, at age 33, he's humbled, starting over with his third team, reunited with a coach he couldn't stand the first time around, and desperately trying to remind people that, yes, he still plays. Me, I'm rooting for him again, now that he's out of the division and away from Belichick's dastardly schemes. I've never understood the perception around here that if you like Brady, you have to dislike Bledsoe. Ask me, they're both pretty damn admirable athletes, particularly considering current standards. I mean, obviously you want Brady running your team, but it's easy to forget Bledsoe is the second-most successful quarterback in franchise history, and if not for his arrival, we'd be indifferent to the St. Louis Patriots right now. We owe him something for that alone.
4)
And the award for Best Statistic Ever goes to . . . Derek Jeter, for making the last out with tying run on base or at the plate
eight
times this season, the most recent coming today when he pulled his tired little jackknife act on a called strike three over the inside corner. Let's see you spin that number into one of your windy Jeter-lovin' Madlibs on "clutchness" and "calm eyes" and "intangibles" and "looks positively dashing in his pinstriped Spandex," McCarver. C'mon. Do it. If anyone can twist a game-ending out into being beneficial for the team, it's you.
5)
Troy Brown may have lost a step or two or three, and yeah, maybe I did think his most enjoyable contributions on Sunday afternoons would be those wryly humorous Dunkin' Donuts commercials. ("Your new ring is almost ready, Mr. Kraft.") Which just goes to remind me of something I should have learned many seasons ago:
Underestimate Troy Brown at your own peril, you big dummy.
Perhaps it's because he's healthy, or perhaps it's because he's freed from the selfless burden of rescuing the defense, but through the first two games, he's playing like the invaluable receiver of a couple seasons ago. He had six catches against the Raiders, took a short pass 71 yards yesterday, and certainly looks like he'll be a fantastic third receiver for weeks to come. Oh, right, and he also managed to remind me of this: He's everything David Terrell is not and will never be, and I feel like a fool for ever suggesting he'd see the field ahead of a healthy Troy Brown.
6)
Remy said it today, and if you've been paying attention the last five seasons, you probably recognize the signs yourself: A few at-bats where he misses crushing a pitch by
thismuch
, a few more at-bats where he tattoos a couple of heat-seeking missiles to right . . . and then, a majestic home run that ends up shattering a car window on the Mass Pike. Yep, we're not the only ones who took Saturday's monstrous homer as a suggestion that Manny is on the verge of going on one of his patented tears - and you, me, and RemDawg damn well know such a streak couldn't come at a better time. The Sox, pretty much to a man, are flailing and failing at the plate - today they lost to slopballer Kirk Saarloos (aka Aaron Small, West Coast version) - and if not for Big Papi's nightly statement that he is the very definition of American League MVP, they might be chasing the Yankees rather than holding on to a tenuous 1-game lead in the loss column. With Jason Varitek, Trot Nixon, Bill Mueller, and the more-useless-by-the-day Edgar Renteria doing little to help the cause at the moment, it's looking like the offense will rely on Manny and Papi even more than usual in the final 13 games. Papi has proven up to it, time and again, game-winning homer after game-winning homer. But he sure could use some help from his goofy sidekick. With one breathtaking blast, all signs indicate Manny is up to meeting the challenge.
* * *
Brief State of the TATB Address:
New column coming tonight, homies. The topic? Most likely a career retrospective/scantily clad pictorial of
Rosie O'Donnell
.
Hey there, mama! Meow!
Of course, if the photo shoot falls through for some reason, our fallback plan is to crank out either a TATB Notebook or a long overdue First And 10 column on the Patriots. Anyway, be sure to check back in. Maybe you'll get to see Rosie in all her glory. Hell, if that doesn't get this site over 100,000 hits, nothing will.
. . . which reminds me . . .
TATB is in its 10th month now, and we recently exceeded our first-year projections/wishes/pipe dreams for unique visitors and page views on the site by 50 percent. So I just want to say thanks from the bottom of my cynical, black little heart, which I'm pretty sure grew
three-and-a-half sizes
today upon noticing our progress. Seriously, thanks. You freaks, geeks, shut-ins and pencil necks made this first year more fun and rewarding than I ever expected, and it is endlessly appreciated from this side of the keyboard.
* * *
As for today's Completely Random Football Card: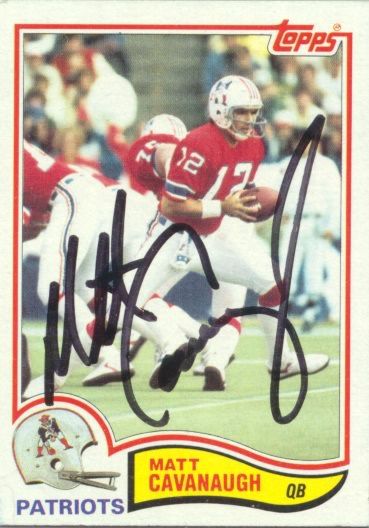 It's rare that the Patriots' current No. 12 reminds us of the inept quarterbacks who wore the number before . . . but today was just one of those Matt Cavanaugh afternoons for Brady.