Easy like Sunday morning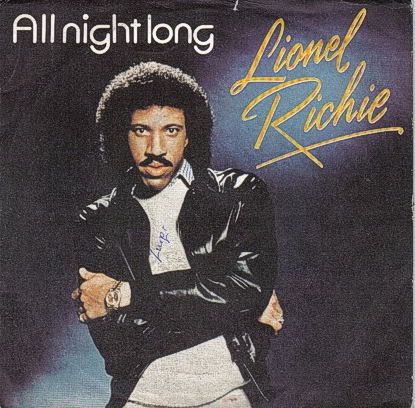 And with that horrific but appropriate Lyric O' Lionel planted in your head for the rest of the day, here's an abbreviated edition of Nine Innings, along with a programming announcement: Wife and kids permitting, I'm going to attempt to live blog the Pats-Broncos game tonight, so be sure to check in around 8:15ish and keep refreshing, because I'll be writing . . . and I apologize for this . . .
All night long . . . All night . . . Yeahhhh
. . .
1. I'm reluctant to weigh in on any recent anti-Manny missives for obvious reasons, so let me just direct you to
Seth Mnookin's reasoned take
while I say this: Ripping Manny is one thing - hell, even I'd admit it's justified if it turns out the whole patellar tendinitis thing is a cover-up for his indifference - but it drives me absolutely
nuts
when Trot Nixon is held up as the definitive example of Mr. Team, The Dirty-Hatted Embodiment Of What Manny Should Aspire To Be. I mean, can we be serious here? Yeah, Nixon hustles on all those routine grounders to second . . . but he also can't stay healthy, doesn't appear to take conditioning seriously, has suffered a mysterious loss of power, was subpar before his injury, missed six weeks with a strained freakin' biceps muscle, and has been atrocious after the injury to the point he's hurting the team by so "courageously" playing through the pain. He's going to make a hell of a mediocre Oriole next season, and I can't wait.
2. A-Rod claims that he will not waive his no-trade clause to leave New York after this season, but wouldn't it be just like him to make such a faux-tough-guy pronouncement while behind the scenes, his other face tells Scott Boras to start pushing for a deal? I'll bet you Derek Jeter's little black book that A-Rod is Anaheim next season. It makes perfect sense. Getting rid of A-Rod for, say, Chone Figgins and a pitcher (hopefully not Ervin Santana), would be a great deal for the Yankees simply from the addition-by-subtraction standpoint. And Anaheim is the perfect place for A-Rod. Owner Arte Moreno covets star-power and needs a slugger behind Vladi, it's a very good team, A-Rod could go back to playing short again, there's no pressure, and with all the phonies in L.A., he'd feel right at home.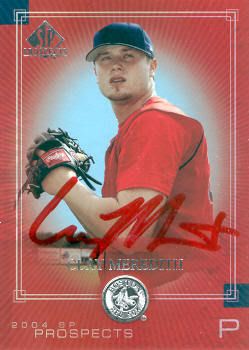 3. Cla Meredith says he started pitching well again once he realized he should disregard everything the Red Sox tried to teach him. Gammons says Craig Hansen looks nothing like the unhittable sinker/slider power pitcher who ruled the Cape League two summers ago. And there's no need to list the staff's worth of pitchers who have thrived once they've departed Boston. So I ask: Is it possible that neither Al Nipper nor Dave Wallace really has any clue what he's doing?
4. I didn't think it was possible to admire Big Papi any more than I already did, but after he came up with the idea of posing for photos before a game for $100 a pop to pay for a sick little girl's care at Dana Farber, well, it's heartwarming to know he's as clutch off the field as he is on it.
5. You bet I hope Keith Foulke is back in Boston next season. That recently revealed split finger looks like a legitimate out pitch, and as Theo has learned the hard way, half the battle in building a bullpen is finding the right reclamation projects. After two lost seasons, right now he looks like a decent bet to find his old form in '07. Hey, if Todd Jones could come back and be useful, anyone can.
6. And will we're on the topic of renovating the bullpen, I have to admit I'm intrigued by the rumors that the Sox covet Houston closer
Brad Lidge
. Sure, Lidge has had an inordinate number of peaks and valleys this season - he's the current embodiment of a heart-attack closer - and he's probably still spooked by that Mars-shot he gave up to Albert Pujols in the playoffs last season. But he has an astounding 98 strikeouts in 68.2 innings, which suggests that his stuff is still filthy even if his confidence is shaken, and he's only 29. Assuming the price is reasonable, I'd call him a good risk with a potentially great reward.
7. The Herald floated the notion this week that Matt Clement could be in the mix for the closer role next season.
Riiiiight
, just as soon as Theo signs Schiraldi and Slocumb to be his set-up men. Other than the fact that Clement 1) takes forever to warm up 2) generally stuggles in his first inning of work, and 3) has the intestinal fortitude of a newborn kitten, it's a brilliant idea.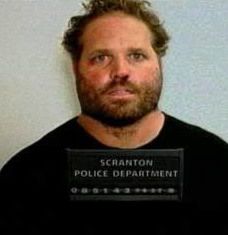 8. Wasn't that thrilled with "The Office" season premiere at first - the Michael/Oscar stuff was just a little too over the top, and the dynamic was off without Jim in the Scranton office. But upon further viewing, I've come to think it's one of the better episodes yet, both in terms of humor (Creed's free-love flashback just
killed
me, and Roy's Nolte-esque mug shot was classic) and the subtle ways in which Jim and Pam are shown longing for each other (the empty chair, Jim commenting on his new view when his old view was lovelier). Two seasons and one episode into its run, and I have no qualms about saying "The Office" is my second-favorite comedy of all-time, after "Seinfeld" and well ahead of the dated "Cheers."
9. As for today's Completely Random Baseball Card: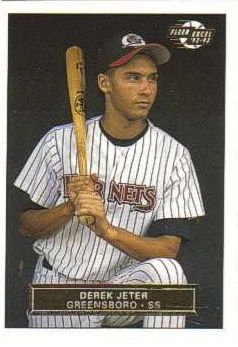 A
wicked fun snippet
from Bob Klapisch's current column on ESPN.com:
"[Reggie] Jackson doesn't mind getting in A-Rod's face on occasion. And, to be fair, Rodriguez does listen with respect. He did just that with Giambi, too. But all Giambi was doing was filling a conversational void created by the one Yankee who could have -- and perhaps should have -- confronted A-Rod.

"That would be Jeter, of course. If there's anyone who could make Rodriguez understand the difference between greatness and greatness under pressure, it's the guy batting almost .400 with runners in scoring position. But anyone hoping for a Jeter-Rodriguez summit shouldn't hold their breath. The cold war between them is even more pronounced than the one with Mussina. Jeter reportedly has never forgiven A-Rod for the disparaging remarks he made in Esquire in 2001, and as one Yankee official said, "There is no coming back from one of Derek's grudges. Once you're gone, you're gone."

"Rodriguez shouldn't feel that bad, really. Jeter apparently did the same to Mariah Carey a decade ago, cutting off their relationship so abruptly -- and remaining so determined not to let the singer back into his good graces -- that kids created the slang-verb "Jeter-ed" to mean getting forever dumped.
So personal grudges take priority over what's best for the New York Yankees? The evidence is mounting, McCarver. The captain has no clothes. (In the spirit of fairness, Klapisch also wrote
this insightful piece on why Jeter is so guarded and aloof
. And I do give Jetes credit for ditching Mariah. After all, she's loonier than A-Rod and has a more unnatural physique than Giambi.)
Labels: Alex Rodriguez, Brad Lidge, Cla Meredith, David Ortiz, Derek Jeter, Keith Foulke, Lionel Richie, Manny Ramirez, Matt Clement, The Office, Trot Nixon