Yankee swap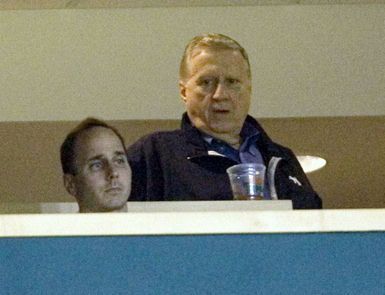 So let me get this right, Yankees fans. When the Yes Network cues up its next propaganda marathon of "Yankeeographies," the appropriate chronological order to watch them is this:
Gehrig, Ruth, DiMaggio, Mantle, Munson, Jackson, Mattingly, Capt. Jetes . . . Robinson Cano?
Yes, I jest. But judging by the machinations in the Bronx the past few days, one must assume young Mr. Cano - a 22-year-old second base prospect of moderate note - is the Next Pride of The Yankees.
After all, in order to create a spot for him in the lineup, George Steinbrenner, Brian Cashman and the Yankees' braintrust:
1) Moved their starting second baseman (Tony Womack) to left field, despite his inexperience at the position or the fact that he had Tommy John surgery two years ago.

2) Moved their left fielder (Hideki Matsui) to center, paying little mind to his often circuitous routes to fly balls.

3) Moved their aging center fielder (Bernie Williams) to a part-time DH role, where he'll be part of an aging three-headed rotation making approximately $30 million this year.
Pride of the Yankees? More like Panic of the Yankees. I know, it's not all about giving Cano a shot. The true, hushed motivation for making all of these moves is to get the remnants of Bernie Williams out of center field. There are lawn ornaments with better range, and his arm now makes Johnny Damon's look like Dewey Evans's. But by putting the novice Womack in left, it looks like a classic example of change for change's sake. How about making a change that might actually
improve
the defense. Like moving the shortstop to third base and third baseman to short, for instance
This solves nothing. The main culprit for the Yankees' miserable start is not the calcified Williams or the outfield defense, but the underachieving pitching staff. The bullpen is decaying so rapidly, even the girl who loved Tom Gordon is booing him now. And the rebuilt starting rotation is a mess. Carl Pavano has been inconsistent. Jaret Wright, after a one-year hiatus, turned back into Jaret Wright. Marquee offseason acquisition Randy "Big Unit" Johnson has pitched well, but he's ticketed to for the DL with a stiff groin. (Note to self: From now on, try to refrain from using "Big Unit," "Johnson" and "stiff groin" in the same sentence. Thank you.)
Truth be told, this "shakeup" has Georgie Porgie's greasy fingerprints all over it. His daddy did make his money in shipping, so I suppose The Turtlenecked Tyrant recognizes a sinking ship when he sees one - even if he's the one who blew the hole in the bow.
While considering the chintzy construction of your $200 million team this morning, sprinkle this one on your Jeter Flakes, Yankees fans: If not for the intervention of Georgie Porgie, the Yankees very likely would have an outfield this morning of Matsui, Carlos Beltran and Vlad Guerrero. Now
that
would cover up for a lot of pitching problems. I said this before the season, and I'll say it now: The Yankees will rue the day they passed up 27-year-old Beltran and gave up on 28-year-old Javier Vazquez in order to acquire the 41-year-old Johnson. Once more, the future was sacrificed for the quick fix. This time they are paying the consequences.
Are Red Sox fans are enjoying this? You bet your Brien Taylor rookie card we are, Vinny. And this time we expect it to last, though it's always dangerous to mock the Yankees so early in the season, if only because they have the financial resources to take on more talent. Maybe Steinbrenner can buy Roger Clemens another Hummer. You know, to convince him to be "loyal" to the Yankees should Houston make him available.
Hell, who knows, maybe Cano (2 for 7 in two games) will provide a spark. But the Baseball Prospectus in my mind tells me he is less like Alfonso Soriano and more like Bobby Meacham. And I suspect the Yankees, even in all of their cloudy-eyed desperation, realize this too. Which is why Steinbrenner reportedly already has his Plan B in place.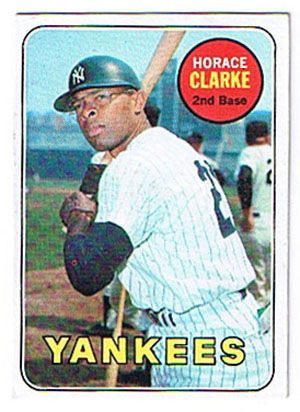 Welcome back, Horace. This Yankee team is doing a fine job of reminding us of your era.
And for what it's worth, we here in New England think your "Yankeeography" is long overdue.