TATB Notebook: 04.26.05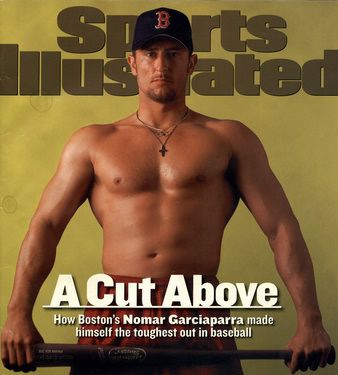 Touching all the bases while wondering if Nomar wishes he hadn't surrendered to vanity . . .
- If you had April 26 in the When Will David Wells Go On The DL pool, congratulations. For the record, I'm sticking with June 23 in the When Will Wells Suffer A Mysterious Injury That Suggests He Got Clobbered With A Jug Of Boone's Farm pool. The Gout Recurrence pool is also going strong.
- Every time I see Miguel Tejada play, I'm reminded that he should have been in that A-Rod/Nomar/Jeter argument a lot sooner than he was. Not only is he a clutch masher at the plate, but he's got an arm that makes Rick Burleson's ol' cannon look like David Eckstein's pea shooter.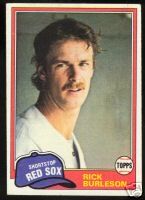 - When did Bruce Chen become, you know, good?
- Keith Foulke has allowed 5 home runs in 11 innings, and at least three of them are still in orbit as you read this. I wouldn't say I'm worried about the Sox closer - I'll never question his toughness/guts/fortitude/stones after his baseball heroism last fall - but let's just say he needs to do a better job locating his fastball, given that about five too many of them have been located somewhere in the vicinity of Saturn recently.
- The bank keeps telling me with its incessant commercials and billboards that "It's Your Garden. Again." Which kind of surprises me, since
my
Garden smelled like stale beer and sweat and had rats the size of goalies scurrying around in the shadows. This Garden bears no resemblance to mine, for it is so antiseptic you can practically smell the Lysol, and instead of rats it's populated by something far more vile: vacant yuppies who are there for entertainment, not a sporting event. Call it want you want, Bank Drones, but in New England's heart, there's only one Garden. And it ain't this one.
- Rick Carlisle is abusing Doc Rivers on the sideline in this series the way Doc Rivers would have abused Rick Carlisle on the court. Pacers in 7.
- Celtics have the ball. Final seconds. Game on the line. Any chance the next time they encounter this scenario, Rivers and his 16 assistant coaches might come up with a better play than the standard Isolate Pierce So He Can Fiddle And Diddle And Chuck Up An Off-Balance Three-Pointer? I say give it to Ricky Davis. He's better at creating his own shot at this point, and he's probably a better pure shooter, too. Plus, Pierce hasn't exactly been Jerry West in his game-on-the-line opportunities. More like Mark West. Or Adam West. But definitely not Mr. Clutch.
- I'm afraid the book is out on Mark Bellhorn (10 walks, 28 Ks, no homers in 83 plate appearances):
Go after him. Make him swing the bat. Chances are he won't hit it.
I wonder if that explains why he went from 27 homers in 2002 to 2 in 2003 while in the National League. Not panicking, mind you. Wondering. Panic comes after another week or two of this called-strike-three-game-over nonsense.
- Sox fans are getting tired of Curt Schilling acting as if he's the World's Foremost Authority On Everything. And if Sox fans are wishing October's savior would take a vow of silence, one can only imagine how those who share a clubhouse with him feel.
- So let me get this straight. They booed Mariano Rivera, the one player most responsible for their four recent championships. They cheered when Jaret Wright left with a shoulder injury. They've booed A-Rod, claiming he'd never earn his stripes. But now after one Freddie Lynn-esque 3-homer, 10-RBI night, A-Rod has now earned their cheers. I guess I'll never quite get this whole fickle "True Yankee" thing.
- I haven't seen "Fever Pitch," nor will I until one of the computer wizards at CGI or Pixar digitally removes all traces of that giggling pixie Jimmy (Adam Sandler Lite) Fallon from the film and replaces him with a better actor. Anyone, really. Jean-Claude Van Damme. Shatner. Seagal. Keanu. Charles Nelson Reilly. Hell, I'd settle for Affleck.
- Since I never got around to writing the column I wanted to write - sometimes life interferes with blogging, especially when life shows up toting a six-pack of Sam Adams - here are a few scattered leftovers from the NFL draft. Hope they're not too stale:
I waited 5 hours and 47 minutes for the Pats to pick . . . Logan Mankins? I'm pretty sure that's a stage name . . . But the wait was worth it for this reason: With the pick, the Pats officially emasculated Mel Kiper Jr. When Paul Tagliabue announced Mankins's name, the ESPN crew responded with a moment of stunned silence, followed by Kiper blurting something along the lines of "This is a reach," followed by nothing but effusive praise for the selection . . . You know he wanted to rip the Pats for taking a player he had projected as a third-rounder, but ol' Bouffant Head couldn't bring himself to do it, because deep down, he knows they know and he's pretending to know. Big difference . . . Remember when Chris Berman was praised for keeping quiet for 20 minutes during Cal Ripken's streak-busting game? Has he paused for breath since? . . . ESPN guest host Torry Holt looks like Sam Cassell's suave, bespectacled brother . . . Not one draft pick said to Suzy Kolber, "I want to kissssth you." A comedy opportunity lost, I say . . . The Colts have selected 13 defensive backs since 2001. Curiously, that's the season Tom Brady became a starter . . . I do think the Colts got the Patriots' guy in Michigan defensive back Marlin Jackson . . . And the Seahawks got my guy in Lofa Tatupu in Rd. 2. Rats . . . The downside to all the pre-draft hype: Aaron Rodgers, a possible No. 1 overall pick, slid all the way to the Packers at No. 24. It's the perfect place for him - he gets to play in front of the most loyal fans in football while learning at the feet of Brett Favre. He couldn't have stumbled into a better situation, yet because he was "projected" to go higher, what should have been one of the best days of his life became a disappointment . . . The last three quarterbacks selected by the Browns: Tim Couch, Luke McCown, Spergon Wynn. Poor Charlie Frye has no chance . . . Thank goodness for the Jets, who never disappoint Pats fans on draft day. This year, they took a kicker in the second round, Mike Nugent from Ohio State. Judging by the history of kickers who have been chosen high - here's to you, Russell Erxleben - they'd have been better off selecting Ted Nugent. I think they did it because they hate their fans . . . Mike Vrabel was an ESPN guest analyst, and he didn't shy away from sharing an opinion. He said Randy Moss could play for the Patriots anytime, and ripped the Chargers for spending a first-rounder on a kid who admitted he used steroids one time. But when Andrea Kramer pressed Vrabel on the status of Tedy Bruschi, the closest he came to revealing any information was when he said "Tedy will do what's in the best interests of him and his family." . . . Detroit's decision to select USC receiver Mike Williams with the 10th overall pick tells me that they don't think Charles Rogers can stay out of the MRI tube . . . Denver's decision to select Ohio State flunkie Maurice Clarett tells me that Mike Shanahan is still reading his yellowed press clippings from the days when people not named Mike Shanahan thought he was a genius . . . Cedric Benson looks like he could be Corey Dillon's kid brother . . . The ESPN crew started talking about draft winners and losers at the end of the second round. Coincidentally, I started watching the Celtics at the end of the second round.
And before I go have some snacks (and maybe a frosty Sam or two, too), today's Completely Random Baseball Card: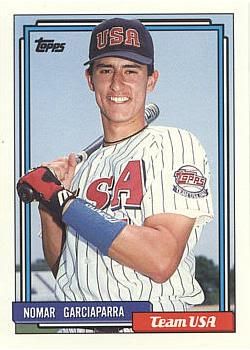 Well, he
was
skinny.