Nine innings: 05.16.05
Playing a late-night nine innings while waiting for Roger Clemens to "accidentally" show up for an Astros game in his Yankees jersey . . .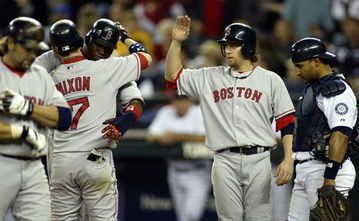 1)
Damon, Renteria, Ortiz, Ramirez, Nixon, Millar, Varitek, Mueller, Bellhorn.
Yep, 35 games into the season, you've got the lineup in the proper order now, Tito. 'Bout time. I like the lefties and righties alternating through the first six spots, with the three switch-hitters at the bottom. I also like David Ortiz in the three-spot and Manny batting fourth, simply because Ortiz gets more frustrated when he's being pitched around than Manny does. And I especially like Millar out of the five-hole. The KFC Kid is too streaky to be depended upon in such a crucial spot, and the way Trot (.337) is swinging the bat, he deserves the prominent placement in the order.
2)
You spend enough time hunting and pecking out your opinions on the keyboard, you're going to turn some regrettable phrases now and then. (Yes, I believe my proclamation in this space that "Blaine Neal is freakin' steal!" qualifies as "regrettable.") But while researching Peter Gammons's past comments on Manny Ramirez for the previous post, I found this little comedic pearl of wisdom in his March 31, 2003 column, under the heading "Changes to watch":
Byung-Hyun Kim from closer to starter. Bet the house on this working.
How off-target was that prediction? As Bob Uecker might say, it was
"Juuuuusst a bit outside."
Assuming Gammons followed his own advice, I trust Karl Ravech or Harold Reynolds was kind enough to take in their stray colleague.
3)
As far as the award For Most Annoyingly Smug Opponent, Non-Yankee Division goes, it looks like Bret Boone is going to be the runaway winner once again this year. The dude could change his name to Deion Sanders and he wouldn't be any cockier. Strange thing about Boone, a.k.a. The Master of the Bat-Flip: He's ego seems as large as ever this season, but his upper body is a lot smaller. Wonder if Jose Canseco has picked up on that.
4)
No, wise guys, it is not acceptable to refer to the struggling Sox closer as "Keithcliffe Foulkum." The man closed out all four games of the World Series, for heaven's sake. According to postseason-hero-gone-bad protocol, Foulke gets until June before we start panicking and wondering why Theo Epstein can't get a relief ace like, oh, say, Arizona's Brandon "Lights-Out" Lyon. Yep, June. Or at least late May. Okay, next week at the earliest.
(
Editor's note:
Foulke enjoyed a nine-pitch, 1-2-3 ninth inning in earning the save Saturday night. Thus, the Red Sox Closer Alert level has been downgraded to "teal.")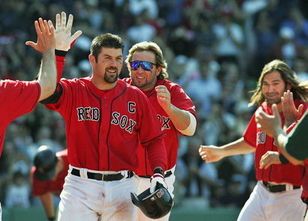 5)
A .318 average, 7 homers, 15 RBI, and a calming, confidence-building influence on the pitching staff, particularly the jittery Matt Clement. Jason Varitek has been worth every last peso so far, hasn't he, Mr. Henry?
6)
The more I see of Oakland pitcher Barry Zito, the more I wonder if he's destined to become this decade's Steve Avery. The similarities - lefthanded, high first-round pick, phenomenal early success in the majors - are uncanny. So, too, apparently is the early decline, the puzzling loss of stuff in their mid-20s. Consider: At at 21 in 1991, Avery was 18-8. At age 23 in 1993, he had his best season, going 18-6 with a 2.94 ERA. He had his last decent season in 1994, and by the time Dan Duquette signed him to a 2-year deal in 1997 (I think the Duke said something about Avery replacing Clemens's on-base percentage) he was, for all intents and purposes, finished. He was out of the majors for good in 2000, save for an unsuccessful 2003 comeback bid with his hometown Detroit Tigers. Zito, meanwhile, had his best season at age 24, going 23-5 and beating out Pedro Martinez for the 2003 AL Cy Young award. But last year, his vaunted 12-to-6 curveball suddenly began avoiding the strike zone and he dropped to 11-11 with a 4.48 ERA. Zito is 1-4 this year with a 5.54 ERA, and simply does not look like same pitcher anymore. He may not fall as far as fast as Avery. But sadly, he's falling nonetheless.
7)
Holy cow, what's gotten into Tino Martinez? The Yankees' first baseman has eight home runs in the last eight games, 10 in May, and 12 overall. The smart alecks among us might suggest Martinez, whose bat speed last season could have been measured with a sun dial, has gotten into the remnants of Jason Giambi's goody bag. I think it's something else, though, something more . . . magical, something having to do with mystique and aura and the power of pinstripes. Yep, that's right. I think he's been rejuventated by being in the presence of Captain Jetes's intangibles!
The Bamtino! Inspired by Jetes! Eureka!
Apparently, intangibles, like many other diseases known to Yankees fans, are contagious.
8)
While looking up Mike Timlin's career stats on baseball-reference.com the other day, I stumbled upon the real reason the Toronto Blue Jays won back-to-back World Series titles in 1992 and '93. Pitching, pitching, and more pitching. (Okay, with the occasional Joe Carter series-winning walk-off homer thrown in.) The
'92 Jays
, amazingly, had nine starting pitchers on their staff that won 90 or more games in the major-leagues: Jack Morris (254 wins), David Wells (214 and counting), David Cone (194), Jimmy Key (186), Dave Steib (176), Al Leiter (157 and counting), Todd Stottlemyre (138), Pat Hentgen (131) and Juan Guzman (91). In '93, Dave Stewart (168 wins, 163 of which came against Clemens) joined the staff. And the bullpen wasn't too shabby either, with Tom Henke, Duane Ward and Timlin, who, as mulleted young fireballer, closed out the '92 Series. (The Jays also had Ricky Trlicek, a charter member of the Dan Duquette Who-The-Hell-Is-This-Guy All-Stars.) I can't think of any recent team that featured that many talented pitchers at once. Excluding the mighty 2002 Devil Rays of Tanyon (4-18) Sturtze, Wilson Alvarez and Ryan Rupe, of course.
9)
As for today's Completely Random Baseball Card: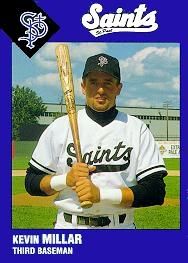 Judging by Millar's svelte look, KFC hadn't yet franchised in St. Paul.