Nine innings: 07.11.04
Playing nine innings while wondering if Scott Podsednik is the new face of baseball . . .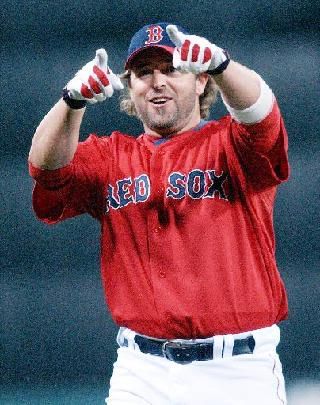 1)
I've rooted for Kevin Millar since he grinned and slugged his way through two excellent seasons with the Portland Sea Dogs. But after hearing Peter Gammons's report that Millar asked for a trade because John Olerud (the superior player, in small doses) is cutting into his playing time, I'm really starting to wonder if he's one more phony who's forgotten where he came from. Part of Millar's charm is that he was a Northern League refugee (and damn near a Japanese League export) who never had much handed to him along the way and thus never developed a sense of entitlement. Oh, there's obviously a certain amount of b.s. to the guy - given how he emphasizes his Son of Texas/Cowboy Up/Jack Daniel's routine, you'd never know he's from Los Angeles, would you? - but it seemed harmless. I always thought he "gets it" more than 99 percent of his peers. He seemed to appreciate everything he had, to savor every moment in the big leagues, and particularly playing in Boston. Now I'm beginning to think a) he's changed, perhaps because he's a free agent at season's end, desperate in the midst of a truly miserable season, b) I was wrong all along and he's as selfish as anyone who took a conventional path to the big leagues. Frankly, I can live with either option, just as long as he agrees to raise his slugging percentage by 200 or so points in the second half.
2)
I'll save my analysis of the Sox' first half and my expectations for the second half for a day or two down the road, but I will say that it's relentlessly distressing that they didn't drive a nail into the Yankees' coffin when they had a chance. If I'm looking at this from the New York perspective -
wait a sec, let me put on my bacon-stained wife beater and my Buttafuoco mask
- I'm feeling pretty darned encouraged that the Empire is just 2.5 games out of first place despite all that has gone wrong. (Bernie Williams returning to his Egyptian tomb, Jaret Wright remembering he is Jaret Wright, Kevin Brown's refusal to just go away) I don't think they will catch the Sox - they are too old and too flawed - but if somehow they do, this first half will be remembered as a tremendous opportunity lost here in Boston.
3)
Terry Francona has no qualms with throwing someone
off
the bus (good riddance and good luck lugging your overinfalted self-importance to Oakland, Jay Payton) but the Sox skipper is loathe to throw people
under
the bus, preferring to take the blame for situations that aren't entirely his fault. I'm speaking specifically of the criticism he received for leaving Matt Clement and Mike Timlin off the All-Star team at the expense Bartolo Colon. (Clement is going after all, as an injury replacement for Roy Halladay.) It's obvious that the selection was not entirely his call - Phyllis Merhage from the commissioner's office admitted as much - yet Francona refused to place fault elsewhere even as he was getting criticized within the Sox clubhouse for not choosing his Own Guys. Here's what he should have told his team:
"Geez, fellas, I'd have loved to have taken Matty and Mike, and I fought like hell for them. God knows Torre took every damn Yankee but Mel Hall and Oscar Azocar back when he was winning the thing. But it seems that the constipated doofus of a commissioner caught on to what Torre was up to - I mean, besides picking his nose every time the the camera finds him - and now Selig has final say in who gets to go and who gets the shaft. It stinks, I know, and I'm sorry, guys, I did my best. If you want to get revenge, how about plucking that God-awful $5.99 rug off ol' Bud's head the next time he comes around Fenway. Millar, sounds like a job for you since you're outta the lineup again today. Whaddaya say?"
(And because this seems as good a place as any, my wife, who not only wears the pants in the family but the steel-toed boots as well, demanded that I throw this so-called Separated At Birth in this post. As I bid farewell to my last shred of dignity, here you go:)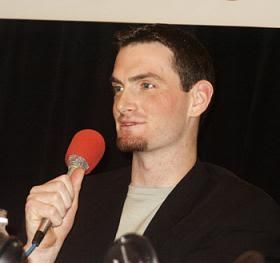 Matt Clement from Yawkey Way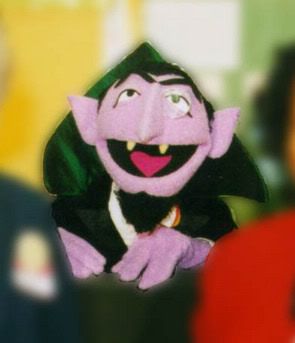 Count Von Count from Sesame Street
(ONE whipped husband . . . HA HA HA
)
4)
I'm not saying gritty, gutty Trot Nixon gets a free ride among the faithful, but if Manny Ramirez got picked off second base with the bases loaded down two runs, or, for that matter, had a ball deflect off his glove for a home run, the WEEI banshees and their hare-brained callers would still be screeching about it two weeks after the fact. But when Nixon screws up - and his list of boneheaded plays through the years is approaching Manny's in length - nary a word is heard. Gotta be the dirty uniform and the intense, look-how-much-I-care scowl, right?
5)
I'm on record as saying Dennis Eckersley is the best baseball studio analyst around, certainly including the prime-time twits on ESPN, and I'd love to hear an Eck/RemDawg broadcast just for the guaranteed humor and candid comments. But I have to wonder what the heck The Eck was thinking when he said on the postgame show that, "Keith Foulke looks scared out there," after one of the deposed closer's recent meltdowns. I apologize for forgetting which Foulke stinkbomb he made the comment after - the losses all run together, you know? - but no matter how miserably he is pitching, the one thing Keith Foulke is not is scared. I think he proved that beyond a shadow of a doubt in the final eight games of the past season. And if you disagree with me, I suggest you buy
this
, watch it beginning to end, and get back to me with your mea culpa.)
6)
He always adamantly denied he used any illegal performance enhancers, and I was inclined to believe him simply because he was such a nice guy. But in this Season of the Shrinking Slugger (the new math: Sammy Sosa < Brian Roberts), only the naive among us aren't curious to see if the Gabe Kapler that inevitably rejoins the Red Sox in a few days/weeks is noticeably downsized from the jacked and pumped version that seems to have
his own unique following
on the Internet.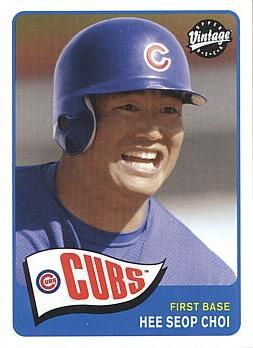 7)
Gimme Big Papi in the Home Run Derby tonight, you get the rest of the field, and well, I like my chances. (Unless Luis Matos suddenly shows up in center field with his glove, that is.) And by the way, who let Hee Seop Choi into this thing, anyway? Did 486 other players turn it down? I understand the format has changed so that it's US and Asian countries against the rest of the world . . . but still, Hee Seop Choi is the best they could do? I'd rather watch Ichiro, whom a colleague tells me puts on a remarkable power display during batting practice when he's so inclined. (No kidding.) Hell, I'd rather watch a 55-year-old Sadaharu Oh than Hee Seop Pop-Up. (Now watch him go and win the thing.)
8)
I've been critical of Peter Gammons in the recent past - I still think his condescending bashing of Manny on WEEI six weeks ago was shortsighted and petty - but I gripe only because he can be so damn engaging and insightful when he wants to be. At his best, he remains peerless. I've said it before, but its worth repeating since Gammons will
finally
be honored by the Baseball Hall of Fame this week. He is one of the main reasons I chose the profession I am in and am proud to work where I do. The first summer I was engulfed by baseball - '78, gawdammit - I have wonderful memories of reading his legendary notes column over my dad's shoulder on Sunday mornings and peppering my old man with questions. (I'm sure "Why is ----- such a special person, Dad?" was one.) Occasionally, in my downtime at the Globe, I'll open up the electronic archives on my computer and randomly read one of his old Sunday notes columns just for the joy of it. They are, as you might imagine, as fun to read 27 years later as they were the first time around. It's easy to forget in his current role as a supplier of "Baseball Tonight" soundbites and shabbily edited Diamond Notes, but he was a
superb
writer back in the day. His features were top-notch, and his book "Beyond The Sixth Game" should be required reading for membership in Red Sox Nation. But the best thing about him to me is this: In a business that turns idealists into cynics far too often, his passion for baseball and love for his job remains apparent. You might say this makes him a very special person.
9)
As for today's Completely Random Baseball Card:
A premature congratulations to Orioles ageless wonder Rafael Palmeiro, who is two hits shy of 3,000 after pounding out roughly 1,328 against the Red Sox over the weekend. Considering that he previously reached the 500-homer milestone, he's a shoo-in for Cooperstown despite his under-the-radar (four All-Star appearances) career. Which, if you believe the
urban legend
, will automatically make him Ryne Sandberg's least favorite fellow Hall of Famer.