Days gone by
As most Red Sox fans know, Mark Teixeira, the Rangers first baseman and future winner of, oh, five home run titles and an MVP award or two, was drafted by Boston out of high school. As I recall the story, he wanted to sign, but his family was so put off by Dan Duquette's take-it-or-leave it negotiating tactics that, disgusted by the whole process, he decided to attend Georgia Tech instead.
Well, figuring I should refresh my memory since it seems this guy plans on tormenting the Sox for the next decade or so, I punched in these keywords on Google tonight: "Mark Teixeira" "Dan Duquette" "Red Sox.'
So what comes up first? A Peter Gammons column - what else? But it wasn't just any Gammons column. This one doesn't praise a few Very Special People, tout some acne-faced kid in the Schenectady Babe Ruth program as "the next Cal Ripken", or even give the requisite weekly verbal backrub to Indians GM Mark Shapiro.
No, this one, written in Sept. 2001, has a far more serious tone. Gammons takes on the dysfunctional Boston Red Sox of Dan Duquette and John Harrington - and completely and justifiably eviscerates them. It's a terrific piece of work, a reminder that while Gammons throws a lot of junk nowadays, he can still bring the fastball when so inspired.
Also worth noting is that Gammons wrote this during the darkest of Carl Everett's days in Boston, and Everett does not escape his wrath. This is relevant at this moment in light of Gammons's highly questionable praise of the combustible outfielder in his column a few days ago. Either Gammons has a short memory, or Everett has mellowed in four years. I suspect it's solely the former.
(And for Sox fans who claim it's time to cut Everett some slack - the TATB mailroom has been hearing from you in recent days - this is required reading, because you need a reminder of how truly destructive Everett was to your Boston Red Sox.)
Oh, yeah. There are also a few words about a kid named Teixeira in the piece.
Check it out
. After reading it, I guarantee you'll come to this conclusion:
Things sure have changed around here in four years.
Thank Theo Epstein. Thank John Henry.
Thank goodness.
* * *
Here's
one more
link to a Gammons column that contains Teixeira/Red Sox info, not to mention some more Everett bashing. Turns out Teixeira was chosen in the ninth round
by the Sox in 1998
, then taken by the Rangers fifth overall three years later after an outstanding career for the Yellow Jackets. Boston's loss, Texas's gain, unfortunately.
* * *
As for today's Completely Random Baseball Card . . .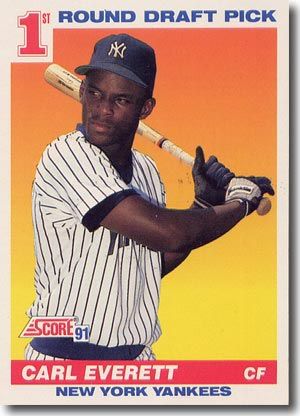 Hey, does this mean he's a True Yankee?