First and 10: Candid Camera Patriots 38, Jets 14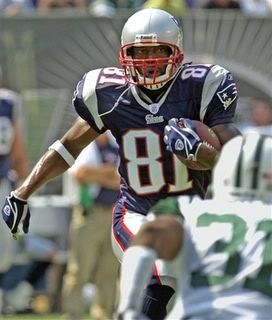 1. If the allegations against the Patriots are true - and I'm assuming you know what I'm talking about here, seeing how ESPN is already comparing Bill Belichick to the cheatin' likes of Gaylord Perry, Ben Johnson, and Rafael Palmeiro - then there's no denying that they deserve some sort of punishment for their shoddy subterfuge. I'd be bummed if Roger Goodell forces them to cough up, say, a fourth-round draft pick next year for their inept attempts to intercept Eric Mangini's sign language, but I have to admit, if it were another team getting busted (and there's no doubt there are other teams that do this; Miami admitted as much after beating the Patriots last year), then I'd be yowling for the commish to throw the book at the cheating expletives. I guess I'm not sure what's more disappointing about all of this - that it's slimy, brazen, unnecessary, and so beneath the Patriots to do such a thing, that suspicious minds are going to claim it taints every victory from here until February, or that it gives an endless amount of ammo to the anti-Patriots element in the national media. It's a story that's not going to go away for a long time, and for that, the Patriots have no one to blame but themselves. (
Footnote: This column, by Yahoo!'s excellent Dan Wetzel, is the best take I've read yet.
)
2. There was a time, not too many years ago, when I wrote that Deion Branch was a better fit for the Patriots than Randy Moss ever could be. There may be a time, given injury or indifference on the notoriously mercurial Moss's part, when I may believe that again. But right now . . . well, I mean, wow. Just . . . wow. The Patriots have never had anything quite like
this
before, have they? Nine catches, 184 yards, and the numbers don't do justice to just how dazzling his performance was; this was not the disinterested Raider of the past few years, but the once-in-a-decade receiving talent who made Randall Cunningham, Jeff George, and Daunte Culpepper look like quality NFL quarterbacks. Oh, sure, Moss may have lost a step, as Phil Simms and his stubborn ilk repeatedly bleat, but by my calculations that left Moss a mere two steps quicker than the hopeless, hapless Jets who were trying and failing to triple-cover him Sunday. Put him on the field with shifty Wes Welker, speedy Donte' Stallworth, and the underestimated Jabar Gaffney, and for the first time since forever, the Patriots have the artillery to win a shootout with the Colts. Hey, there's a reason Tom Brady seemed downright giddy after the game, and I'm pretty sure it wasn't solely because
Gisele
was waiting for him. He's got Randy Moss now, and on the field, that might be the best thing that ever happened to him that didn't involve Mo Lewis.
3. I'll admit, I was surprised how well Asante Samuel played upon entering the game on the second defensive series. It's to his credit that he looked like he'd been there for every snap of training camp - he clearly took his conditioning seriously even in the midst of his contract dispute, and not only was he typically steady in coverage, but there were a couple of circumstances where he reminded us what an uncommonly willing and dependable tackler he is for a cornerback. (Something that was also one of Ty Law's underrated attributes.) You know who else looked good in the defensive backfield? Eugene Wilson. We tend to forget because he's been injured and inconsistent the past two years, but there was a time when he looked like he was going to be a Pro Bowler for years to come. It's going to take some time before that's our perception of him again, but his standout eight-tackle performance Sunday was a positive step in that direction.
4. As for the
other
big-name new guy, I thought Adalius Thomas was a force even though the stat sheet (one solo tackle, four assists) suggests otherwise. His versatile performance and the way the Patriots seemed to utilize him reminded me of Roman Phifer in his better days, and though Thomas is obviously a superior talent, such a comparison must be taken as a compliment considering how crucial Phifer was in the early days of the dynasty. I'm looking forward to seeing more.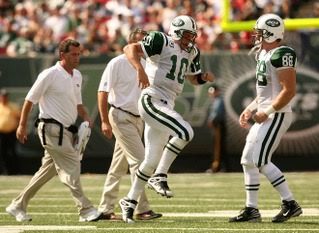 5. Driving back from Boston Sunday night, I heard a parade of morons on WFAN trying to justify why the Meadowlands filled with cheers as Chad Pennington temporarily hobbled off the field with an ankle injury. Let's just say they did little to change my opinion that the Jets have the dumbest and most reprehensible fans in sports. I realize Pennington can't throw a pass beyond 20 yards without it hovering like the Hood blimp, but he's smart, efficient, tough, and prepared, and the Jets have a much better chance of making the postseason with him taking the snaps than they do with some NFL novice like Kellen (No, He's Not My Dad) Clemens. The whole pathetic episode reminded me of why I enjoy it so much when the Patriots give them the pummeling they deserve.
6. Jarvis Green has to be one of the best backups at any position in the NFL. How many other teams do you think he could start for? 20? 25? 30? I know this much: Given all of the rumors floating around about the condition of Richard Seymour's knee, Green's no longer a luxury, but a necessity.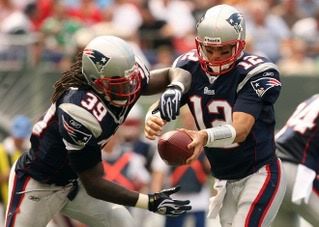 7. I'm not saying Laurence Maroney and Sammy Morris are going to split carries evenly, but I do think fantasy owners who took the Patriots' second-year ballcarrier in the first or second round are going to suffer from buyer's remorse by season's end. Despite his maddening Savion Glover routine when a hole doesn't open up immediately, Maroney is a fantastic talent with a bright future, and he will be a crucial element of their offense this season. But it's clear the Patriots are going to try and limit the wear on his tires, and the ferocious Morris provides a more-than-capable complement to the starter. Maroney ran for 72 yards on 20 carries Sunday, while Morris had 11 carries for 54 yards; I think that's a reasonable representation of the workload and production we can expect from both of them on an average Sunday this season.
8. It's tempting to call Kevin Everett's astounding turn for the better a miracle, and maybe in some sense it is. But more than anything, it's a tribute to the marvels of modern medicine. I can't be the only one who, upon hearing the wonderful news that Everett will someday walk out of the hospital, wondered how things might have been different for Darryl Stingley 29 years ago if we had the medical knowledge then that we have now.
9. Other random NFL notes: I still think Romeo Crennel is an excellent football coach, but he hasn't done a single thing in Cleveland to support that point of view; the Browns are such a mess, I'm beginning to think Al Davis might be their owner. I wonder whose defensive coordinator Crennel will be in '08 . . . I can't think of a week in recent NFL history that had more carnage. The Rams lost star tackle Orlando Pace for the year, the lesser of the Mannings hurt his shoulder, Redskins tackle Jon Jansen suffered the second-most gruesome leg injury in franchise history, Ray Lewis tore a triceps (presumably while doing his ridiculous pregame dance), Buffalo lost fine young safety Ko Simpson along with Jason Webster and Coy Wire, and the list goes on. One of the blessings of the Patriots' victory is that they got through it more or less unscathed . . . Seriously, is Ed Hochuli for real? The guy's 57 years old, and to his credit, he looks like he spent the offseason hanging out with Rodney Harrison's pharmacist. I'm pretty sure he out-preened T.O. during the Cowboys/Giants game Sunday night . . . I was regretting not spending a higher fantasy draft pick on Minnesota's Adrian Peterson
before
Chester Taylor hurt his hip. That kid is a superstar-in-waiting, and running behind Matt Birk, Steve Hutchinson, and Bryant McKinnie, I'll take the over on him eclipsing 1,200 yards as a rookie . . . It's the Colts and Pats, and then there's everyone else. The Chargers? Not this year. Norv Turner is going to make Marty Schottenheimer look like Bill Walsh.
10. As for today's Completely Random Football Card: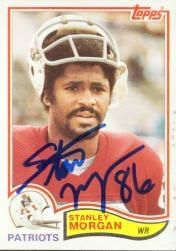 Andy Gresh, that shrill, bowl-cut bozo on the WBCN Patriots postgame show, said with his usual blindly ignorant confidence that Randy Moss is going to break
Stanley the Steamer's franchise record for yards per catch
. I suppose such a statement isn't too over the top, though Gresh a) seemed completely unaware that Morgan averaged an amazing 19.2 yards per catch in his 14 NFL seasons (and was over 22.0 in four consecutive seasons), and b) that Moss, in catching nine passes for 184 yards, actually averaged over 20 yards per catch Sunday, not the "17 or 18" that 'BCN's resident math whiz estimated. By the way, have I mentioned how sad it is that the Sheppard/Smerlas/DeOssie Hat Trick of Meatheads actually offers the
superior
Patriots analysis?
(Footnote: If you prefer baseball talk at TATB, here's our quickie column from today's Red Sox GameDay on Dice-K and his Wasdinesque struggles. Thanks for checking it out.)
Labels: Adalius Thomas, Asante Samuel, Bill Belichick, Chad Pennington, Eugene Wilson, Jarvis Green, Laurence Maroney, Randy Moss, Stanley Morgan, Tom Brady