TATB's Long-Awaited, Half-Assed, Red Sox-Slanted Spring Training Preview Capsules: AL Central
(Fifth in a six-part series. Teams listed in predicted order of finish.)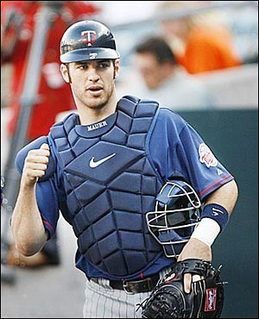 MINNESOTA TWINSFoul tips and other observations:
I wouldn't be stunned to see Detroit, Chicago or even Cleveland win the the Central, but I'm going with the Twins because of the Johan Factor . . . I used to think he was the reincarnation of Ron Guidry, a lefty with killer stuff who would enjoy a transcendant season or two but wouldn't be able to maintain his brilliance long-term due to his small physical stature . . . I sold him short, so to speak . . . If he can keep this up for a couple more seasons - and at 28 and with a reasonable workload thus far, it's entirely possible - he could cement a legacy as the lefty version of Pedro Martinez . . . Santana's highest WHIP the last three years? 0.99. . . . He's 78-31 in his career, a .716 winning percentage . . . He has two years left on his contract, and Twins fans are already sweating bullets that the front office won't ante up . . . Of course, he's not the only good thing here . . . The Twins not only boast the Cy Young winner, but the batting champ (Joe Mauer) and MVP (Justin Morneau), and the Best Interview In Sports (Torii Hunter) . . . And Joe Nathan gets the TATB vote for the game's best closer. I'm not sure I've ever seen him give up a run . . . Morneau will always be okay in our book for swiping the MVP award from Captain Intangibles, whom the New York media had already anointed . . . If Francisco Liriano could pitch - and it's a baseball tragedy that he can't - the Twins might be the odds-on favorite in the AL. But with a rotation that includes unproven Matt Garza and retreads Ramon (Little Pedro My Ass) Ortiz and Sidney Ponson, the burden will fall on their bullpen to be lights-out once again.
Breakthrough player:
Mauer. Yeah, it's rather ridiculous to predict a breakthrough from a guy who hit .347, but he'll improve his power this season to the point that he's the runaway winner in the MVP race.
Breakdown player:
Ponson. He'll be found passed out next to a half-eaten case of Little Debbie snacks sometime before midseason.
Completely random Bill James stat:
Mauer led AL players under age 26 in OPS at .936. Morneau was second at .934.
DETROIT TIGERSFoul tips and other observations:
There's no doubt that they could prove last season was no fluke, particularly with the addition of a hungry, healthy Gary Sheffield to the heart of the order . . . But color me skeptical that everything will go right for them once again. I don't think Todd Jones will save 37 games, I don't think Kenny Rogers will go 17-9 (no matter how much brown gunk he loads on the ball), and I don't think Magglio Ordonez will stay healthy for 155 games again . . . And there's no way Craig Monroe and Marcus Thames combine for 54 homers again . . . Though I prefer Tito Francona, among others, I'll admit Jim Leyland is a fine manager, an old-school, no-b.s. guy who somehow connects with today's players. Hell, even Barry Bonds
and
Sheffield respect him. I'm just saying that the media fawning last October got a more than a little tiresome. Also, between all the coffee and cigarettes, there's a pretty good chance he has the worst breath in baseball . . . There's a lot of skepticism that Justin Verlander can duplicate his 17-win rookie season, particularly because the additional postseason workload seemed to wear him down. But as long as the Tigers are cautious with him, there's no reason to think he can't do it again. He has an ace's arm . . . Carlos Guillen might be the game's most underrated hitter. The last three seasons, he has hit .318, .320, and .320, and his 2006 numbers were only slightly below MVP runnerup Derek Jeter's.
Breakthrough player:
Curtis Granderson. His .260-19-68 debut was only the tip of the iceberg, though he needs to cut back on the 174 strikeouts if he's to fulfill his potential.
Breakdown player:
Jones. Hard to believe this is the same guy who looked gassed for the 2003 Sox.
Completely random Bill James stat:
Guitar Hero Joel Zumaya threw 233 pitches over 100 mph. New York's Kyle Farnsworth was second with 26.
CHICAGO WHITE SOXFoul tips and other observations:
Another team that could win the division if everything breaks right and Ozzie Guillen manages to avoid murdering Jay Mariotti until after the season . . . Jim Thome, Paul Konerko, and Jermaine Dye combined for 121 homers last season, and Joe Crede quietly put up .283-30-94 numbers. In other words, they can win a slugfest with anyone on a given day . . . He doesn't get the Mazzone treatment from the media, but Don Cooper is one of the better pitching coaches around. It's not coincidence that the White Sox tend to get the best out of pitchers who have struggled elsewhere . . . Which makes me think they must know something about Brandon McCarthy that the Rangers don't, because otherwise I don't understand this trade . . . I'm with FireJoeMorgan: Darin Erstad sucks . . . Considering he didn't stick in the big leagues until age 27, Scott Podsednik (2003 AL Rookie of the Year runner-up, 2005 postseason hero) has carved out a nice little niche for himself. Nice
wife
, too. (Google at your own risk) . . . I'll try to avoid cynicism in wondering how Jermaine Dye hit 44 home runs last season at age 32 after never hitting more than 33 previously. Maybe he really was healthy for the first time in years . . . For the record, Pablo Ozuna is the Official Utility Player of TATB. His enthusiasm made him a joy to watch in person as a Sea Dog seven years ago, though back in 2000 he was thought to be 20 years old. He'll be 33 this season. You do the math . . . And speaking of lying about your age, I'd be much more confident in a Jose Contreras rejuvenation if I didn't suspect he was closer to 45 than 35.
Breakthrough player:
Charlie Haeger. Because we always root for the knuckleballer.
Breakdown player:
Bobby Jenks. His violent delivery doesn't bode well for longterm success.
Completely random Bill James stat:
Mark Buehrle and Jon Garland each allowed 247 hits, tying Cleveland's Jake Westbrook for the AL lead.
CLEVELAND INDIANSFoul tips and other observations:
If they only had a little more pitching . . . C.C. Sabathia is a workhorse if not quite an ace, but No. 2 starter Westbrook is more suited as a No. 3 or No. 4, Paul Byrd is the epitome of a journeyman, and Cliff Lee is beginning the season on the DL . . . Maybe phenom Adam Miller will be the answer. The 22-year-old righty was sent to Triple A this week, but he'll be a factor in Cleveland before the summer arrives . . . Remember that trade a few years back in which the Red Sox were going to send Casey Fossum to Texas for Kenny Rogers and a prospect? That prospect was Travis Hafner. Gah. . . . Hafner is the Indians' version of Papi - his clutch hits through the past two seasons are too numerous to list here . . . Also like Papi, he's hugely popular and owns a glove for no known reason . . . What happened to Jhonny Peralta last season? After his breakthrough 24-homer 2005 season, he regressed to .257-13-68 last year, and the Indians were very disappointed with his defense . . . John Schuerholz knew what he was doing when he dealt Andy Marte, didn't he? His prospect star has dimmed a lot . . . Victor Martinez's home runs have decreased from 23 in '04 to 20 in '05 to 16 last year . . . Grady Sizemore, who rapped 92 extra-base hits last year at age 23, is the Tribe's best center fielder since Willie Mays Hayes.
Breakthrough player:
Josh Barfield. Jesse's kid should go 20-20 in his first AL season.
Breakdown player:
Trot Nixon. But his gritty, gutty hat will be dirtier than Lake Erie.
Completely random Bill James stat:
Hafner had the highest slugging percentage in the AL among cleanup hitters (.662). Manny Ramirez was second at .621.
KANSAS CITY ROYALSFoul tips and other observations:
Well, at least they're spending money now . . . The $55 million spent on Gil Meche and his 55-44, 4.65 career line became something of a punch line, but Meche does have top-of-the-rotation ability, and as long as Jason Marquis is collecting that ridiculous paycheck from the Cubs, he'll never be regarded as the
worst
signing of the offseason . . . Hard to believe Angel Berroa was the AL Rookie of the Year in '03. He's becoming the Cristian Guzman of the AL . . . The other Alex Gonzalez - you know, the one who
can't
field - is in the mix for a backup infielder job. Or maybe he's there to take Berroa's gig . . . Here's hoping Zack Grienke can overcome his demons and find some satisfaction from baseball, because it wasn't so long ago that he was being touted (in a somewhat over the top way in certain circles) as a potential ace . . . Reggie Sanders's most similar player according to baseballreference.com? Ron Gant. That's absolutely perfect . . . His glove is just a prop, but Ryan Shealy has the pop to hit 25-30 homers . . . Not that we doubt his ability to make it through the season healthy, but if you listen closely, you can hear Mike Sweeney's back creaking from here.
Breakthrough player:
Alex Gordon. The consensus best prospect in baseball is the Nomar to Mark Teahen's John Valentin.
Breakdown player:
Sanders. He never seems to make it through a season without snapping one limb or another, yet he's managed to accumulate 303 homers and 304 steals in 17 big-league seasons.
Completely random Bill James stat:
Berroa made 15 throwing errors, tying Detroit's Guillen for the league lead.
Labels: Alex Gordon, Gil Meche, Jim Leyland, Joe Mauer, Joel Zumaya, Johan Santana, Justin Morneau, Pablo Ozuna, Reggie Sanders, Travis Hafner